Take A Cruise With American Queen Voyages To The Kentucky Derby!
Grab life by the reins and take a river cruise to see the Kentucky Derby this May! The Kentucky Derby is one of the most sought after sporting events. Known as the "fastest two minutes in sports", the derby is a great event for all ages. With festivals leading up to the race and VIP experience upgrades available, you will have an amazing day at the races.
Read below to learn more about this amazing itinerary, as well as the vessel you'll be cruising onboard; The American Countess.

Featured Cruise:
The Kentucky Derby
May of 2022, 2023 & 2024 on the American Countess
9 Day Cincinnati, OH Roundtrip
Take a trip through Ohio, Indiana, and Kentucky on the American Countess, with a stop to experience all that the Kentucky Derby has to offer. One of the best perks of cruising with American Queen is the opportunity to upgrade to a Kentucky Derby package that offers VIP access and premium seating at Churchill downs. An event you can't miss is the Kentucky Derby Festival Great Steamboat Race, which takes place prior to the main event!
ITINERARY:
Hotel Stay in Cincinnati, OH
Cincinnati, OH
Madison, IN
Louisville, KY
Brandenburg, KY
Owensboro, KY
Louisville, KY
Louisville, KY
Louisville, KY
About The American Countess
With a sleek, contemporary design, the American Countess holds up to 245 guests. Featuring four decks and 123 staterooms, you will feel right at home the moment you step aboard. Lounge poolside at the bar, or admire the beautiful panoramic view from the top.
Dining onboard the American Countess takes inspiration from the south and shows a varied menu from our nation. The Grand Dining Room is a great spot for a longer meal, and the River Grill is perfect for more casual dining.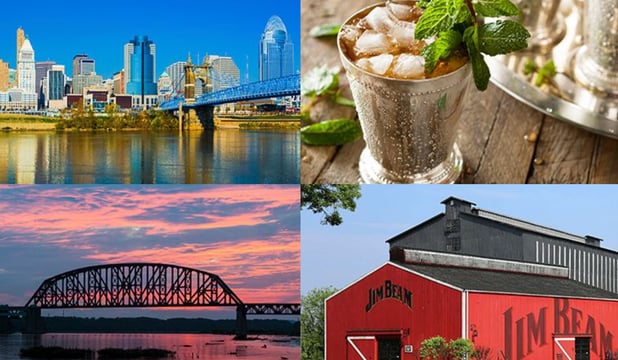 The Thoroughbred Race
The first weekend in May is an important time for the Kentucky Derby, which has its thoroughbred race. This race has taken place on Churchill Downs since 1875, and dressing up for this occasion is a must. You will see people sipping mint juleps while dressed to the nines. Get ready to bet, your horse might just be the lucky winner this year!
More To Explore: What we love about Louisville
Known for its quirks like street fare and sidewalk chalk, Louisville bring local traditions to life in a variety of ways. Experience the cultural diversity that keeps visitors coming back year after year. Enjoy old-fashioned cocktails, and see the city that is known for it's friendly locals and amazing experiences.