How to Stick to Your Fitness Routine on a Cruise with Royal Caribbean
If you're worried that you won't be able to stick to your new fitness routine while cruising, this blog will help ease your mind. Although cruise ships are notorious for their all-you-can-eat buffets and readily available room service, today's modern ships are also equipped with state-of-the-art fitness centers and limitless healthy dining options to suit all tastes.
This guide will provide all of the tips and tricks you need to keep your diet and exercise regimen on track while still enjoying everything a Royal Caribbean cruise has to offer.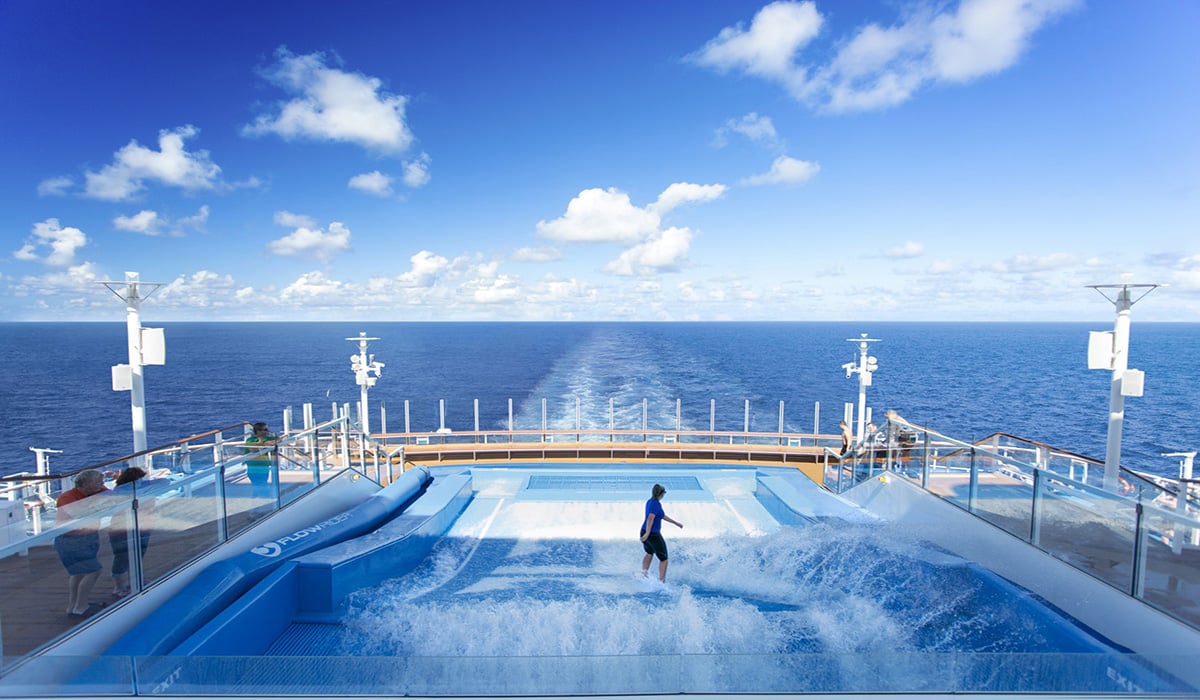 get moving
If you're able, commit to taking the stairs for your entire trip—even if it means passing up cool views from the glass elevators. Stair climbing burns seven times more calories than riding an elevator and offers plenty of other benefits, too. The number of calories you'll burn may surprise you. Also, take advantage of the ocean air and spectacular views by jogging or walking on the top deck, especially in the early morning, when it's least likely to be crowded.
Put your on-land time to good use. Instead of relaxing in the sun, something you can do onboard during days at sea, take advantage of shore excursions where you can hike, bike and kayak, go snorkeling, zip lining and rafting or, at the very least, explore the destination on foot. The best kind of workout is the kind that's so much fun it doesn't even feel like exercise.
With all of these options at your fingertips—and a different attitude to boot—you'll return from your Royal Caribbean cruise vacation with a new, healthy attitude.

EAT SMART
How many of us wish we had a personal chef to prepare delicious, healthy meals for us? Well that's exactly what you have onboard each ship in Royal Caribbean's fleet. While it's easy to be tempted by high-calorie options, consider the huge variety of fresh fruit that you don't have to wash and prep; the delectable, made-to-order omelets; and the extensive salad bar featuring more healthy toppings than you could ever stock in your home fridge or pantry. Since you're on vacation, some level of indulgence is in order but try to save your cheat treats for after breakfast and lunch.
For dinner, look to the wealth of seafood, lean meats and vegetables available. Royal Caribbean prides itself on offering guests a wide range of cuisine on its ships, many brought to life through partnerships with health-minded celebrity chefs. Focus on making healthy choices, but allow yourself to splurge a little when it's really worth it.
It's hard to resist a frozen drink topped off with a mini umbrella when you're on vacation, but don't have too many piña coladas or strawberry daiquiris; they're full of sugar. Instead, consider alcoholic beverages with fewer ingredients, such as a gin and tonic with a few limes, or a glass of wine or light beer. Drinking smart applies to non-alcoholic drinks, too—take it easy with soda and fancy coffee drinks, opting instead for water and unsweetened iced tea (both of which are free onboard).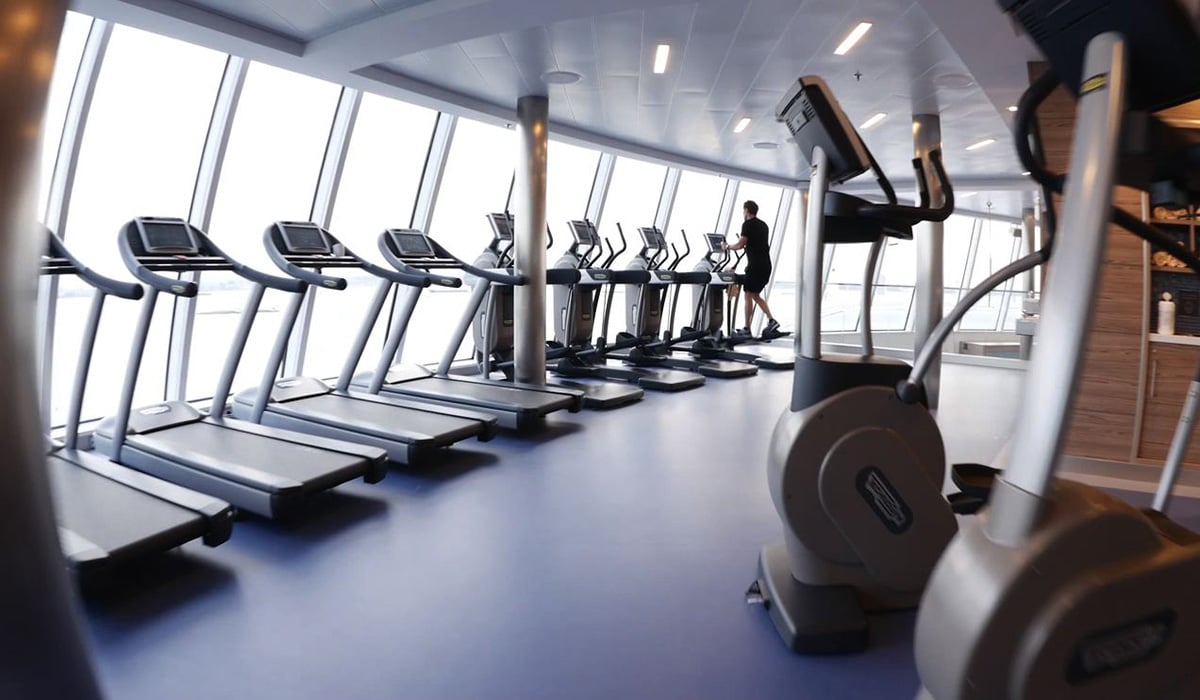 hit the gym
You may think the gym is the last place you'll want to be, but does your usual workout include expert instructors, gravity machines, a kinesis wall, Power Plate or Flywheel?
Each gym offers passengers cardio and weight machines to get your heart pumping and muscles moving. These self-paced machines are what you will typically find at your gym back home. The machines in the gym include treadmills, ellipticals, bench presses, free weights and more. The amount and variety of machines vary from ship to ship, with the Freedom and Oasis class gyms offering the biggest gyms in terms of square footage and machines. On Oasis of the Seas, there's over 150 cardio machines.
Some ships also include other fitness options, such as a boxing ring on Freedom class ships. There is also areas in the fitness center to stretch or do yoga on your own. Other machines like spin bikes are available to use provided they are not needed for a scheduled class.
The machines and free weights at the fitness center are free and open to all passengers. Other active options include surfing, ice skating, rock climbing and inline skating. You can also try something new and take a fitness class like yoga, boot camp, Pilates, boxing or cycling. You never know, you might pick up a new favorite.
*There is a posted age restriction requiring everyone in the gym be at least 16 years old.