From seaplane to mountainous trek, Alaskan adventures redefine Americana.
Known as the last frontier, Alaska offers a last look at American adventures in a land largely untouched by mankind. From the bounty of seaplanes to the general demeanor of Alaskan locals, the last frontier offers a world of exploration to any adventurer.
Novice adventurers will find themselves exploring wreckage from a legendary earthquake, while the more seasoned explorers discover Denali on foot. No matter your comfort level, Alaska is home to some of the best nature experiences in the US. A trip through Alaska helps create a great relationship with nature for any traveler.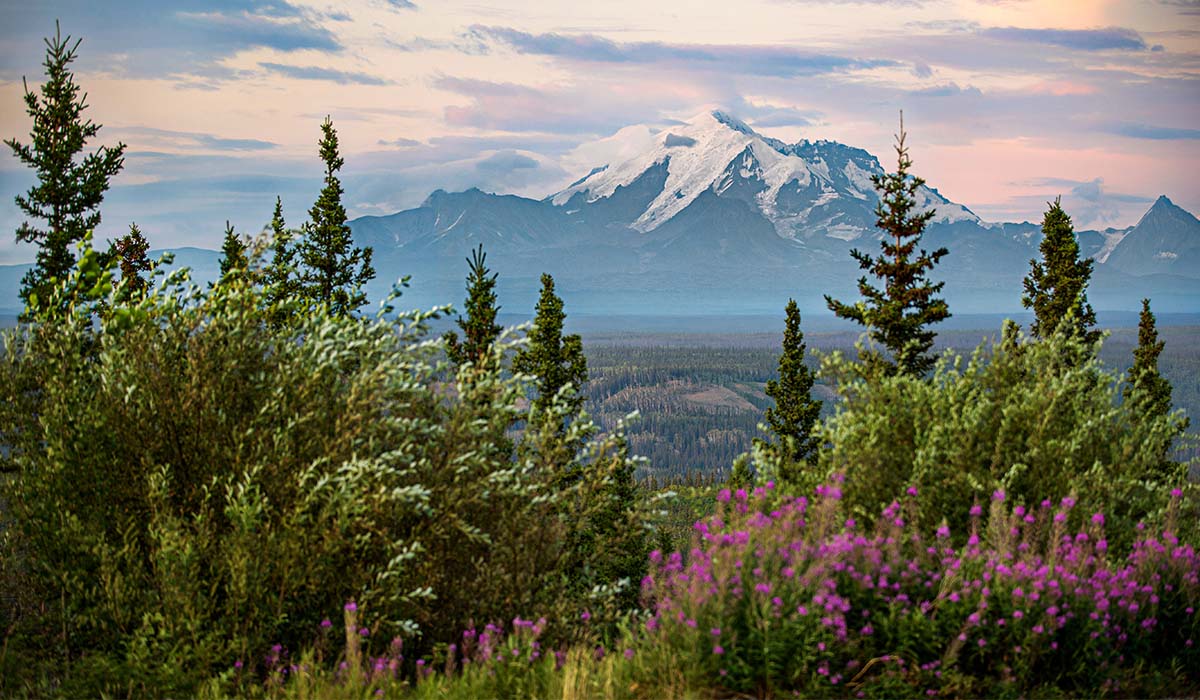 Seasons in Alaska
Some joke that Alaska has four seasons comprising of winter, June, July, and August. While the seasonal joke feels accurate amid the long winter, Alaska can be warm into late September. As the winter snow melts away, May can also reveal some of the lush greenery Alaska is known for.
Summer
Summer tends to be the most popular season for trips to the last frontier. June, July, and August offer a variety of travel options as the harsh winter weather subsides and the days grow longer. The gorgeous greenery and wildflowers attract nature lovers from everywhere, while the cold scares most travelers away.
Winter
Winter in Alaska is largely known for long days and nights. For a long time people believed Wintertime was dark for the entire day, however only the northernmost regions experience equal parts daylight and darkness.
Read More about the Midnight Sun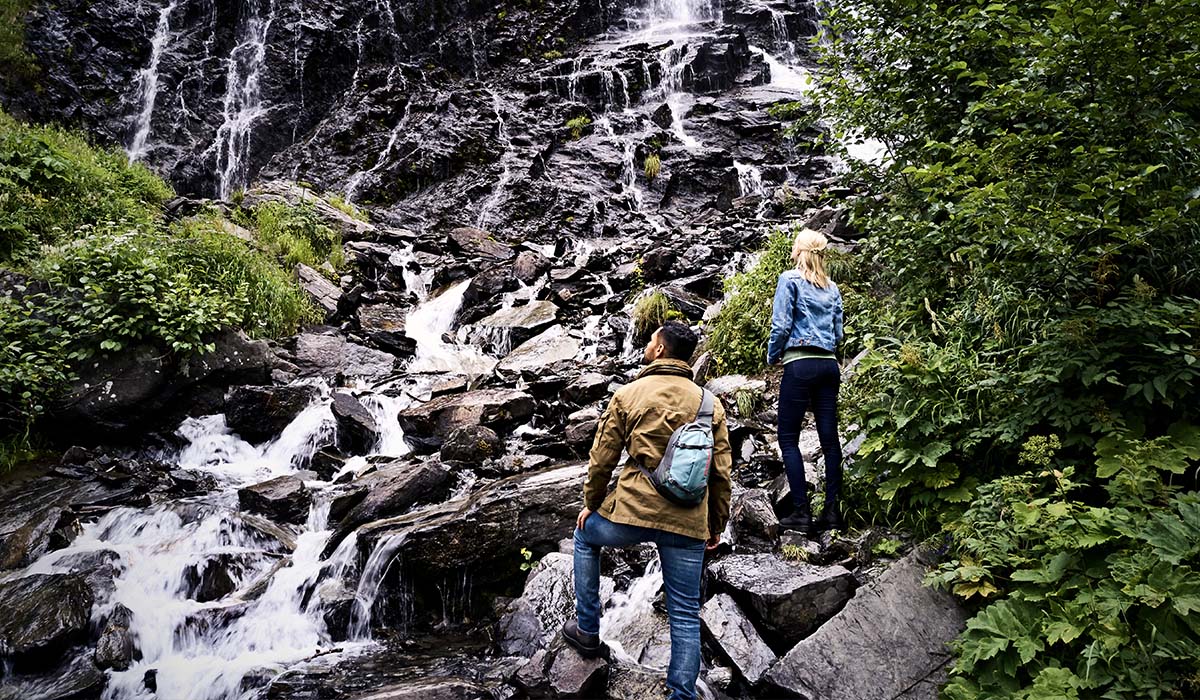 Amazing adventures
A trip to Alaska largely attracts people looking for a different kind of trip. Instead of packing heels and your favorite purse, you're likely to opt for comfortable shoes and a backpack that suits adventure time. There are a few chances to see and be seen, however, you may find yourself gravitating toward environmental experiences. The truly inspiring nature surrounding you will not disappoint.
Go for a hike.
There is a ton of variety for those interested in going on a hike during their vacation, including local trails out of Alaska's smaller towns like Seaward.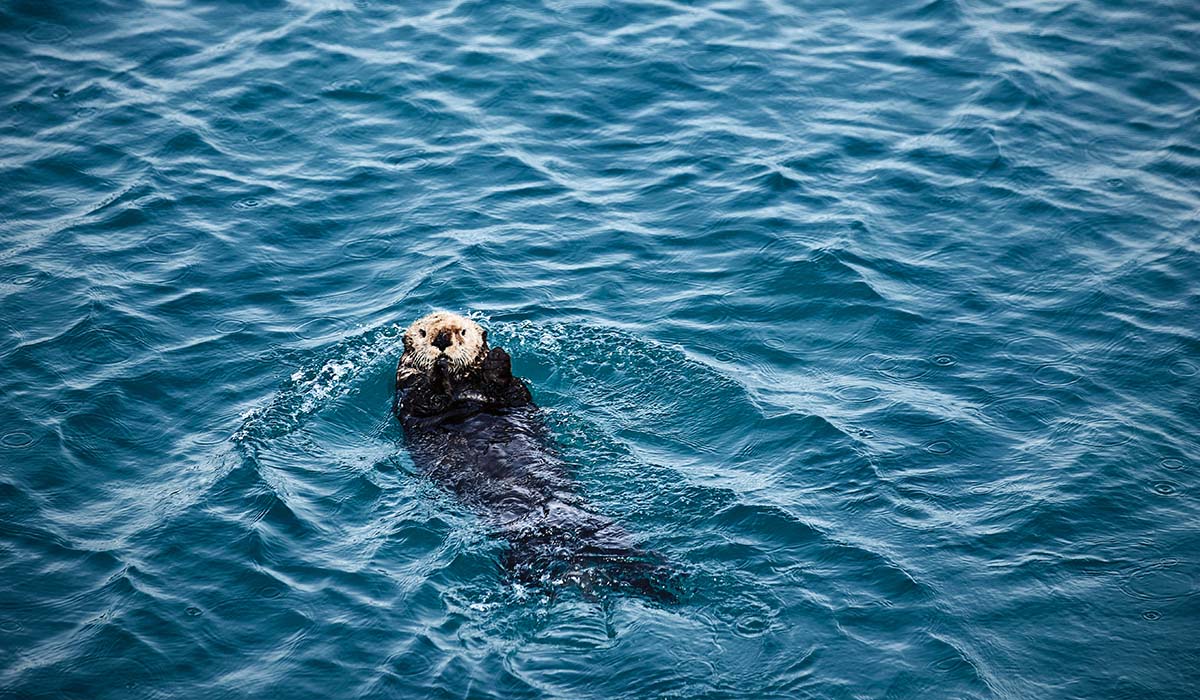 Take a water taxi in search of all the incredible marine life.
Due to the high amount of sediment in the water, many marine mammals travel to Alaska to feed during the summer. Expect to find Humpback whales, orcas, dolphins, sea otters, sea lions, octopus, walruses, and a variety of large fish like halibut and salmon.
Try Mountaineering.
Alaska has mountaineering nearly year-round, and for all levels. From climbing frozen faces in Denali to just repelling and enjoying the view there's something for every type of adventurer.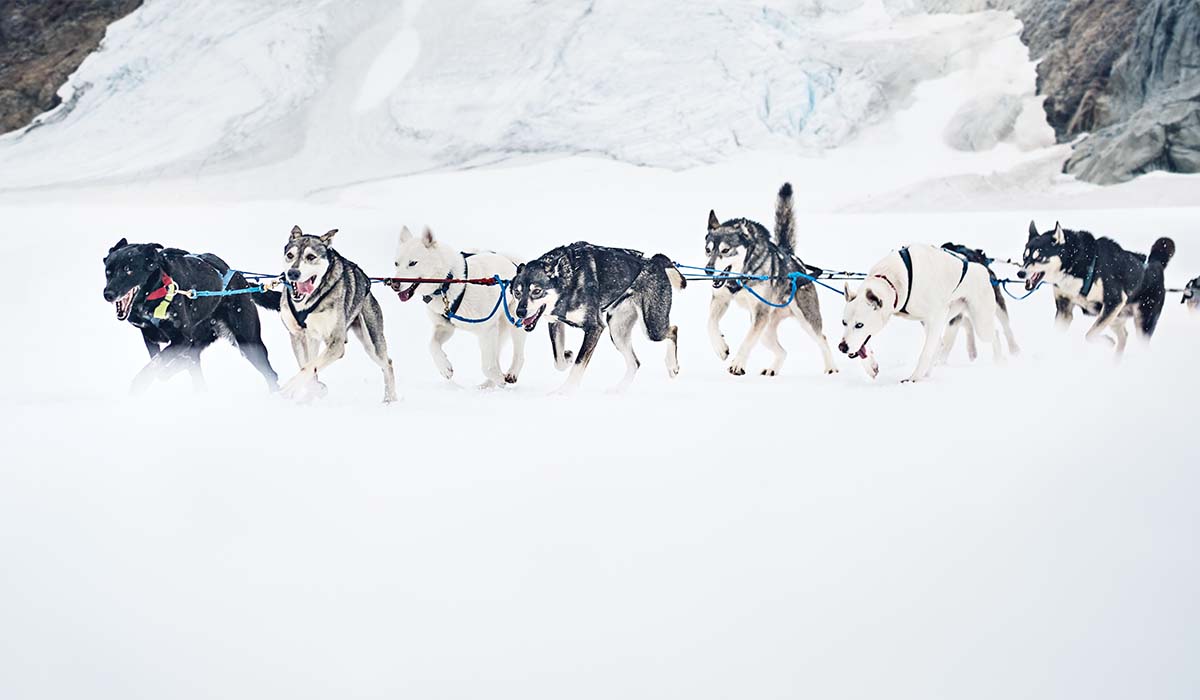 Embrace your inner Alaskan and try dogsledding.
If you like dogs and snow, you should go dogsledding during your trip. Not only do most companies offer the opportunity for each participant to mush, but the dogs are fun and participants will likely get a good workout.
Catch huge fish in Seward.
Those who enjoy fishing probably already have Seward on their itinerary. Even if fishing is not your hobby of choice, it may be worth considering. Seward takes fishing to a whole new level combining local culture and sport.
Hop on a historic train.
In early 1900 the Alaska Rail Road was established to transport coal, gold, and other materials to tidewater. Later the rail was largely funded by tourism and features gorgeous art deco train cars. This stretch of scenic railroad is a great way to get from one point in Alaska to another. It is a historic experience narrated by locals and frequently stops to spot Bald Eagles, Brown bears, and sheep climbing the rugged countryside.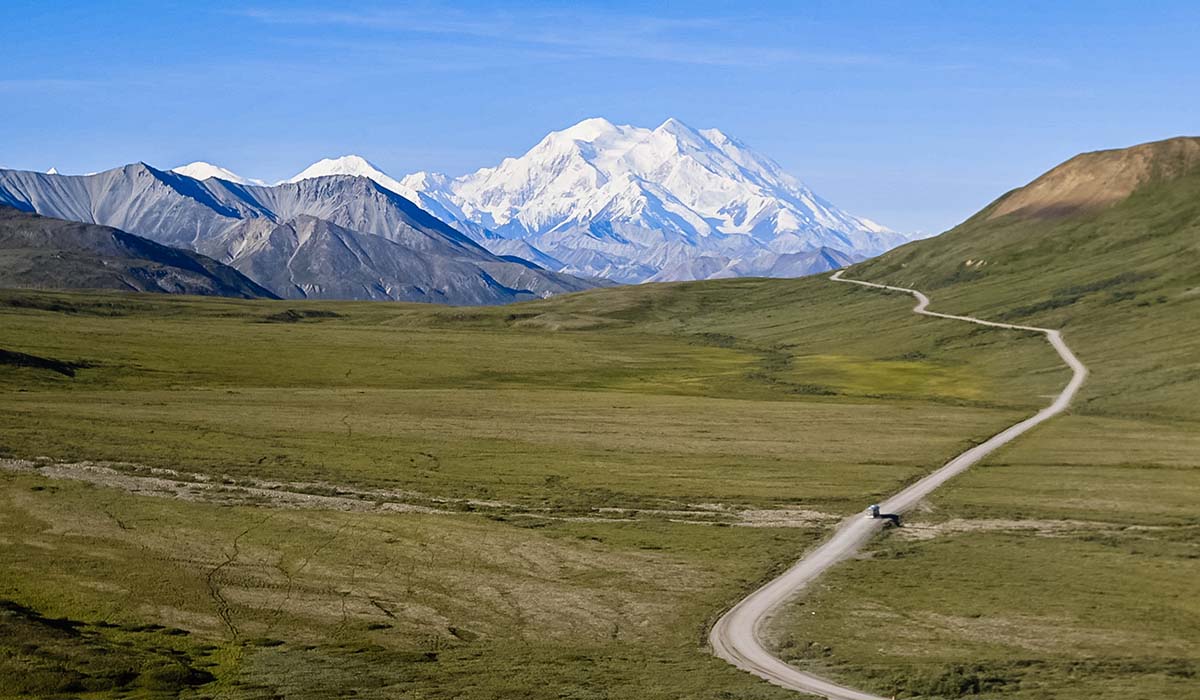 Climb Denali on a multiweek trek or just cruise through on the 92-mile road through this colossal national park.
Denali sits at just over 20,000 vertical feet within 6 million acres of the Alaskan wilderness. There is only one road spanning the park accessible by national parks bus or bicycle. Several tour companies facilitate backpacking trips and have private lodges where guests can experience the raw beauty of this incredible mountain.
Sea Kayak to Tidewater Glacier.
Sea kayaking in Alaska will enable intimate wildlife encounters and place you at the foot of a massive glacier. The ultramarine water is a memorable sight, however, the views and the wildlife make this an experience of a lifetime.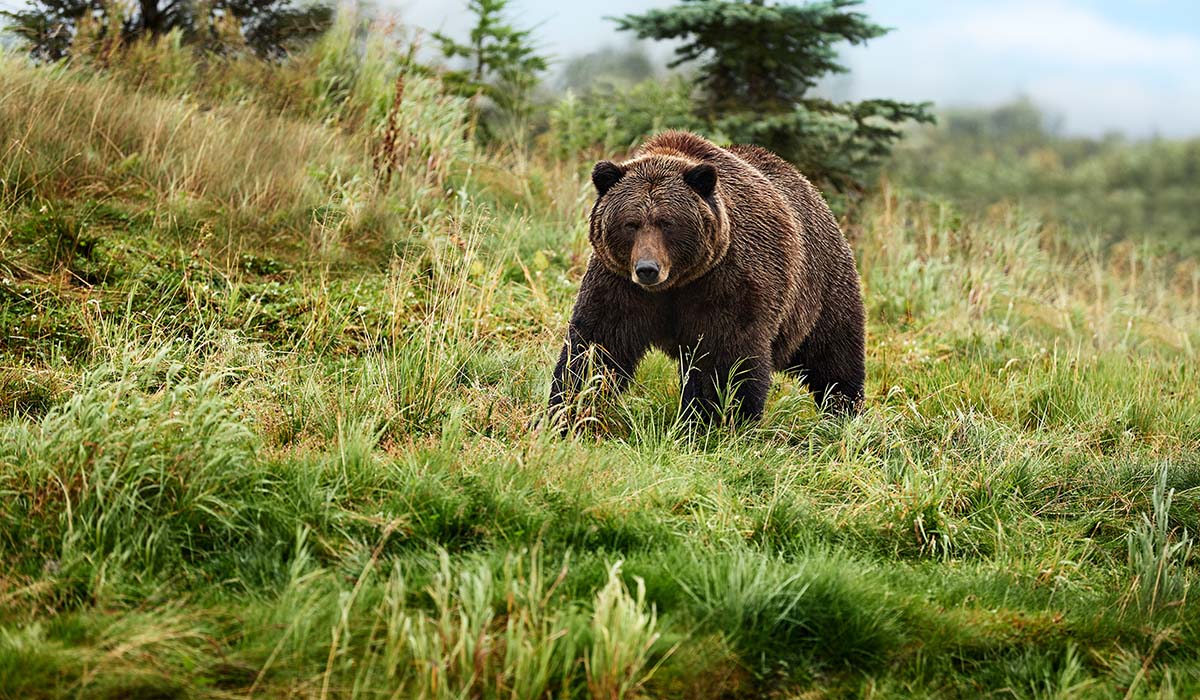 Take a floatplane to the ABC Islands to see brown bears hunt for salmon.
Alaska is known as the most flying state because more citizens have their pilot's license than their license to drive. One great way to embrace the small plane culture is to explore Alaska's neighboring islands where you can watch wild brown bears hunt along the shoreline.

Ways to see it
Visiting Alaska from the lower 48 is extremely convenient. With daily flights and convenient cruise options, Alaska is as wild as it is accessible. Due to the large span of the state, the sea is a great way to explore. Cruisetour options enable guests to immerse themselves at the beginning or end of their trip. For the sea wary, flying over and staying at various lodges refine the feeling of the last frontier. With Alaska's untamed enormity, you may find yourself looking to explore in every possible way.
Great Places to Stay
Stillpoint Lodge in Halibut Cove
Located outside of Homer, Stillpoint Lodge is situated at the Water's edge within a private peninsula. Surrounded by Alaska's only wilderness park, this eco-friendly lodge offers luxury amenities without sacrificing the feeling of Alaskan culture.
Feeling: Rustic luxury in a secluded waterfront setting
Get there: floatplane or helicopter
Adventures: Bear viewing, kayaking the glacier lake, sampling the lodge's 500 bottle wine cellar, and relaxing in the cedar tub.
Amenities: When booking with an MVT advisor, guests can expect upgrades (subject to availability,) complimentary breakfast daily, $100 in hotel credit, late check-in, and check-out.
Within the Wild's Winterlake Lodge in Wilderness, Alaska
With just six rooms, this lodge is situated at the western edge of the Alaska Range near Anchorage. This property overlooks peaceful fingerlake and is known for world-class dining.
Feeling: A casual, secluded setting with indigenous style amongst wild mountains and glaciers
Get there: By floatplane in the summer or ski-plane in the winter
Adventures: Fly-fish, river rafting, helicopter tours to active glaciers, dogsledding, and hiking historic trails.
Amenities: When booking with MVT, enjoy a complimentary full breakfast, additional massages, $100 credit toward gift shop, yoga, cooking classes, wine and cheese tastings, early check-in, and late check-out.
Sheldon Chalet at the base of Denali
Experience the beauty of Denali accompanied by fine dining, luxury accommodations, and exquisite service. Situated just ten miles from the peak of Denali, this property has been passed down within the Sheldon family for generations.
Feeling: the gorgeous landscape and luxury accommodations cultivate a dreamlike atmosphere
Get there: Talkeetna is the closes town however, the property recommends flying into Anchorage, then boarding a small plane to arrive at the chalet.
Adventures: Experience glacier mountaineering, snowshoe glacier trekking, backcountry skiing, snow cavern spelunking, rappelling, avalanche viewing, and aurora gazing.

Great Itineraries by Land
Alaska by Design
Known for creating personalized and complete vacations to Alaska, Alaska by Design covers the best of Alaska including train, small ship, and luxury tours.
Feeling: Variety of luxury experiences and accommodations
Get there: Alaska by Design sources a variety of travel options, however, most trips start with a flight to Alaska
Adventures: Discover Alaska's fishing, mingle with locals on a self-drive experience, get close to local wildlife, and cruise the inside passage!
Knightly Tours
The oldest tour wholesaler in Alaska, Knightly specializes in offering tours with plenty of freedom to personalize your journey. Committed to the independent traveler, Knightly goes beyond mass tourism to create unique and memorable experiences.
Feeling: Whatever you're looking for these tours are extremely customizable
Get there: Knightly sources a variety of travel options, though most trips start with a flight to Alaska.
Adventures: Experience wilderness lodges, catch huge fish, reach above the arctic circle, and discover the Alaskan winter.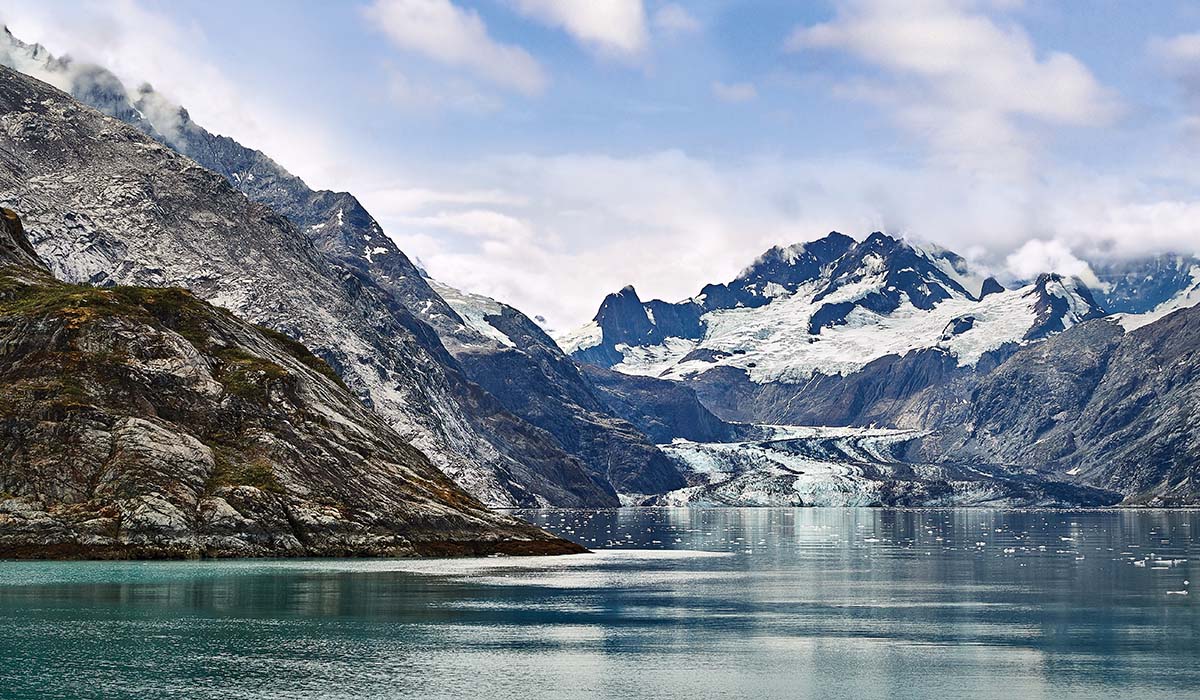 Great Itineraries at Sea
Norwegian Cruise Line
Most of Norwegian's Alaska Cruises offer a seven to ten-day Alaskan experience with a variety of stops including Hubbard Glacier, Juneau, and Ketchikan. Known for longer port times, Norwegian is an affordable itinerary that caters to a wide demographic. Norwegian also offers Cruisetour options to extend your vacation at the beginning or end of your trip.
Feeling: larger ships with beautifully renovated spaces and staterooms
Get there: Hop on a domestic flight to Seattle where you can board your ship and head to Alaska
Adventures: Witness the Endicott Arm Fjord and Dawes Glacier, hug a puppy in Juneau, discover whales, rainforests, and more
Amenities: When you book with us enjoy up to $150 shipboard credit per person. With free at sea, guests can enjoy an open bar, free specialty dining, free excursions, and extra guests.
American Queen Voyages
On their Alaskan Cruises, American Queen works to define an experience that connects you to the people and cultures in remote indigenous villages. With longer itinerary options from eleven to seventeen-day options, these trips are indulgent adventures into another way of life.
Feeling: Classic luxury aboard state-of-the-art ocean liners
Get there: American Queen makes getting there incredibly easy. With a complimentary pre-cruise stay and included ground transfers, just arrive at your hotel the night before your adventure and they help with the rest.
Adventures: Discover Fjordland, Kynoch Inlet, and Wrangell. Explore the Stikine River and visit Petersburg, an authentic Alaskan Village.
Amenities: American Queen is known for its inclusive experience with included pre-cruise hotel stays, guided tours, beverages, cuisine, room service, and entertainment. When you book with an MVT advisor, expect a $50 per person experience credit.
Viking Cruises
With Viking, you'll be immersed in a world of heritage and the atmosphere of Alaska's seaside towns. These eleven-day itineraries meander from Vancouver to Seward and Viking offers a five-day extension to explore the Canadian Rockies or a two-day pre-cruise extension in Vancouver. You'll want to look into Viking's sailing dates if you are looking to tie in Canada with your Alaskan adventure.
Feeling: Great value on charming ships
Get there: Hop on an international flight to Vancouver where you can board your ship and head to Alaska
Adventures: Learn all about the history from Viking's resident historian, sail the inside passage, discover Ketchikan, enjoy a panoramic tour of Sitka, pan for gold in Juneau, visit a dog sled camp, and discover an old canning station.
Amenities: When booking with MVT enjoy an additional $500 shipboard credit per person.
Celebrity Cruises
With seven to eleven-day adventures and additional Cruisetour options, there are many different ways to sail Alaska with Celebrity.
Feeling: Great value on a large ship with Modern accents
Get there: Hop on a domestic flight to Vancouver where you can board your ship and head to Alaska. For a limited time enjoy 25% off airfare.
Adventures: Cross Vancouver's suspension bridge, ride a gondola to the top of Hoonah Mountain, embark on a wildlife safari, and canoe Mendenhall Glacier.
Amenities: When booking with an MVT advisor expect a complimentary dinner for two and a $75 shopping credit per suite.
Regent Seven Seas Cruises
Experience Alaska's tranquil waters with Regent. Curate your seven to a thirteen-day journey based on your interests. From nature to food and wine, to culture or more active hobbies, Regent creates a personalized experience for each guest.
Feeling: Traditional luxury aboard incredible vessels at a higher price point
Get there: Hop on a flight to your port of departure
Adventures: Witness humpback whales breaching the water's surface, sled across a glacier, and journey through Tongass National Forest.
Amenities: Enjoy a free two-category upgrade, $1000 shipboard credit, plus a 50% reduced deposit when you book before June 30, 2022.
Princess Cruises
Known as the number one cruise line in Alaska, Princess services a variety of ports throughout Alaska with a huge number of itineraries ranging from four to twelve days. You can even combine cruise, train, lodging, and Denali with a Princess Cruisetour.
Read more about Princess Cruisetours
Feeling: Moderately luxurious and spacious
Get there: Choose from a selection of Princess EZair flights at a lower price with a great cancelation policy.
Adventures: Cruise Endicott Arm, zipline over the wilderness in Hoonah, embark on a whale watching tour, cast your rod in the salmon capital of the world, experience Russian Alaska, and meet sled dog pups!
Amenities: Book with MVT and enjoy a complimentary specialty dinner for two.