Enchanted Princess℠ Cruise Ship
Enchanted Princess℠ shares the spectacular style and luxury of Princess' fleet and introduces new attractions all her own. Get ready for exquisite, one-of-a-kind dining experiences. The most pools and whirlpool hot tubs in their fleet. World-class entertainment venues hosting dazzling performances. As well as the breathtaking new Sky Suite, with expansive views from their largest balcony.
Accommodations
From the moment you step aboard, Princess wants you to feel welcomed and right at home. And with attentive service from a friendly crewmember that knows what hospitality means, you'll find your Princess® ship truly is your home away from home.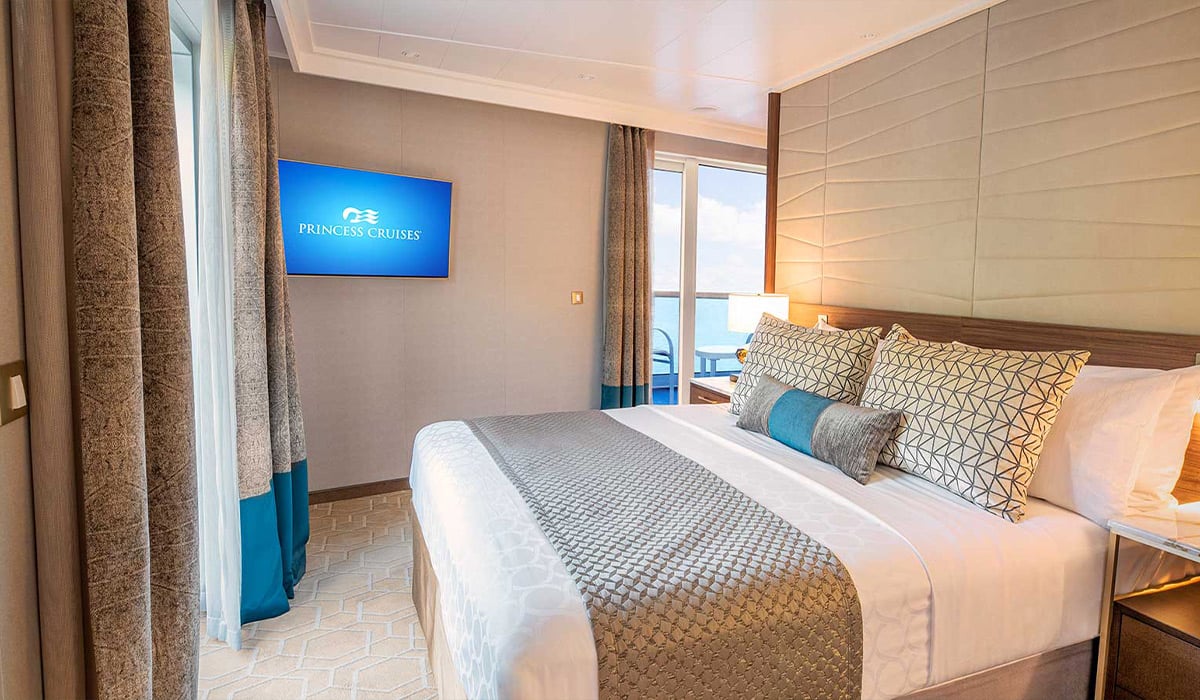 Unparalleled Service & Their Largest Balcony
Exclusive doesn't begin to describe the experience. Inclusive amenities, attentive service and a dedicated Suite Experience Manager to deliver your every desire are just the beginning. Crowning the heights of the ship, each Sky Suite hosts up to five guests, dazzling you with a 270-degree panorama throughout your voyage.
Most Luxurious Accommodations at Sea
Surrounding you with deluxe accommodations, a spacious Suite with balcony includes all the amenities of a Club Class Mini-Suite, plus incredible premiums. Enjoy more living space, a sofa bed and separate seating areas, and wonderfully enhanced amenities that range from priority embarkation and disembarkation to a complimentary mini-bar setup in suite and so much more.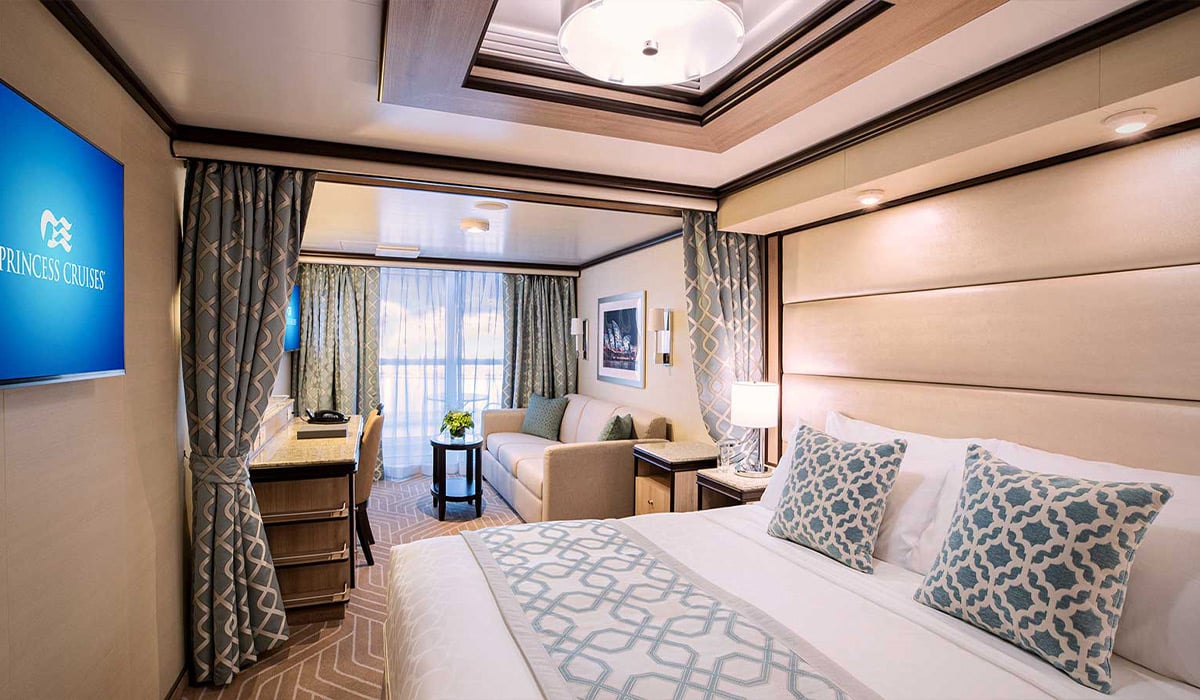 Add an Element of Luxury to Your Stay
Choose a luxurious Mini-Suite with balcony which is substantially larger than a Balcony stateroom and receive a complimentary welcome glass of bubbly. Mini-Suites include a separate sitting area with sofa bed and two flat-panel televisions. For families or groups needing a little extra space, Mini-Suites offer an appealing and affordable option.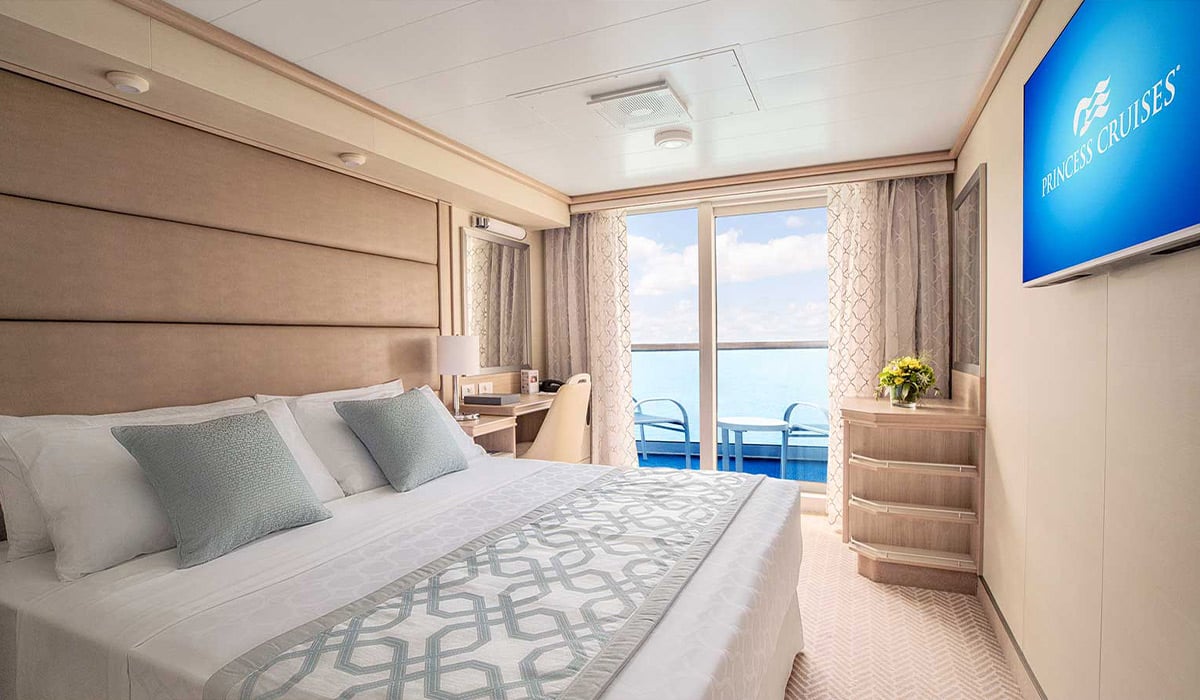 Front Row Seat for Beautiful Scenery
This impressive stateroom offers the added indulgence of a balcony and gives you more space than a standard stateroom. Enjoy your own private outdoor space with a table, two chairs, and a relaxing view of the inspiring scenery surrounding you, whether a beautiful sunset over the ocean or a new city to explore.
Dining Options
Indulge your appetite whenever you wish on board Princess®. Every hour, their chefs are busy baking, grilling and sautéing great-tasting fare from scratch. Princess offers unparalleled inclusive dining options throughout the ship with a wide range of culinary delights to suit any palate, from endless buffet choice to gourmet pizza, frosty treats, decadent desserts and much more.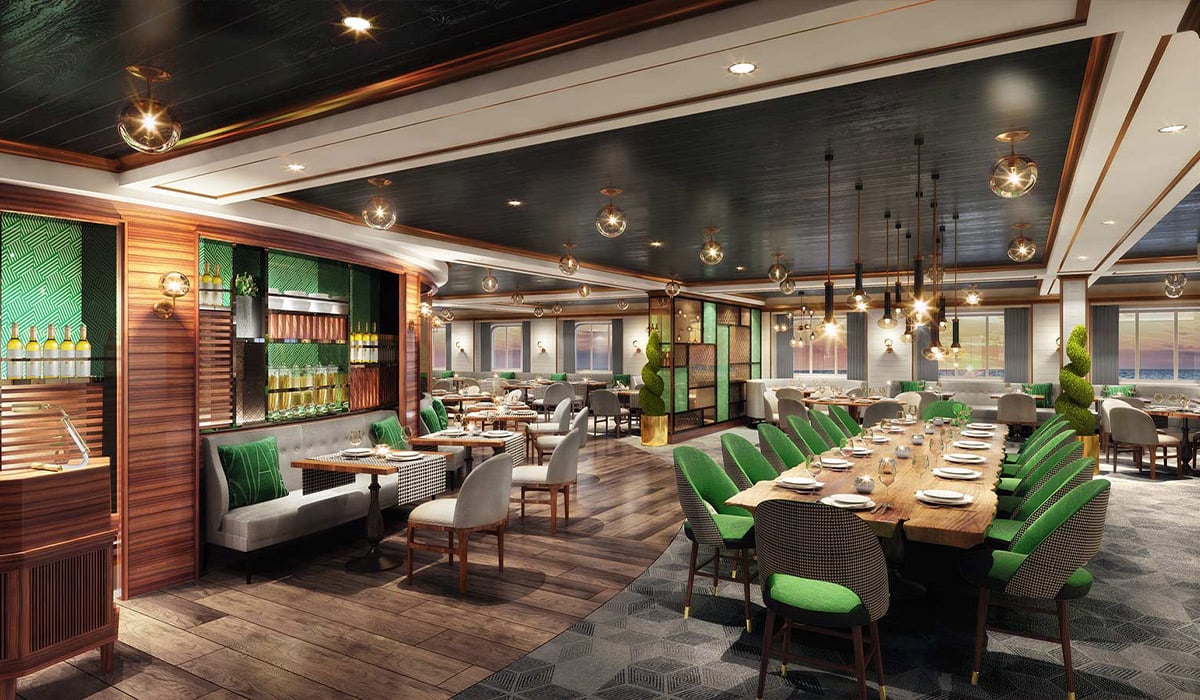 Specialty Dining
Dining on board a Princess® cruise ship is a joyful celebration and their specialty restaurants always deliver an extraordinary experience. They are among the best at sea – or anywhere. They serve dishes made with the freshest ingredients, and their menus reflect regional flavors from around the world. You'll find the specialty restaurants are the perfect place to celebrate any occasion.
French Bistro-style Fare with a Modern Twist
Savor casual French bistro-style dining with a modern twist at Bistro Sur La Mer, created with Chef Emmanuel Renaut, who holds the prestigious title of "Meilleur Ouvrier de France" (Best Craftsmen of France) and Chef of the Year by Le Chef, and whose Flocons de Sel restaurant has received three Michelin stars. Chef Renaut has created a tantalizing menu, showcasing authentic French dishes crafted with the Chef's signature flair.
A Dazzling Dining Adventure
An extraordinary treat for both gastronomes and gourmet novices, the Chef's Table Lumiere is a perfect culinary journey for any special occasion. Indulge in champagne and hors d'oeuvres, followed by an extravagant multi-course dinner created and hosted by the ship's executive chef.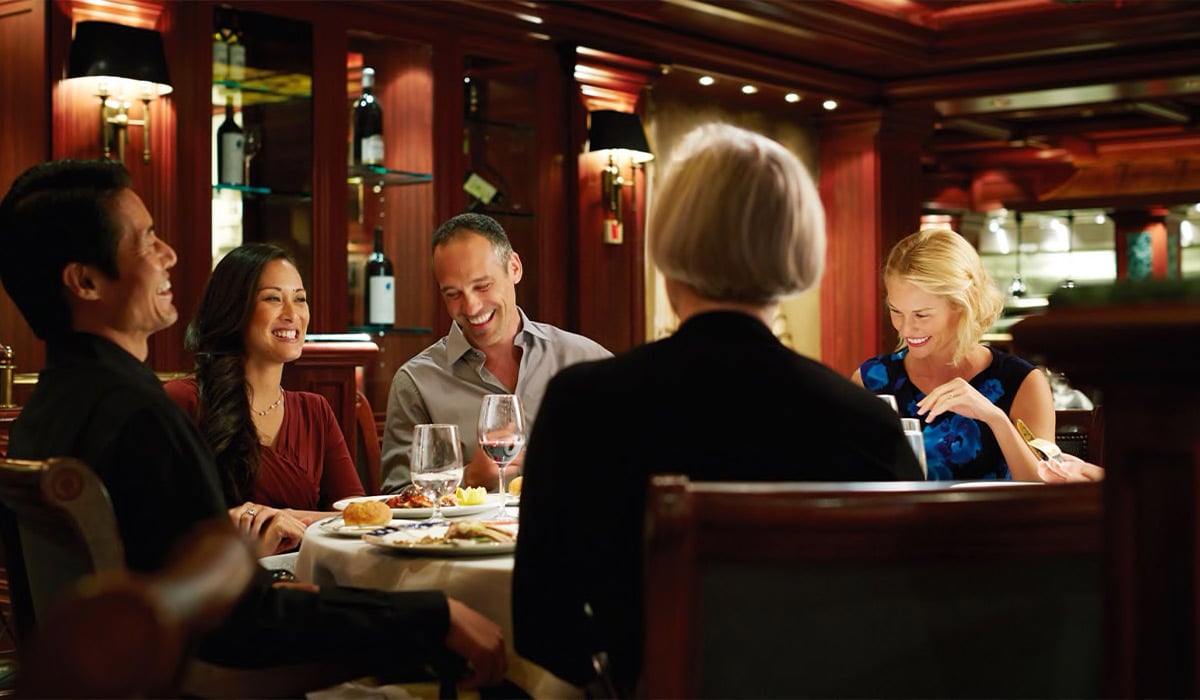 Timeless Steakhouse Traditions
With a rich wood décor and a theater-style kitchen, it's no wonder Crown Grill was named among the "Best Cruise Ship Steakhouses" by USA TODAY. Featuring premium aged beef and fresh seafood items, this specialty restaurant offers an intimate dining experience in a classically elegant setting and an open kitchen where chefs prepare and cook to order top-quality cuts of beef, chops and seafood.
Ship Highlights: Activities & Entertainment
On every Princess ship, you'll find so many ways to play, day or night. Explore The Shops of Princess, celebrate cultures at their Festivals of the World or learn a new talent — their onboard activities will keep you engaged every moment of your cruise vacation.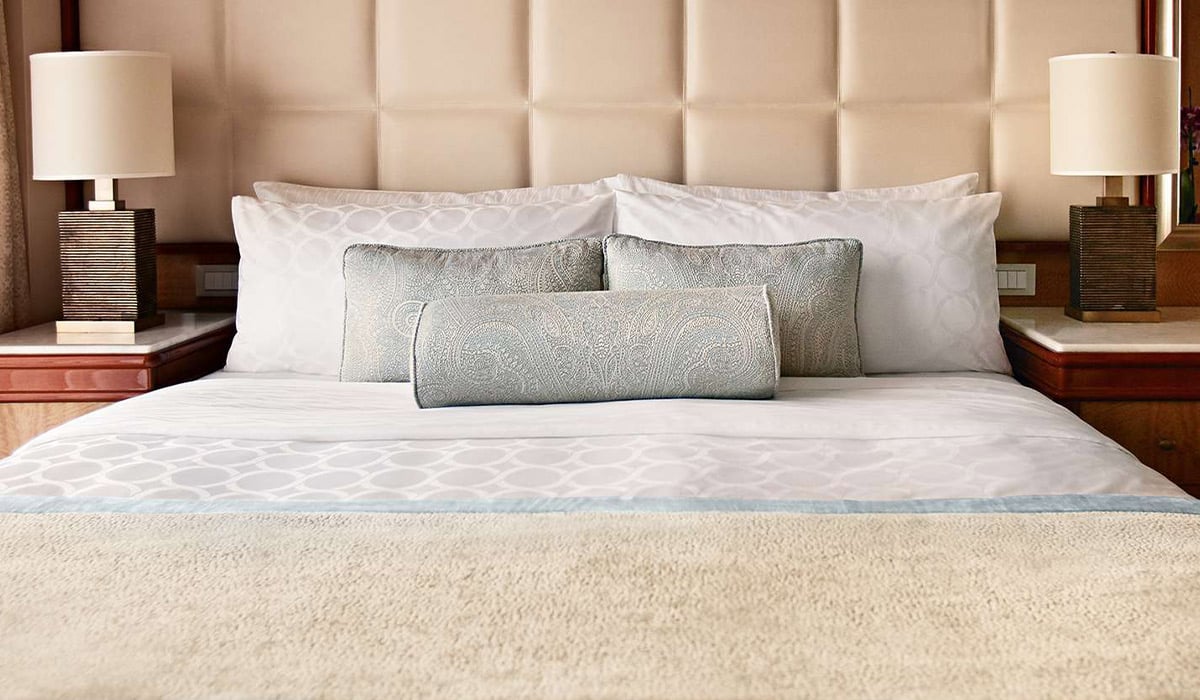 Joyful Rejuvenation
Revitalize and refresh body, mind and soul with Princess®. From rejuvenating spa treatments and the tranquility of a top-deck retreat reserved just for adults to their state-of-the-art fitness centers, you'll find all the elements to come back new.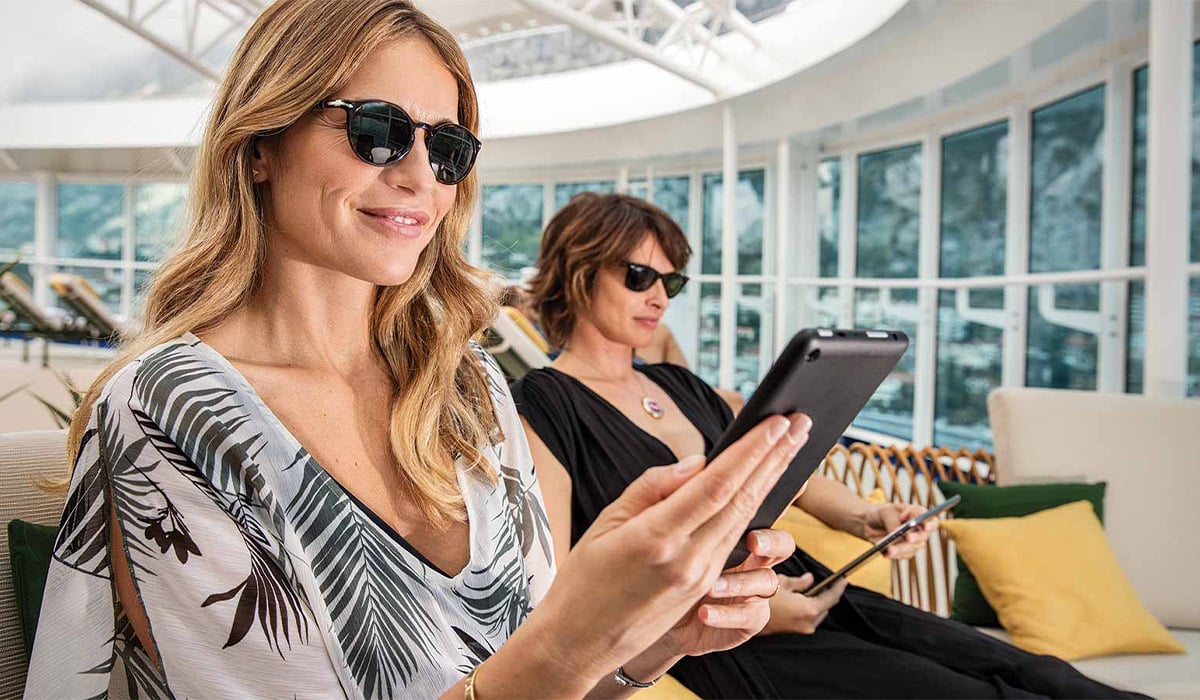 Greater Tranquility Just for Adults
With eight private cabanas at The Sanctuary – twice as many as their other Royal-class ships – both Sky Princess® and Enchanted Princess℠ offer even more opportunities to indulge in a private getaway at the exclusive adults-only retreat. Relax with signature beverages, light meals, and al fresco massages. Serenity Stewards attend to your every need, whether it's to be on hand to provide chilled face towels or Evian® water atomizers.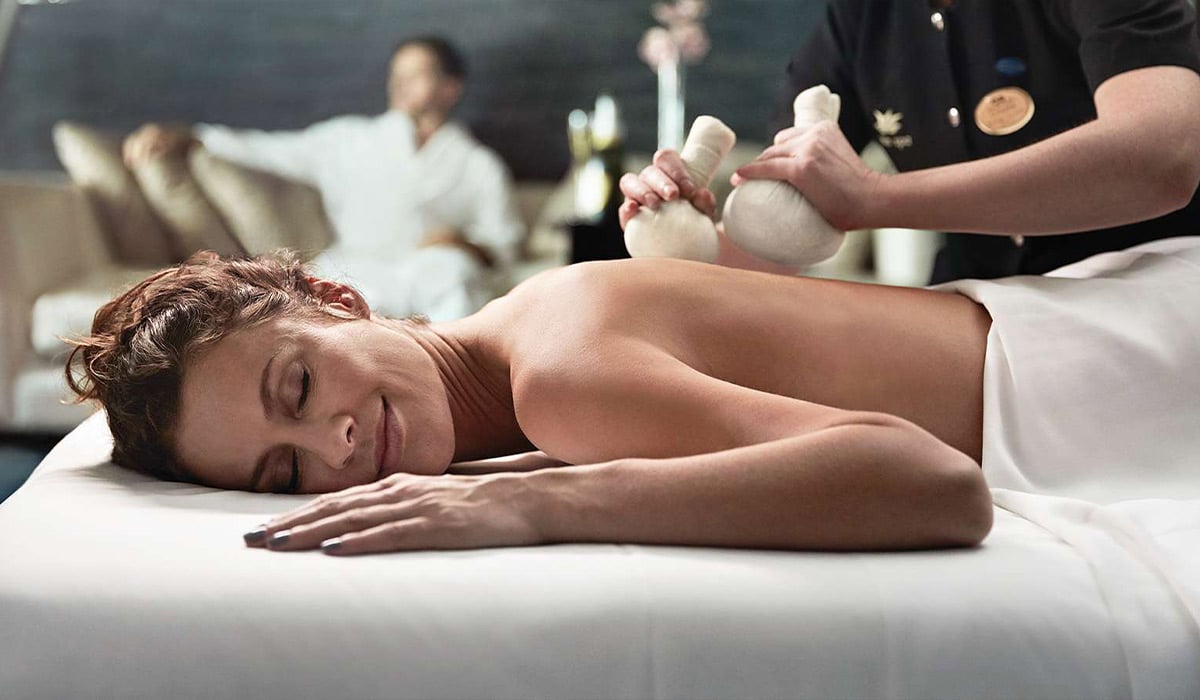 Go Ahead, Be Pampered – You Deserve It
Named "Best Spa on a Cruise Ship" by Spafinder Wellness 365™, the Lotus Spa® offers a variety of relaxing treatments, such as facials, aroma stone therapy massages, detoxifying ocean wraps and an aromatherapy thermal suite. Or get ready for a night on the town at the salon which features women's styling color, men's haircuts and shaves, manicure and pedicure choices and teeth whitening.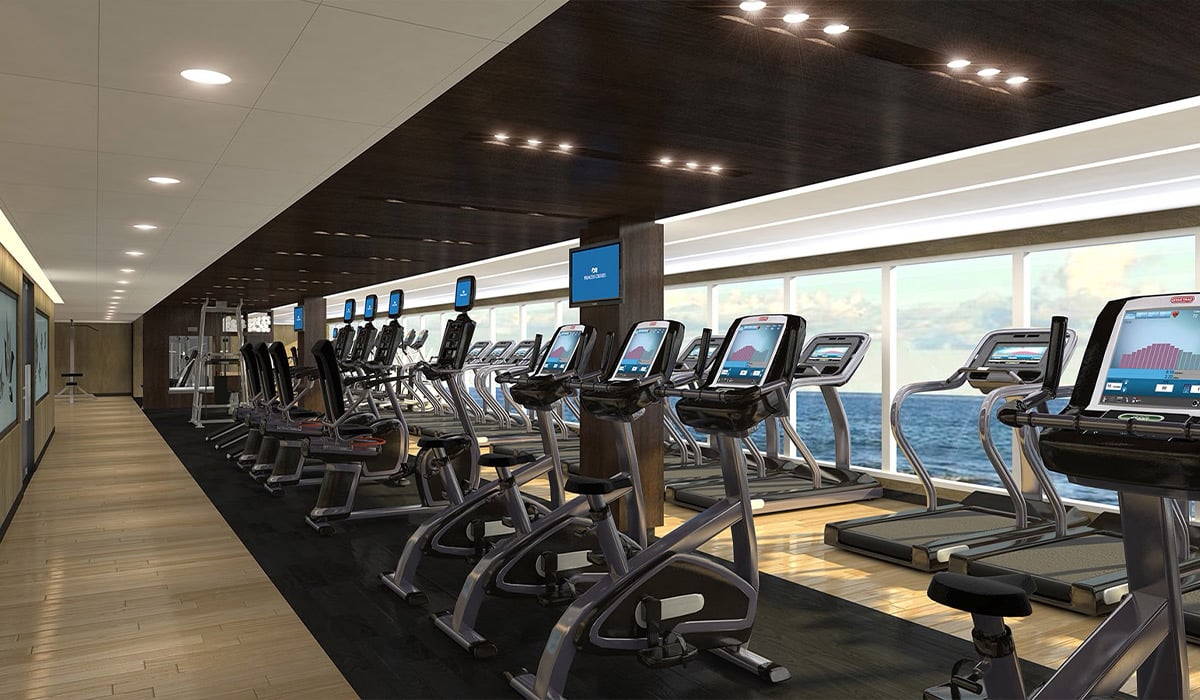 A Host of Ways to Get an Energizing Workout
The Lotus Spa Fitness Center offers fitness programs designed to help you maximize your wellness with Tour de Cycle, personal training and classes such as Pilates, Yoga, Body Sculpt Boot Camp, Results Based Training and TRX suspension training.
Luxuriate in Their Largest-ever Thermal Suite
Open the door to The Enclave, home to Princess' largest-ever thermal suite and a dramatic hydro-therapy pool with a cascading rain shower and therapeutic air jets. Relax on heated stone beds or soothing water beds. Features include: The Hammam – a Turkish-style steam bath, and from Roman times, the Caldarium –a light steam chamber infused with herbal aromas and the Laconium – a heated, dry chamber to help with purification and detoxification of the body.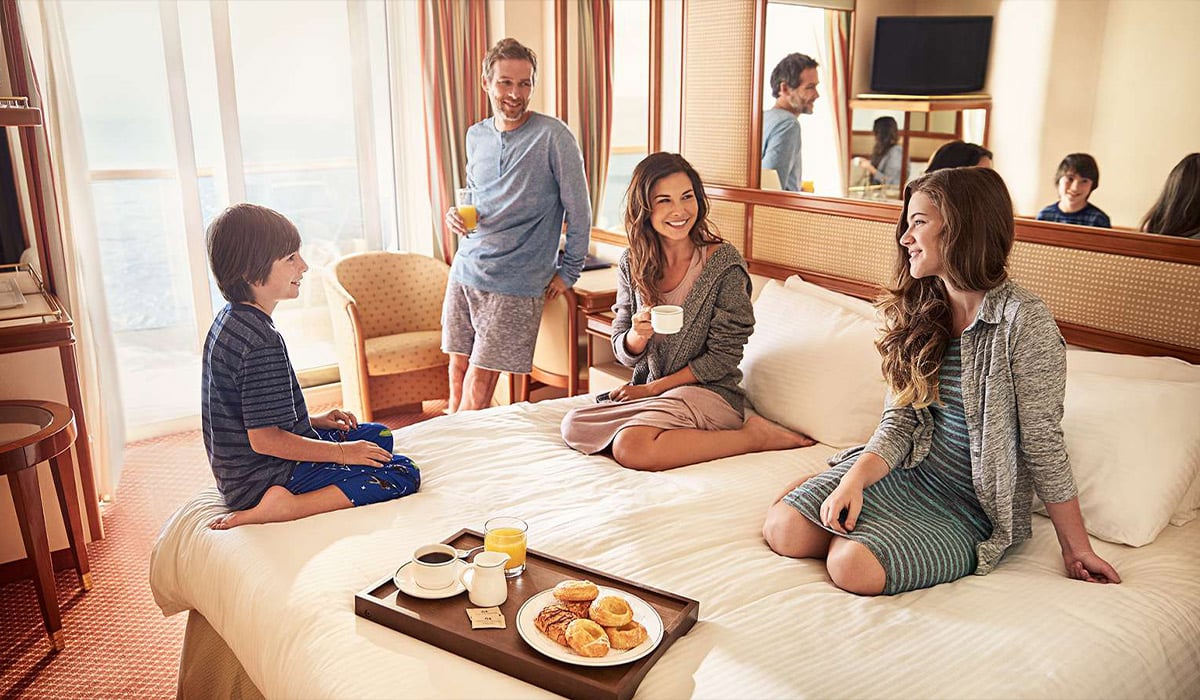 Kids, Teens & Family
From family-friendly stateroom options to enriching youth and family programs, quality time is time well spent. Onboard activities spark curiosity and fuel creativity while excursions ashore engage and inspire!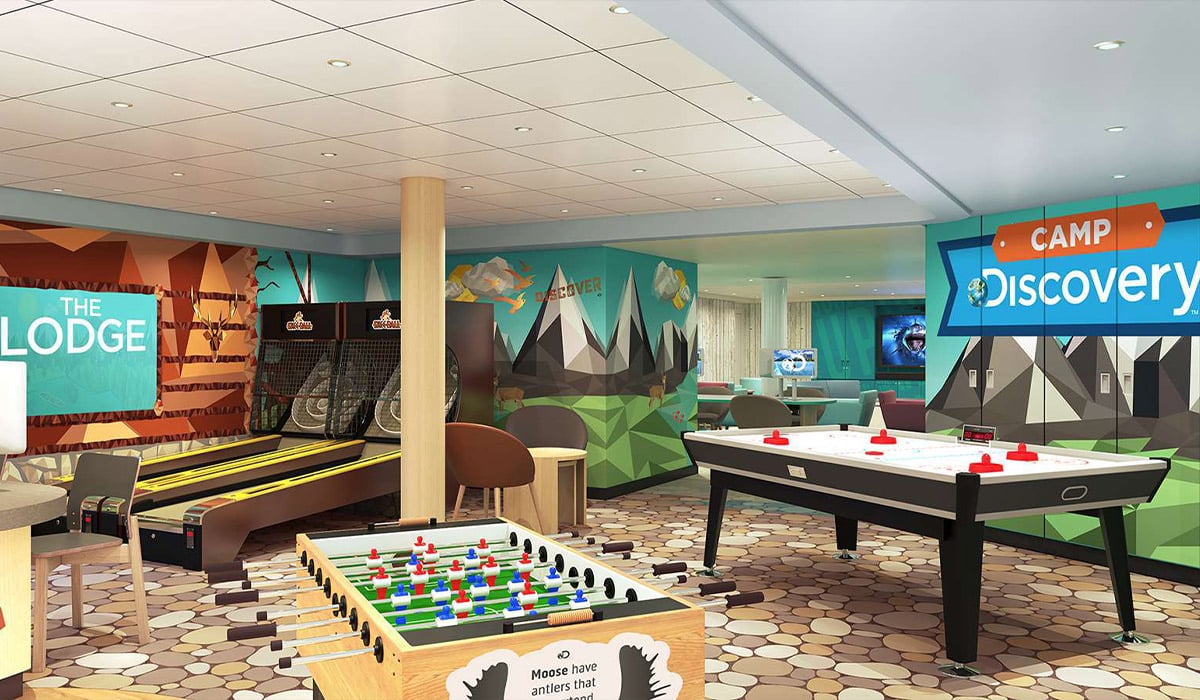 Step into the Lodge
Inspired by the great outdoors, this cozy center keeps kids busy with games, dancing and kid-sized Olympic competitions. Their minds stay busy, too, with California Science Center programs like rocket building, or they can explore outer space with Stargazing and learning how to build a model roller coaster. Exciting events like talent shows, theme nights, and treasure hunts encourage new friendships and family togetherness.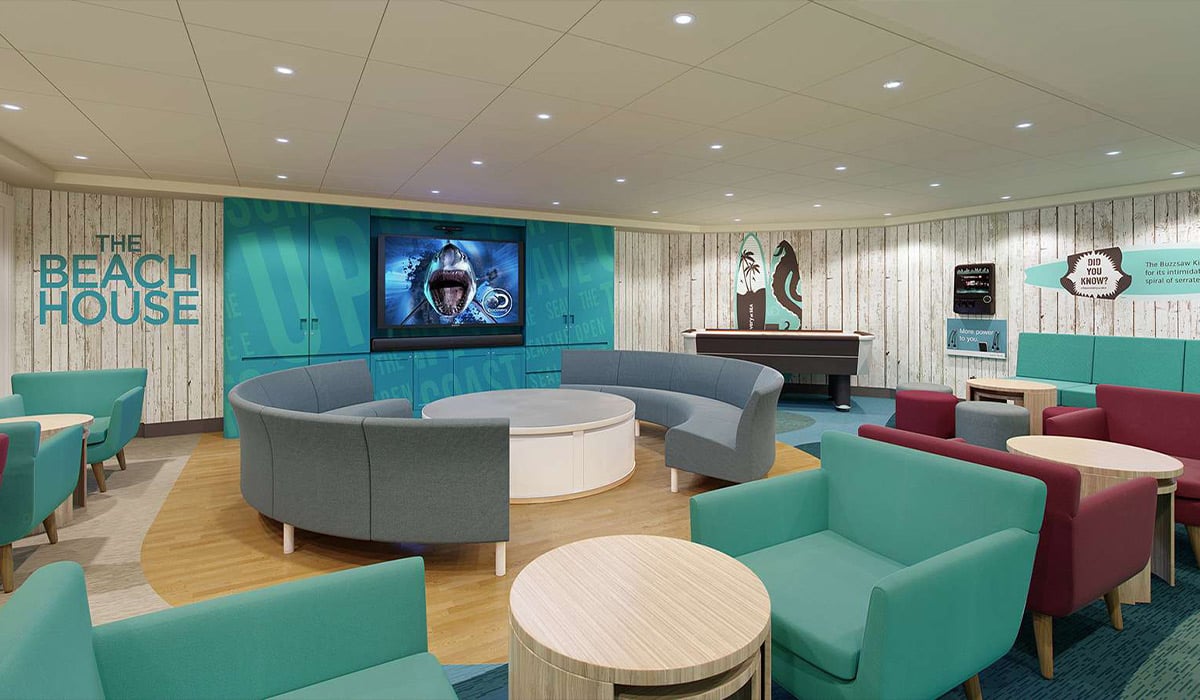 Hang Out in the Beach House
This contemporary lounge is "the place" for teens — perfect for hanging out and socializing with late-night movie viewing, hip hop dance classes, video game tournaments and sports competitions like dodgeball and basketball. But that's just the beginning. They'll dazzle on the red carpet with our Rock the Boat teens-only party, complete with awards and "mocktails."