From then to now: Aztec temples, tacos al pastor, nightlife, mezcal and palaces...
Mexico City is an urban jungle begging to be explored. From street tacos to Michelin star fusion, it is very easy to spend an entire day just walking and tasting the city's vibrant culture. Once the capital of the Aztec Empire, Mexico City is where new world and tropical plant life thrives among ancient temples, ruins, and tradition.
When you book with MVT you gain access to exclusive benefits like room upgrades, daily breakfast- even complimentary nights! So pack your bags, and let an MVT advisor take care of the rest.
Mexico City Hotels
Each neighborhood of this capital city is buzzing with life and has its own flare and the city as a whole is very walkable. For an afternoon pick-me-up you'll want to try the very popular carajillo; espresso and coffee liquor.
Book with an MVT advisor and gain insider tips and access to local markets, taco tours and art museums.
Four Seasons Mexico City
Just steps away from trendy neighbouhoods of Condesa and Polanco, Four Seasons Hotel Mexico City is a garden oasis within the city center. On the Reforma, sample a pre-nap Frijolito (Bulleit bourbon cooked with beans, Don Julio 70 tequila, Ancho Reyes chile liqueur, lime, and agave honey) at Fifty Mils at the 240-room Four Seasons Hotel, Mexico City. Virtuoso travelers receive breakfast daily and one lunch or dinner per stay.
When you book with MVT receive up to $200 spending credit, and VIP welcome amenities.
The Intercontinental Mexico City
The Intercontinental Mexico City offer magnificent Polanco and Chapultepec Park views. When you book your stay before December 31, 2023 receive 1000 points when you book a weekend stay
Go with MVT for guaranteed 2pm late checkout, VIP welcome gift, $100 amenity, and room upgrades.
Las Alcobas
An adults-only (13+) hotel, Las Alcobas sit on the high-end street of Masaryk in the Polanco district.
When you book your stay with MVT at Las Alcobas, you're welcomed with drinks, warm cookies and $100 spa credit!
Sofitel Mexico City
This property shines with its rooftop bar views. Located just steps away from such iconic Angel of Independence and the Castle of Chapultepec, visitors of Sofitel Mexico will find themselves right in the middle of Mexican history and heritage.
When you book with MVT you receive VIP status with flexible check in/out, daily breakfast for 2, $100 spending credit and more.
Where to Eat in Mexico City
You wont need to search "tacos near me" - just step out of your front door! Of course, you might need directions to the best or most popular taquerias, but there is no shortage of good food in any neighborhood. Here is a list of taquerias and fine dinning experiences besides the world famous- and hard to reserve- Pujol Mexico City.
Taqueria Orinoco
For quick, authentic and satisfying tacos al pastor and house salsas, stop by Taqueria Orinoco. There might be a line outside, but it goes by fast...and its worth it.
El Huequito
This "little hole in the wall," as its name translates, claims to be the first to serve Mexico City's most iconic street food, tacos al pastor. The dish's origins belong to the Lebanese immigrants who brought their shawarma spit-roasting technique to Mexico in the late nineteenth century, and El Huequito has been expertly carving layers of seasoned pork off its spinning trompo spit from this original location since 1959.
Blanco Colima
This is fine dining in the heart of Mexico City. Here, the avant-garde cuisine is matched with an environment where music and cocktails play a transcendental role. The cuisine and the setting transform this restaurant into an entire experience.
Los Cocuyos
What this unassuming taquería lacks in seating, it more than makes up for in diversity of tacos, slung at nearly all hours but especially popular after nightfall. Try the beef suadero tacos, widely considered the city's best brisket, and the campechano tacos that combine suadero with spicy longaniza sausage.
Osteria del Becco
For a traditional Italian treat in the heart of Polanco, make sure you pay a visit to Osteria del Becco. Sit back and slow down with lovely outdoor dining and picture-perfect seasonal cocktails.
Churreria El Moro
Taste the tradition of 88 years of churro making. There is something special about a fresh churro with hot or cold chocolate.
For Valentine's Day El Moro offers a special red velvet option. The most important ingredient? Amor!
What to do in Mexico City
The historic city center can happily fill an entire itinerary with its museums, lush gardens or mezcal tasting. The trendy neighborhoods of Condesa, Roma, Polanco, and Juárez neighborhoods are the best for strolling and people watching.

Xochimilco
To venture outside of the city center, Xochimilco is a short drive and a colorful experience floating along the remainder of advanced canals built by the Aztecs. This ancient waterway celebrates the craftsmanship of the Aztec people with its colorful boats where mariachi serenade you, and flower crowns adorn you.
Departamento
For a proper taste of CDMX nightlife, one of our favorite clubs in the city center is Departamento. Start on the rooftop lounge with a carajillo and chat with the locals. You may be surprised to learn that each floor below you is a different dance floor, each one opening a different times as the night goes on.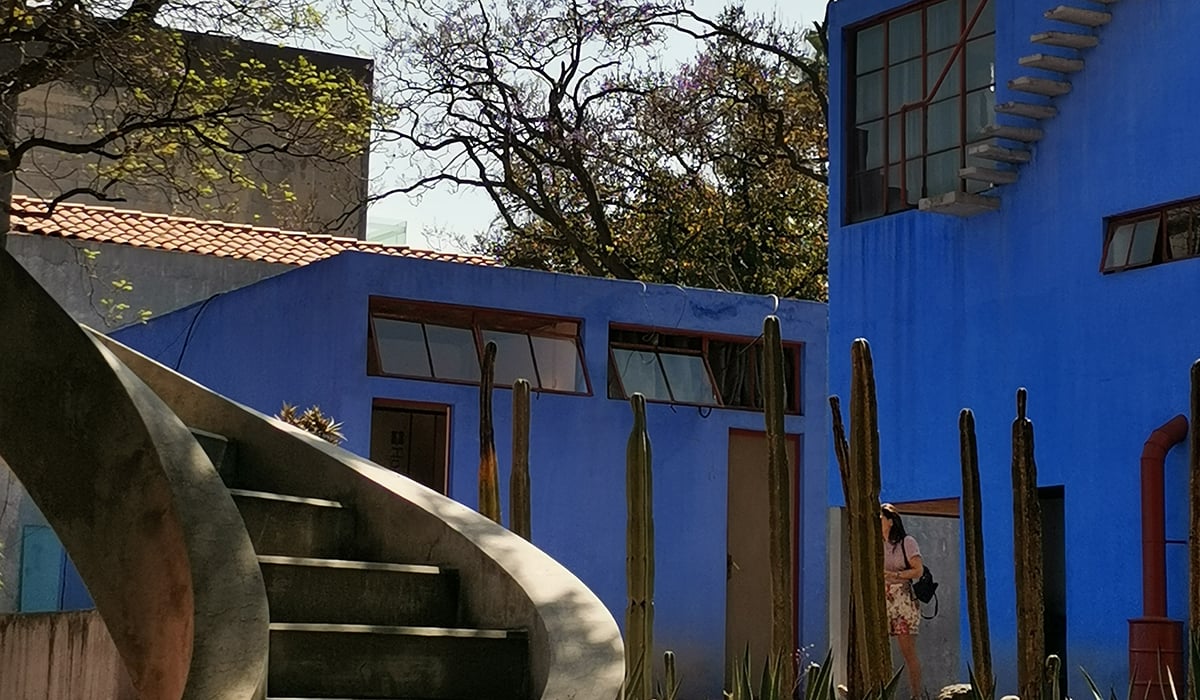 Frida Kahlo Museum
This exhibition is actually her house. The blue house was a dying wish from Frida so that all can celebrate Mexican culture. Casa Azul and its gardens have displayed personal objects and paintings by both Frida Kahlo and Diego Riviera; folk art, Pre-Columbian sculpture, photos, documents, books, and furnishings that were part of the ambience where Frida was inspired to create.
La Ciudadela Artisan Market
La Ciudadela or Mercado de Artesanías La Ciudadela originally opened during the 1968 Olympics to showcase arts and crafts items from all over the country. You may want to bring cash...and extra room in your luggage.
Chapultepec Park
This is one of the largest parks in Mexico, twice the size of NYC's Central Park, and it holds major cultural significance. Locals and tourists alike flock to the shade of the trees, snacks and community engagement.
The Chapultepec Castle, which translates to "Hill of the Grasshopper," overlooks the city and served as a main defense mechanism at many points in history. When the Aztecs conquered the city, they continued to use the hill as a spiritual place. Even after the Mexican War of Independence, the castle was used as the official residence for the head of state. With an awe-inspiring panoramic views, this castle is beautiful inside and out
The Pyramids of Teotihuacán
Travel back into time to one of the oldest Mayan civilizations and some of the world's largest pyramids. Teotihuacán connects the Pyramid of the Sun with the Pyramid of the Moon. Tour these ancient landmarks from the ground or from above in hot air balloon!
Airplane Playlist
Don't forget to download your favorite music before taking off!
Click play to listen or download MVT's playlist for the ultimate soundtrack to your final descent into the city of palaces.