Why you should go chasing waterfalls
Besides the sheer power and beauty of the world's waterfalls, there's numerous health benefits to being around the negative ions of cascading water. Negative ions increase the flow of oxygen and serotonin to the brain; alleviating stress, fatigue and anxiety!
The highest concentrations of negative ions are in nature, mountains, forests, waterfalls, beaches, oceans and are most prevalent around bodies of moving water.
Where to go on vacation
Let the force of nature and grace from the world's waterfalls lead you to your next vacation. You can carve out your itinerary based on visiting these hiking trails, UNESCO sites, or National Parks. Surround yourself in nature while hearing the thunder of falls in the near distance.
The majesty of misty waterfalls stays with you. To add to their magic, sometimes a rainbow will linger when sunlight passes thru the water suspended in the air from the falls.
Book with an MVT advisor and gain insider tips, access to local itineraries and special VIP amenities. Here are just a couple of the world's waterfalls, even underwater waterfalls, to inspire your next big adventure.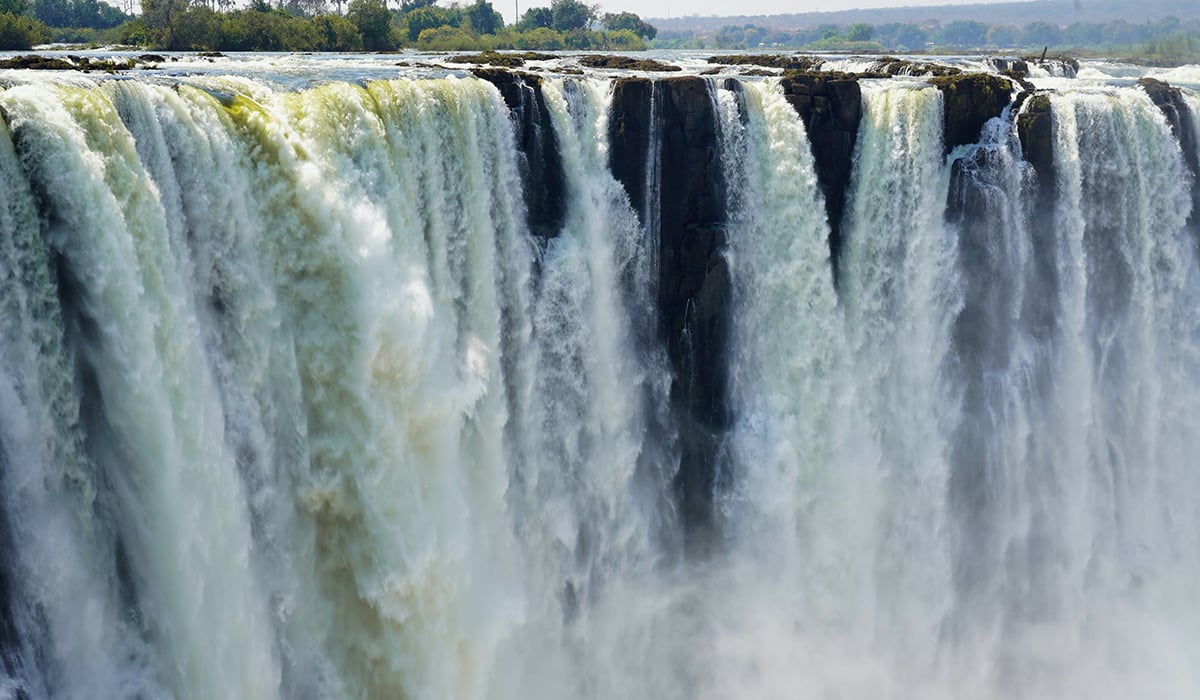 📍Mosi-oa-Tunya / Victoria Falls
The Zambezi River, which is more than 2 km wide at this point, plunges noisily down a series of basalt gorges and raises an iridescent mist that can be seen more than 20 km away. These waterfalls extend from Mosi-oa-Tunya National Park in Zambia to Victoria Falls National Park in Zimbabwe.
Stay 4 nights or more at Matetsi Victoria Falls and receive a complimentary "Flight of Angels" scenic helicopter flight over the Victoria Falls.
This experience starts as your helicopter lifts off from Matetsi Private Game Reserve's helipad. You'll fly across the reserve, with the opportunity to see wildlife from the air, and down the Zambezi River towards the mighty Victoria Falls. Marvel at the Batoka Gorge formation and experience the renowned Flight of the Angels over the Victoria Falls, the world's largest waterfall, the scale of which can only truly be appreciated from the air.
Featured Cruises: Silversea Cruises Lisbon to Bridgetown
Turquoise seas, white powder beaches, kaleidoscopic marine life follow you along Silversea's all-inclusive luxury. Your stop in the city of Roseau on the island of Domenica, reveals beautiful waters and rainforest. The city conceals rich wildlife and waterfalls spilling into splash pools, while plantations give a taste of the island's heritage. You can also discover the second-largest hot spring in the world - Boiling Lake - which brews with angry volcanic activity in the steamy Morne Trois Pitons National Park.
Go with MVT for up to $300 USD shipboard credit per person per stateroom on select 2023 voyages.
📍Plitvice Lakes National Park
While visiting Croatia or the Adriatic Coast, Plitvice Lakes National Park is worth time carved into your itinerary.
You can spend half to an entire day wandering these falls located in central Croatia.
This can be a busy national park and with its many winding bridges, even a boat ride, a local guide is a must for this experience.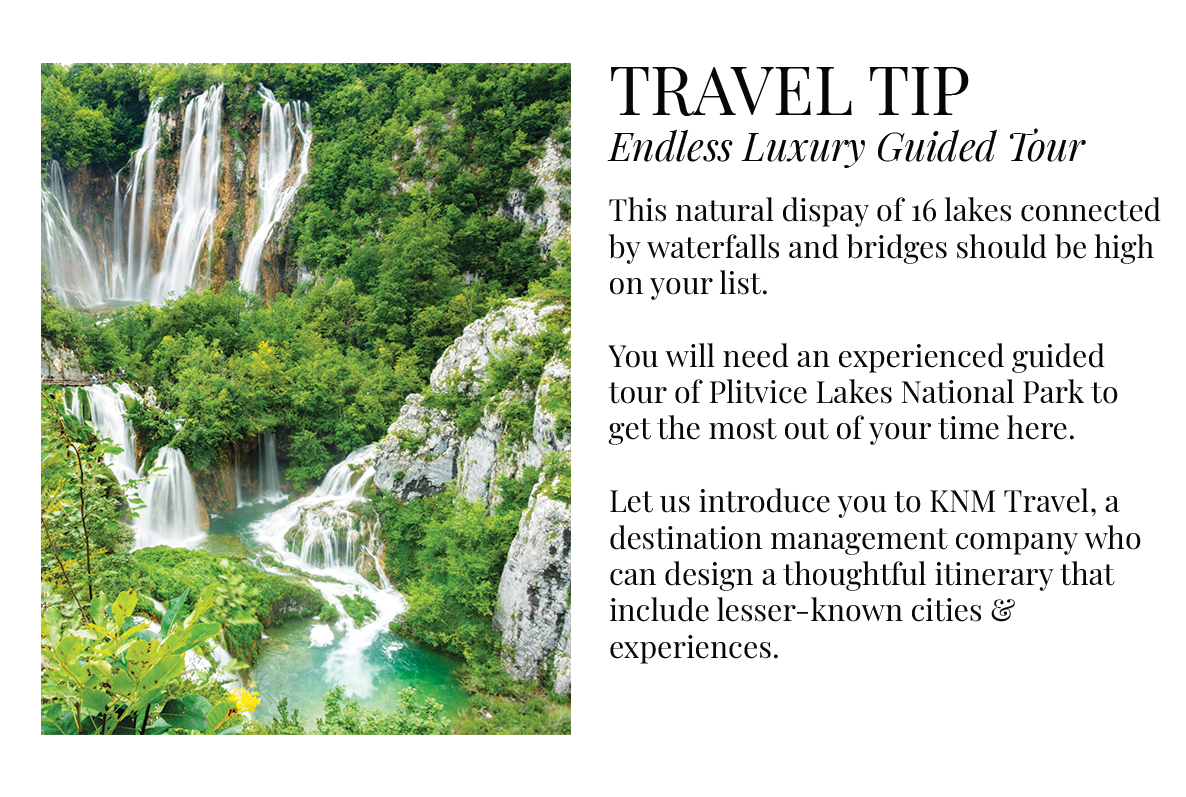 📍Niagara Falls

North America's largest and most powerful cascade, Niagara Falls hurl 42 million gallons of water down 20 stories every minute. Its mile-wide length straddles the Canadian and US borders and is split by islands into three smaller cataracts: Horseshoe Falls, Bridal Veil Falls, and American Falls.
Featured Cruise: Viking Niagara Falls Up Close
Explore North America's Great Lakes and Niagara Falls with Viking river cruise luxury. Slow down and take it all in with Viking's included Niagara Falls excursions like Niagara Up Close- where you travel as close as possible by boat to the base of Horseshoe falls.
Book your next adventure on Viking with MVT to receive up to $250 USD shipboard credit per person on select 2023 and 2024 Virtuoso Group Program voyages.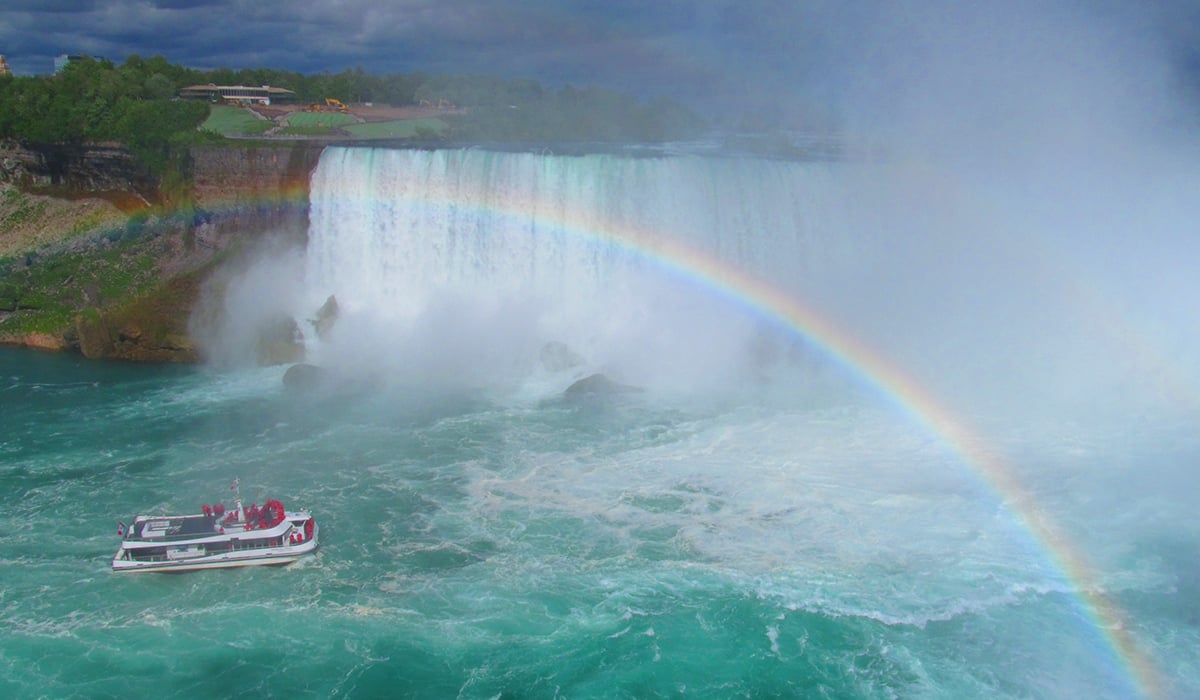 Underwater Waterfalls
Did you know some of the world's biggest waterfalls are actually underwater?
That's right, the Denmark Strait separates Greenland and Iceland and it's said to be the tallest underwater waterfall in the world! These waterfalls in the ocean are created by cold water meeting warmer waters. The colder dense water sinks to the bottom, and the warm water flows over the drop in the ocean. Another underwater waterfall is located in the Indian Ocean off the coast of the island of Mauritius. This island is known for its beaches, lagoons and reefs. The mountainous interior includes Black River Gorges National Park, with rainforests, waterfalls, hiking trails and wildlife like the flying fox.
Unfortunately, these underwater waterfalls are basically impossible to travel as they go completely undetected without the aid of scientific instruments, but awe-inspiring nonetheless.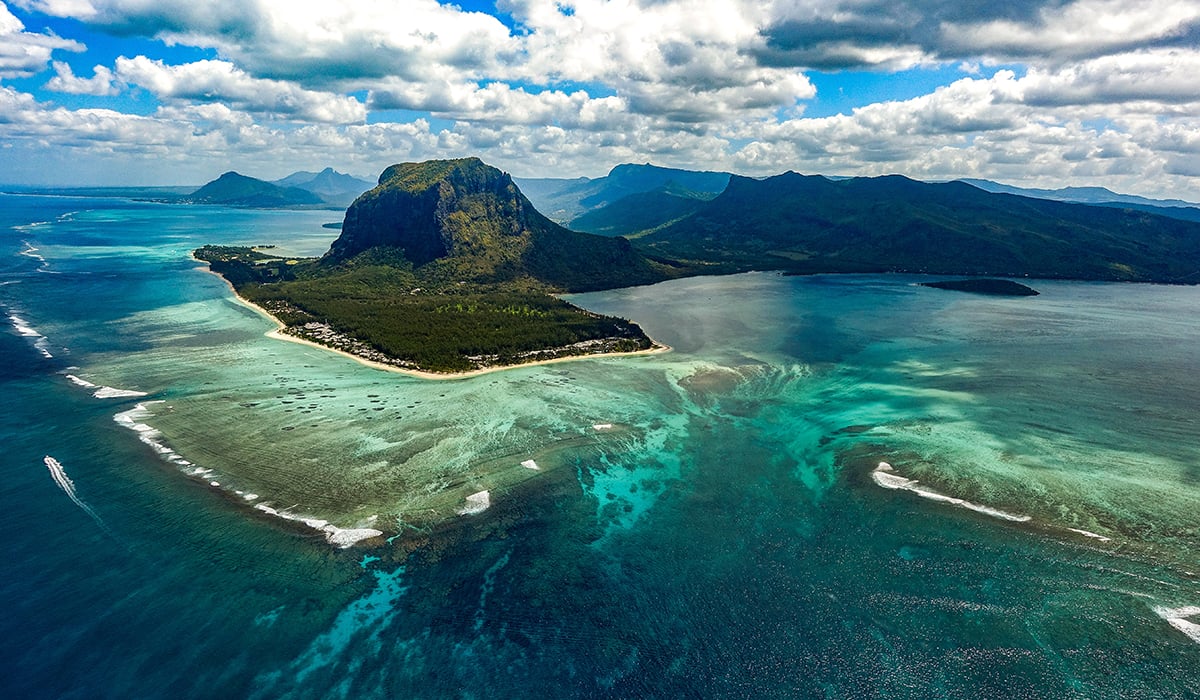 Why Use a Travel Agent?
Booking with an MVT travel advisor means gaining access to insider knowledge, local guides, and VIP status wherever you are in the world. Once you experience luxury travel, it's hard to imagine your life without a knowledgable travel advisor!
Featured Cruise: Paul Gauguin Cruises Fiji, Tonga, Cook & Society Islands
Looking for a luxurious way to explore the South Pacific? Look no further than the Paul Gauguin Cruises. With intimate ships specifically designed to navigate the shallow waters of the region, this cruise line offers a unique and immersive experience.
Explore the stunning islands of French Polynesia, Fiji, and the Cook Islands, all while enjoying the comfort and luxury of the ship. Live the life idyllic with a memorable day on the private island of Motu Mahana. On this exclusive islet, treat yourself to sand between your toes, the shade of swaying palm trees, a sumptuous barbecue lunch, and, of course, drinks sipped from coconuts.