The Timeless Tradition of Cunard Line
In the vast ocean of cruising experiences, one name stands out as the quintessence of elegance, luxury, and timeless voyages: Cunard Cruise Line. Embarking on a journey with Cunard is more than just a vacation; it is an odyssey of refinement and adventure, where travelers indulge in a harmonious symphony of opulence and exploration.
From historic transatlantic voyages, to pet friendly cruising on Cunard is an unique experience for many reasons. With a Cunard cruise from New York, a fast-paced tour of the bright lights and city sights can flow seamlessly into a voyage around the Americas, or even a Transatlantic Crossing to further afield.
Summer Savings Event
Queen Mary 2: the Transatlantic Pursuit of Dreams
For those seeking a more extended adventure with a touch of classic transatlantic glamour, the Transatlantic Pursuit of Dreams voyage aboard the Queen Mary 2 is the ideal choice. This iconic crossing between Southampton, England, and New York City, USA, retraces the legendary routes of ocean liners from a bygone era.
As the Queen Mary 2 plies through the vast Atlantic expanse, passengers are transported back to the golden age of travel. During the leisurely days at sea, guests can partake in Cunard's renowned enrichment programs, featuring engaging lectures, workshops, and performances. Astronomy enthusiasts will be thrilled with the chance to stargaze from the ship's deck, far from the city lights, and perhaps even attend talks by renowned astronomers.
The voyage's climax is the approach to New York City, where the Statue of Liberty welcomes travelers to the United States. Gazing at the iconic skyline as the ship sails into the harbor, one can't help but feel a profound sense of accomplishment and awe, reminiscent of the millions of immigrants who once arrived at these shores with dreams in their hearts.
Pet Friendly Paradise
Cunard Cruises' pet program onboard is a luxurious treat for transatlantic travelers and their beloved furry companions. The majestic Queen Mary 2 offers 24 spacious kennels, providing ample room for dogs and cats to roam and play during their voyage. To ensure a sense of familiarity and comfort, British dogs are delighted with a lamppost sourced from the iconic Cunard building in Liverpool, while their American counterparts joyfully find solace in a New York City fire hydrant.
Additionally, pet owners can relish in the convenience of a dedicated owner's lounge, allowing them to bond and create lasting memories with their four-legged friends as they embark on this extraordinary maritime adventure together. Cunard's commitment to providing a first-class experience for pets and their owners truly sets them apart in the realm of pet-friendly cruise offerings.

Afternoon Tea
Afternoon Tea is a time-honored Cunard tradition, observed at 3:30 p.m. each day. Cunard's white-gloved waiters serve perfectly infused tea from silver teapots in the Queen's Room. With freshly baked scones and cream and delicious finger sandwiches, the Afternoon Tea menu changes every day.
A Cunard ship feels like another world, yet is also as welcoming as home. Cunard's Afternoon Tea is included in your fare. Grills guests may also take Afternoon Tea in the more intimate Princess Grill restaurant, while alternatively, a more casual interpretation awaits in the Lido or King's Court.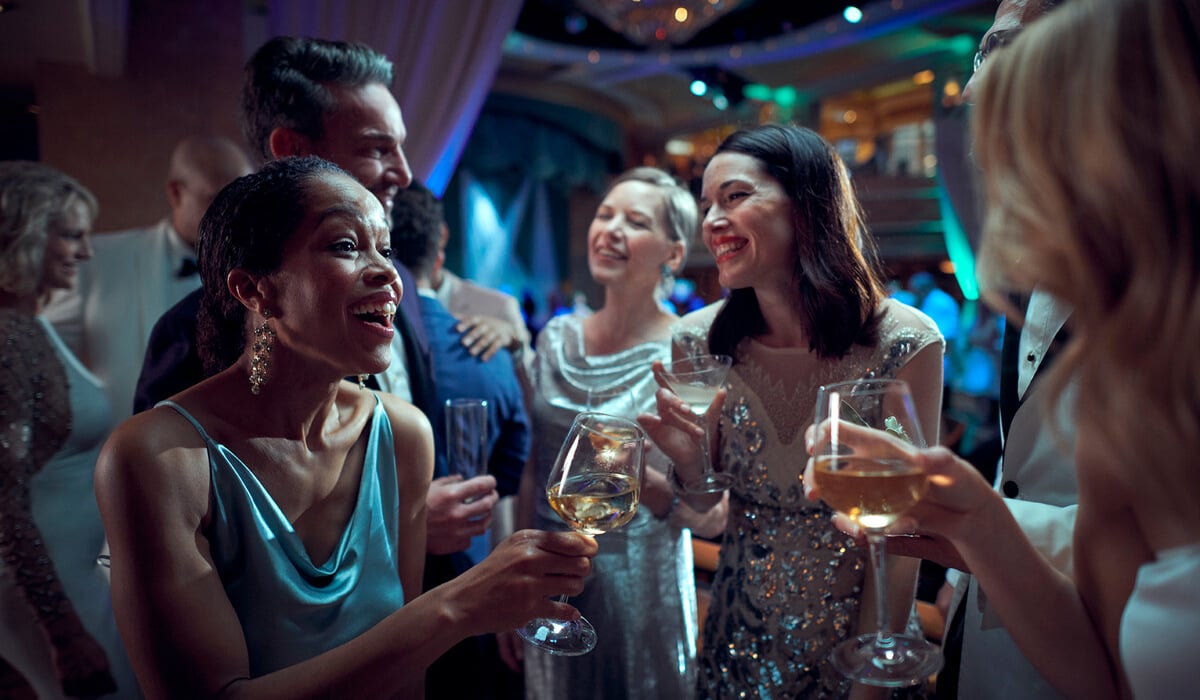 Cunard in Full Glam
On board your ship, you're free to do as much or as little as you please, with more possibilities than you have time to discover. Of course, a popular highlight is the gala evenings. The true romance of ocean travel is never more alive than on Cunard's Gala Evenings. There's a palpable sense of occasion in the air as guests emerge from their staterooms in full glam, tuxedos and ball gowns. Gala Evenings follow one of four themes – either Black and White, Red and Gold, Masquerade or Roaring 20s.
Symphonic Voyages
Cunard Cruise Line weaves together a captivating symphony of experiences, fusing elegant luxury with adventurous exploration. Each voyage is an orchestra of culture, heritage, and wonder, carried out aboard regal ships that blend tradition with modern amenities. Embark on the Transatlantic Pursuit of Dreams, Cunard promises to leave an indelible mark on your soul.
In the world of cruising, where every voyage is a note in a traveler's melody, Cunard stands tall as the conductor of unforgettable symphonies across oceans. Embrace the allure of this legendary cruise line, and let your wanderlust set sail with Cunard. Bon voyage!