Experience a journey like no other, with a Transatlantic Crossing on Queen Mary 2.
Cunard brings a unique experience to each one of its voyages, and the Queen Mary 2 is no different. Being today's only true ocean liner, the Queen Mary 2 is stronger and smoother than traditional cruise ships. Step back in time as you step aboard this ship, as there are unexpected surprises awaiting.
The Experience
Enjoy the freedom that comes with having nowhere to be but in the moment, with the blissful realization that your time is yours alone, and enjoy your own piece of history on a voyage that's departed time and time again for over 180 years.
Walk in the footsteps of Hollywood royalty as you stroll the length of the Queen Mary 2. Dance in the ballroom that Frank Sinatra once enjoyed, and take in the sounds of a live band. Feel like Audrey Hepburn as you swim in the open air, gazing out at the Atlantic.
The Suites
Whether you want a stateroom with a view or a spacious suite, the possibilities are endless with the Queen Mary 2. Choose from a variety of staterooms to suit your needs, ranging from 150-2249 sq. ft.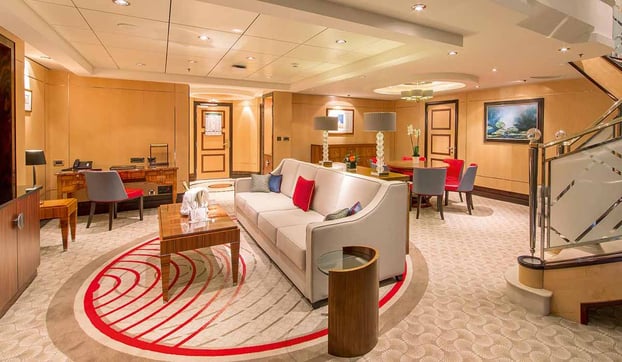 For an upgraded experience, the Princess Grill and Queens Grill suites offer spacious accommodations and exclusive butler and concierge service. These suites are perfect for social gatherings, or just relaxing after a long day at port.
Queen Mary 2's most lavish suites include an expansive private deck, interactive TV, iPad, illy coffee machine, complimentary mini bar, fitness equipment and office with personalized stationery. A spiral staircase leads to a king-sized bedroom, and you'll benefit from exclusive access to the Grills Lounge and Terrace, priority embarkation, disembarkation and tender services.
If you are looking to live simplistically, the Britannia staterooms are perfect for up to two guests. These suites come with a variety of options including interior, balcony, and ocean view rooms. A key feature in all of the staterooms is the turndown service, complete with a chocolate left on your pillow, helping you get ready for the next day with a relaxing nights sleep.
Endless Onboard Activities
Are you a sports enthusiast? The Queen Mary 2 has enough activities to keep you moving all day long.
Take a few laps around the Promenade Deck for a great morning jog, or play games like shuffleboard and deck quoits. You'll find pursuits like table tennis, paddle tennis, golf putting and swimming too. For those who would rather watch than play, Sport24 offers coverage of major events including the Premier League, Wimbledon, Formula 1, the Ryder Cup and more.
Deck Games
Savor the fresh air and enjoy the wide variety of games available on our spacious open decks.Challenging games like paddle tennis, croquet or bowls are a perfect way to pass the time. Alternatively, challenge friends to something more traditional such as deck quoits or shuffleboard, or join one of the regular tournaments.
Art class
Express yourself with our activities for art lovers, and join a range of activities including watercolor classes, talks, seminars and discussions led by well-known artists and art historians. The Clarendon Fine Art Gallery showcases a variety of portfolios and you may even choose a new addition to your collection at home. Watercolor classes are available on all cruises that have full sea days.
Dance classes
Our renowned dance classes will help you to discover your favorite moves so that you can keep the party going when you return home.Whether you're an absolute beginner or simply keen to perfect your steps you'll love the opportunity to join the variety of dance classes on offer. Available on voyages of 7 nights or more, classes are led by instructors well skilled in ballroom dances. In the evening, the chandelier grandeur of the Queens Room opens up to allow you to practice all that you have learned. Dance in couples or take advantage of the gentleman dance hosts on hand if you're longing to dance and require a partner.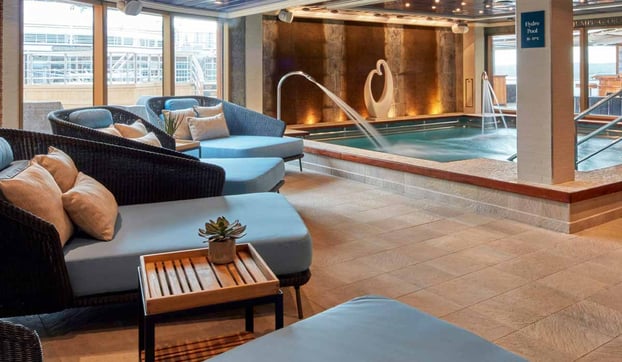 The Mareel Spa
A space far away from the stresses and strains of the everyday, this spa experience lets you rewind and relax with treatments that are nothing short of luxurious.
Mareel Wellness & Beauty takes inspiration from the oceans on which the ships sail to indulge your senses—mind, body and soul. From this experience you will enjoy renewed energy, improved health and appearance with the comprehensive spa, beauty and fitness facilities on board.
Take advantage of the spa facilities aboard the Queen Mary 2, including a relaxation lounge, aqua therapy pool, and aromatic steam room. Access to the Aqua Therapy Centre is included with any body or wellness service.
Every Guest is Welcome, Even Your Furry Friends
Queen Mary 2 is the only pet-friendly cruise ship that welcomes four-legged friends on board. The ship's kennel program is available on all Transatlantic Crossings between New York and London or Hamburg.
Your pet gets priority treatment including:
Kennel stay managed by a full-time Kennel Master who takes care of responsibilities such as feeding, walking and cleaning the ship's 24 spacious kennels
Each pet receives new beds, blankets and toys
Stainless steel bowls complete with the Queen Mary 2 logo
Freshly baked biscuits
Pet Playground area and owners' lounge
Luxury clothing options such as jackets, collars and leashes designed by British sportswear brand Barbour
Fine Dining
Queens Grill: The finest culinary experience is available every morning and afternoon in this dining room that conveys sophistication and classic style. Each evening, dine whenever the mood takes you between 6:30 pm and 9:00 pm.
Princess Grill: Cunard is known for its imaginative menus, intimate setting, and superb service which all combine to bring you an unforgettable time every meal. Take your table each morning, every afternoon, and whenever you choose in the evening from 6:30 pm to 9:00 pm.

Afternoon Tea
Enjoy Cunard's traditional Afternoon Tea, including fine leaf teas, finger sandwiches, and pastries. Served daily from 3:30pm to 4:30pm, this is a can't miss experience that embodies the signature style of Cunard Line. To attend Afternoon Tea, simply locate the Queens Room and Kings Court to begin your experience.
With over 50 years of experience in travel, you can trust that we'll help you make the best decisions, guiding you throughout the entire trip planning, and traveling process.