Travel the globe in unparalleled style aboard the Queen Victoria, which takes to the high seas in the winter of 2022 on a program of inspiring journeys.
The World Awaits with Cunard
A Cunard world voyage brings the globe's greatest sights to your door, with illuminating guest speakers and gourmet cuisine that unlocks the secrets of the destinations you will encounter. The world is just a port away, when you experience it aboard Cunard.
Queen Victoria will set out on a classic 108-night western circumnavigation of the globe. This incredible round trip from Southampton takes in the Caribbean, Australasia, Asia and Africa. Overnight stays in Honolulu, Singapore, Hong Kong and Cape Town bring richer day-to-night experiences. The Queen Victoria will delight you with her special appeal, where elegance and unique features combine seamlessly with outstanding hospitality. You'll discover an extraordinary way to see the world.
A Variety of Destinations
Here are some of the top rates ports the Queen Victoria will visit on her 2022 cruise.
Porto Quetzal, Guatemala: The modern port city of Puerto Quetzal is your gateway to the delights of Guatemala. Situated on the Pacific coastline, 67 miles south of Guatemala City, Puerto Quetzal is one of the major ports serving the Central American country. Explore the World Heritage Site of La Antigua Guatemala, head for the highlands to take in Lake Atitlan and uncover a colorful history dating back to Mayan times.
Bay of Islands, New Zealand: North of Auckland, along the narrow Northland peninsula, lies a shady "cathedral" of some of the world's largest trees. These hulking specimens stand up to 170 feet tall, and are over 1,200 years old. The captivating Bay of Islands shelters 150 islands and enchanting wetlands of birdlife, fish, seals, dolphins, and even whales. No wonder it's one of New Zealand's favorite destinations.
Cape Town, South Africa: Cape Town isn't just one of the most beautiful cities in the world – it's also circled by magnificent beaches, rugged mountains and idyllic vineyards. All located on the stunning shores of Table Bay. There are so many ways to remember Cape Town. Take a cable car trip up Table Mountain, a poignant tour of World Heritage Site Robben Island or a cultural trip to Stellenbosch.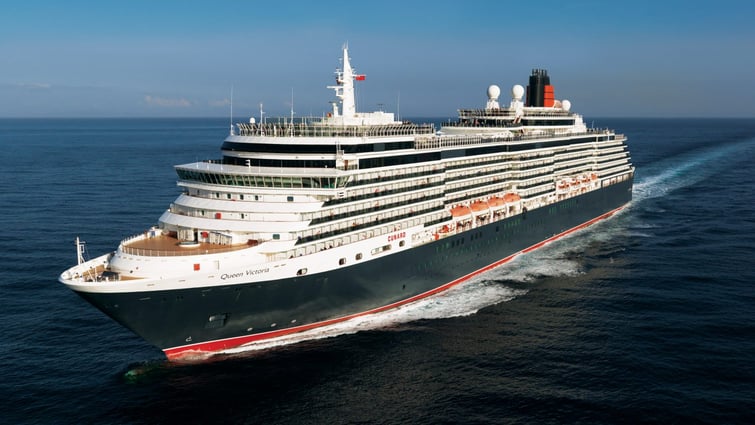 The Benefits Are Endless
Guests who book a Full World Voyage of 89 nights or more will receive a variety of exclusive benefits including:
Welcome aboard reception
Services of a world voyage concierge and use of private lounge
Unique commemorative gift
World voyage cocktail parties
Shoreside gala dinner
Complimentary drink gratuities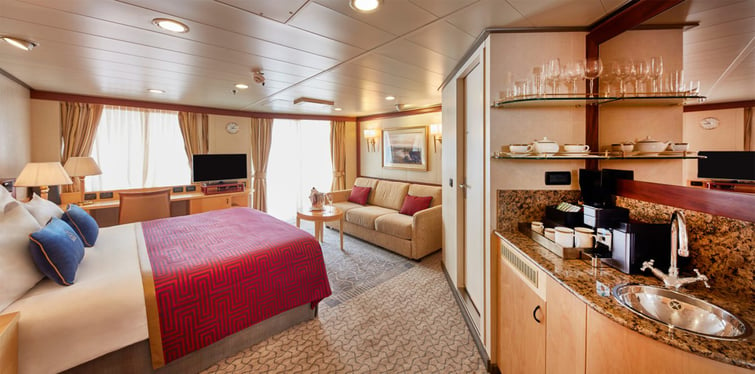 Your Home Away From Home
Whether you want a stateroom with a view or a sumptuous suite, Cunard has every type of accommodation to make your cruise as comfortable as possible. For a journey as long as this one, there is nothing better than a suite to bring the ultimate luxury experience. On Cunard Line, the Princess Grill and Queens Grill Suites are perfect for those looking to relax in style.
These superbly appointed suites include a king-sized bed or two twin beds, pillow concierge menu, dressing area, luxurious bathroom with bath and shower, Penhaligon's toiletries, robes and slippers. Satellite TV, a fully-stocked bar, illy coffee machine, fresh fruit, books and a desk with personalized stationery await too. Relax in your lounge area, enjoy pre-dinner canapés and even order from the Queens Grill restaurant menu and dine in your suite. Your butler and concierge will see to your every request, while priority embarkation, disembarkation and Grills Lounge and Grills Terrace access enhance the experience.