A New Way of Discovery
Book by March 31st, 2020 and receive up to free flights on all 2020 river & yacht cruise destinations. With a different port call almost every day of your cruise; Emerald Waterways has organised a series of inspiring days ashore – taking you to the very heart of the beautiful towns and cities they visit. Exploring authentic local cultures, Emerald Waterways excursions are led by experienced, knowledgeable guides – introducing you to a wealth of knowledge. Featuring as many as 16 destinations across up to five different countries, an Emerald Waterways cruise provides the perfect platform to absorb a huge array of cultures and traditions in one fell swoop. Every Emerald Waterways cruise itinerary is carefully planned to ensure the ship visits only the most fascinating, rewarding port towns and cities – affording you the opportunity to derive maximum reward and pleasure.

Whether exploring a new town on foot or navigating the streets of an ancient city by coach, English-speaking guides will be on hand to bring your destination to life through educational and enlightening commentary. And to ensure you don't miss a second of the tour, Emerald Waterways will provide all of our guests with a personal headset.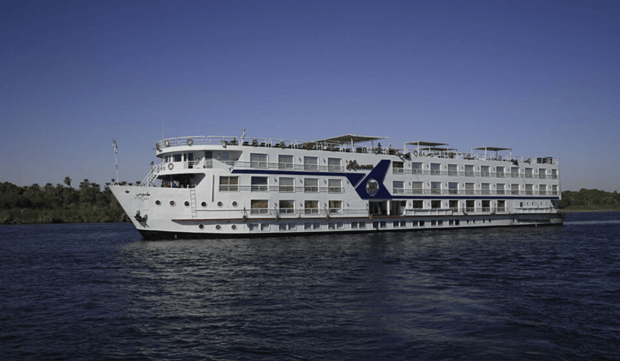 Fresh from its extensive refurbishment in 2018, Emerald Waterways' chartered Mövenpick MS Hamees is a comfortable and contemporary ship that offers superb service. Embark on a truly memorable journey from Luxor to Aswan as you experience Egypt's most spectacular sites from the chic surrounds of one of the largest and most stylish river ships on the Nile. Encompassing a range of facilities, including a pool, reading room, and sun deck with space to socialise.

The Mövenpick MS Hamees provides a wonderful selection of dining and entertainment options. The restaurant offers an international and local buffet breakfast, lunch and dinner, while the elegantly appointed lounge bar is perfect for enjoying afternoon tea, delectable cocktails and evening entertainment. Soak up the beautiful sunshine from the sun deck, marvelling at the magnificence of the Nile as it unwinds before you, and toast with a variety of beverages and accompanying snacks, before evening cocktail receptions, an oriental show, and a fancy dress Galabeya party.
Explore the Heart of Egypt
Learn about the ancient tales of Egypt and Jordan on Emerald Waterway's two brand-new itineraries, seeking to unveil these magical Nile cruise destinations which, until now, may only have existed in your imagination. Gain an understanding of what life was like for this early civilization and learn about Ancient Egypt from its plentiful monuments, archaeological sites and recovered artifacts. Not forgetting just how important the Nile River was to the societies that lined its banks.

The contemporary MS Hamees river ship will be your home during your four-night Nile River cruise from Luxor to Aswan. Elegant and thoughtful interior design plays host to spacious cabins, complete with private bathroom and excellent amenities, including a lounge bar and sun deck.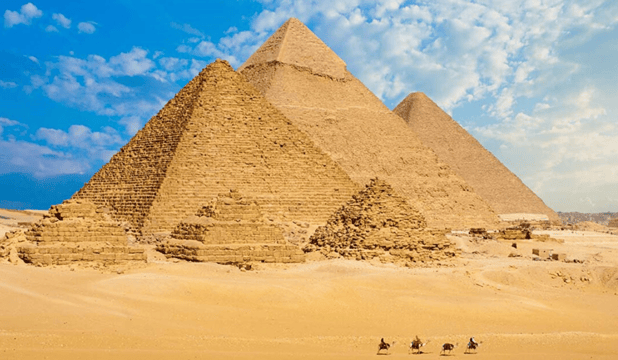 On your Nile cruise, you'll experience the Egyptian capital and one of the country's largest cities, Cairo is the gateway to the Nile delta. A magnificent mix of Roman, Arab and Turkish influence, lush vegetation and contemporary skyscrapers co-exist among its 400 plus registered monuments. Embark on an awe-inspiring journey to the Great Pyramids of Giza and the famous Sphinx. Visit the Egyptian Museum, home to items discovered from the tomb of Tutankhamun, and enjoy shopping around one of the city's main hotspots, the bazaar district, where you'll visit Khan el-Khalili, a busy and open-air souk in central Cairo.
A journey to Jordan is not complete without a visit to Petra. At the main entrance, the Nabatean capital, stands the Treasury, believed to be over 2,000 years old, its excellent preservation certain to leave a lasting impression. The intricate carvings adorning its façade provide a wonderful insight into Nabatean culture, with the inside compared to that of a film set. Catch it at its most ethereal between 9am and 11am, as the sun hits it directly, or between 5pm and 6pm as the pink glow of the setting sun smothers its intricate structure.