Montecito Village Travel stands out from the rest...
We are excited to announce MVT has been named among the first Forbes Travel Guide-endorsed travel agencies in the world.
The new Forbes Travel Guide ("FTG") endorsement recognizes Montecito Village Travel for our leadership in the industry, dedication to elevating the role of travel advisors, support of hotels that have earned FTG Star Ratings, and engagement with FTG as a trusted source for objective, third-party verification of exceptional hospitality experiences.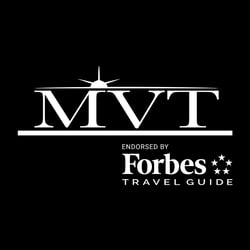 "As I look toward the bright future of luxury travel, I couldn't be prouder of everything our host agency has accomplished," says MVT President, Robin Sanchez. "Our team, partners, and advisors have evolved when necessary and maintained a commitment to the best possible client experience. Forbes Travel Guide's endorsement recognizes everyone's dedication and continued support of the industry."
Striving to be better
With over 50 years of providing extraordinary travel services, we have become a leader in the travel industry and have evolved into a premiere host agency for Independent Contractors and Partner Agencies alike.
Starting with amazing Travel Advisors
We strive to be advisor-first; this means we do our best to support our advisors. From offering the latest marketing innovations to cultivating some of the strongest partnerships in the industry, every choice we make is designed to help our advisors. Montecito Village Travel is uniquely poised in size and focus to know each advisor personally and provide them with the tools to succeed.
Learn more about becoming an affiliate of MVT.
Paired with great relationships
Thanks to our amazing advisors and friends, we have fostered great relationships throughout the industry. Our preferred partners help us inspire advisors with new products and great value. Great programs like the Belmond Bellini Club, Four Seasons Hotels & Resorts Preferred Partner Program, and Marriott Stars & Luminous offer VIP treatment to MVT clients.
Discover MVT Preferred Partners
What FTG means for us
Forbes Travel Guide is the only independent global rating system for luxury hotels, restaurants, spas, and ocean cruises. Its 65th annual list 2023 honors nearly 1,400 rated hotels in 81 countries. The coveted Five-Star, Four-Star and Recommended awards are earned through incognito inspections on FTG's hundreds of exacting quality and service standards.
"FTG acknowledges Montecito Village Travel's commitment to world-class service, which complements FTG's own principles," said Richard Lebowitz, Senior Vice President of Travel Industry Outreach for Forbes Travel Guide. "Through its endorsed relationship with FTG, MVT completed a range of dedicated training, communications, and engagement across its advisor network that distinguishes FTG Star Ratings as a trusted source of hotels vetted for service and facility excellence. We are grateful and honored to collaborate with the MVT team."
About Forbes Travel Guide
Forbes Travel Guide is the only global rating system for luxury hotels, restaurants, spas, and ocean cruises. FTG's anonymous professional inspectors evaluate based on up to 900 objective standards, with an emphasis on exceptional service, to help discerning travelers select the world's best luxury experiences. The only way to get a Five-Star, Four-Star, or Recommended rating is by earning it through their independent inspection process. For more information about Forbes Travel Guide, please visit ForbesTravelGuide.com.