Opening November 1, 2020, the newest, hottest resort in Mexico!
Woven seamlessly into Mexico's most awe-inspiring coastal rainforest, One&Only Mandarina, balances unparalleled seclusion with the signature One&Only atmosphere. Experience a unifying environment amidst the palm-fringed sands and emerald cliffside, punctuated with lagoons and estuaries, that encourage you to reconnect with yourself, those you love and the natural world. A sanctuary of unspoiled nature, open space and cultural heritage in Mexico.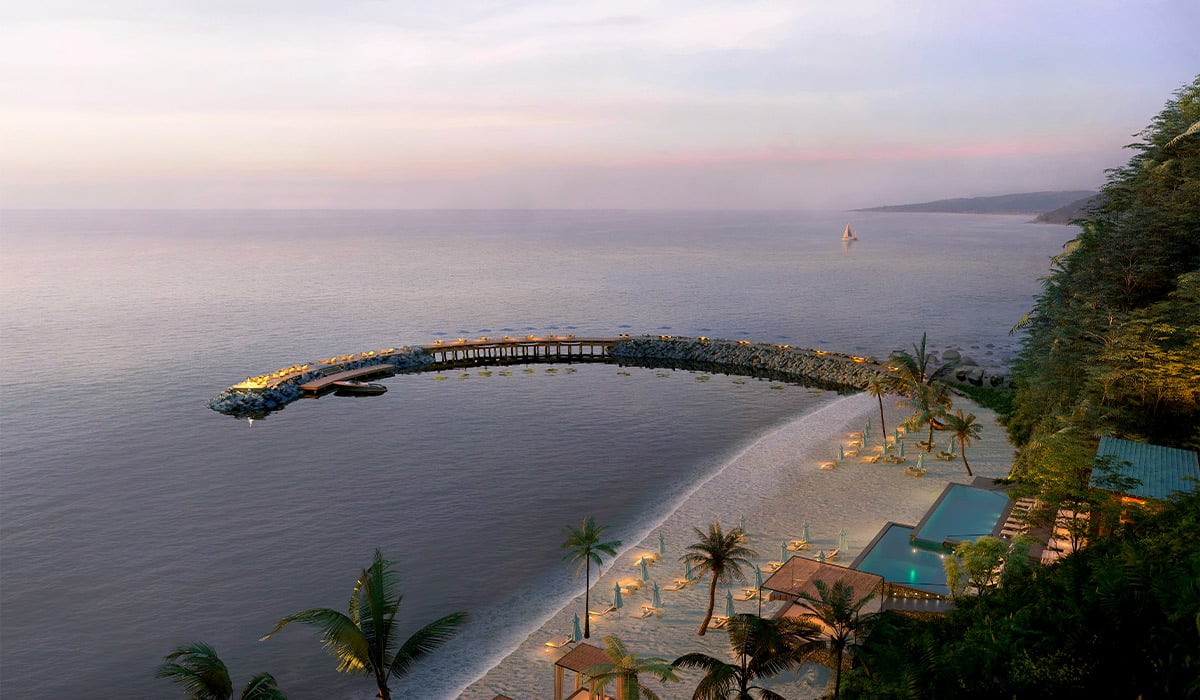 This is what undiscovered beauty looks like. Close to Punta Mita, One&Only Mandarina nestles within an intimate new community set upon a rare undeveloped coastline along the Riviera Nayarit. Careful consideration has been executed throughout the development through low-density planning and intelligent, sustainable design and architecture. As one of the Mexico's most awe-inspiring tropical, coastal rainforests this fascinating destination boasts a swimmable white-sand beach, twin mountain peaks, lush flatlands and estuary.

Special offer when you book before October 31, 2020.
During the entire month of October when booking the One&Only Mandarina, Riviera Nayarit, you will receive a complimentary upgrade at the time of booking.
This offer applies to the following three categories: Ridge Treehouse, Ocean Treehouse, Cliff Villa. Note that occupants of any Treehouse category must be over 18 years of age. Travel period is November 1, 2020 – March 31, 2021. Blackout dates apply and include December 19, 2020 – January 3, 2021.

Restaurants and Bars
Relish the flavors of modern Mexico with exceptional resort dining curated by world-class chefs.
The Jetty Beach Club
Down on the edge of warm swimmable waters emerges the resort's own hub for beachfront amusement with infinity pools and child-friendly pools, oversized beds and cabanas. Enjoy deliciously casual beachside dining, savoured right by the water's edge.
Alma
Savour seasonal delicacies, pan-American and Mediterranean specialities, and garden-to-plate menus designed with exceptional nutritional value. Dine in the warm open air, overlooking sparkling ocean, and from the striking bar, floating amid the treetops.
Carao
Pioneered by a global celebrity chef, Carao's cliff-side restaurant is a must-try, with panoramic views and unforgettable sunsets. Authentic yet reinvented, the selection of creative Mexican dishes will surprise and excite you.

Time to Play, Space to Be
Discover the wonders of a serene beachfront hideaway wrapped in mountainous rainforest at One&Only Mandarina, from family-friendly activities to experiences curated for a couples' getaway. Explore the wider Mandarina community, a vibrant setting alive with endless adventure – from galloping horses at the Alejandro Battro designed polo field, treetop ziplining through the canopy at Mandarina Experiences and a plethora of dining surprises; Mandarina is a hub of spirited activity.

Landscape Discoveries
Trail System:
Explore miles of nature trails that wind through the Mandarina landscape, connecting the resort to rainforest, flatlands, and neighbouring beaches. From easy walking paths to mountainside tracks, perfect for running, cycling, and horse-riding.
Mandarina Polo & Equestrian Club:
Whether you're a novice, champion, or spectator, this world-class facility is a hive of activity, with dazzling international events, horseback lessons and tours, weekly Mexican charro nights, and more.
Mandarina Experiences:
A hub for entertainment, you'll find guided rainforest excursions, an Adventure Playground with climbing and ziplines, sports from tennis to basketball, and a plush movie theatre.

Water Adventures
Ocean Lovers:
The private jetty and beach is the starting point for a wealth of sea-faring adventures, from sailing to whale watching, surfing and paddle boarding through sparkling blue water coves.
Canalan Beach Club:
This family designed beach club lies on a one-mile stretch of secluded sandy beach, with infinity pool, massage rooms, shaded dining, and fun water sports for all ages.
The Estuary:
Stroll, kayak, or paddle board up the estuary that winds through the rich landscape, home to coastal flora, fauna, and hundreds of migrating bird species.

Amenities
Part of the exclusive new Mandarina destination, a varied array of dining and entertainment unfolds on the resort's doorstep.

One&Only Spa
The alluring spa is a haven for land-based enrichment, with an outdoor yoga palapa, state-of-the-art fitness studio, and ancient healing therapies performed amid the elements.

KidsOnly
The resort's KidsOnly club is a captivating haven for young guests, bringing the jungle to life with nature-inspired activities, a private treehouse, and more.

The Mandarina Destination
From the vibrant Canalan Beach Club to a culinary-themed farm, thrilling adventure playground, and guided excursions into wild jungle. Winding nature trails through biodiverse flatlands, perfect for strolling, biking, horse riding, and paddle boarding. And the iconic Mandarina Polo & Equestrian Club, home to international events, horseback lessons, and dazzling theme nights.

Destination Dining
A world of inspiration flourishes at One&Only Mandarina. The resort's own The Jetty Beach Club glimmers on soft sand. Family-friendly hub, Alma, nestles high amid lush forest canopy, while adult-only destination, Carao, extends through the air, promising the ultimate Mexican sunset.

Internet
Complimentary high-speed WiFi service is available throughout the resort.

Virtuoso Amenities
Best-available rates and exclusive availability
Complimentary room upgrades
Complimentary daily breakfast for two
Early check-in and late checkout
Complimentary Wi-Fi
VIP treatment and recognition
Custom-tailored experiences and itineraries
Private Virtuoso-exclusive access
Exclusive negotiated global air fares and upgrades (including private jet/charter)
Worldwide car rental discounts and perks
Preferred travel insurance rates and prioritized client services