Dive into Regent Seven Seas Cruises Unrivaled Experience at Sea
Whether new to cruising or a cruising expert, you've probably heard of the all-inclusive Regent Seven Seas Cruises experience. RSSC is known as the luxury cruise line for those that want their every need anticipated and included.
Regent creates an 'Unrivaled Experience' at sea with intuitive, personalized service and luxury amenities available whenever needed. From exciting cuisine to immersive shore excursions and generous onboard space, the Regent experience is incomparable. With everything included, elevated onboard space, and curated itineraries, there are many reasons to choose Regent for your next vacation.
A Better Value
One of the beauties of this fully inclusive onboard experience means you'll leave the ship without any additional charges. On a standard cruise onboard drinks, specialty restaurants, and snacks from the minibar, your bill can quickly surpass an expected daily budget. With Regent's inclusive experience, you'll spend much less while onboard. Use your additional budget to prioritize spa time, upgrade flights, or opt for a bigger cabin. Sometimes the higher price tag associated with Regent's cruising experience causes travelers to opt for an alternative cruise line, but the value of this unrivaled experience is hard to beat.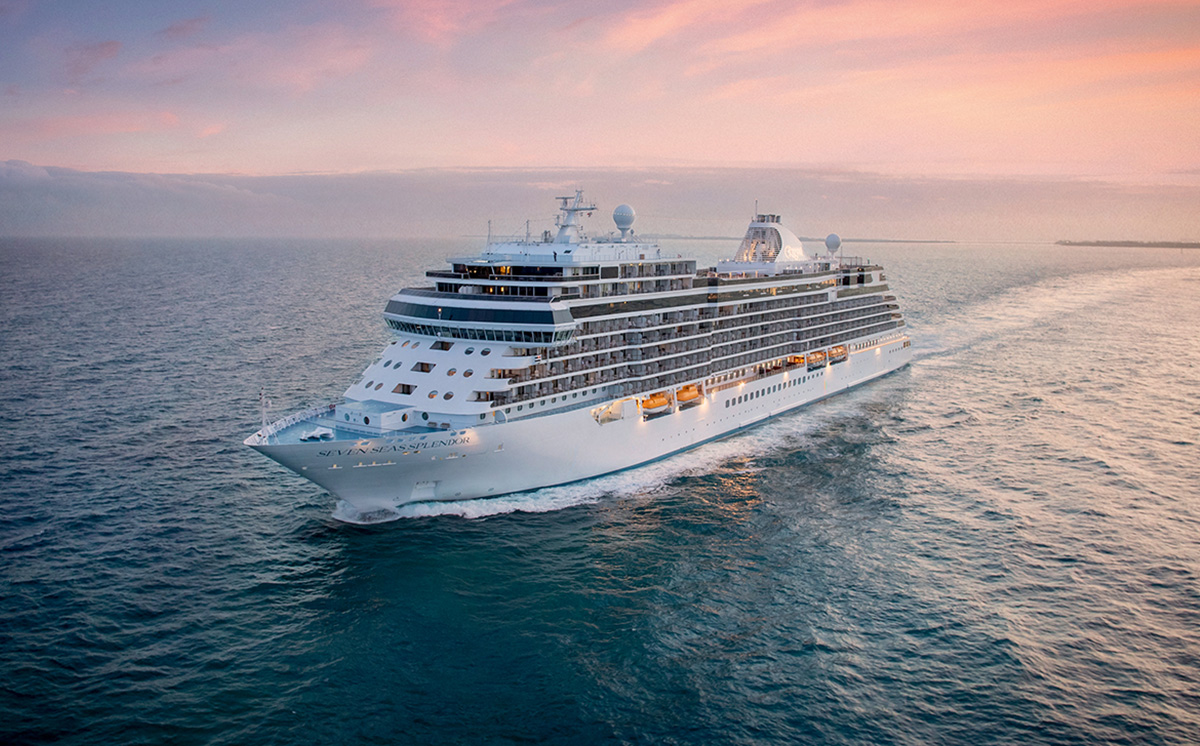 The Fleet
The best all-inclusive luxury begins with the most luxurious ships. Regent's award-winning fleet delivers style and class, from bow to stern, throughout every region. Come aboard and experience your new home away from home.
The Regent fleet consists of six ships, all designed to further your incredible experience at sea. The Seven Seas Navigator accommodates 460 guests with suites ranging from 301 square feet to 1000 square feet. The Seven Seas Mariner and Seven Seas Voyager, sister ships, each host 690 guests with exceptional accents throughout their cabins. The Seven Seas Explorer and Seven Seas Splendor accommodate 746 guests.
Inspired by the past and stunningly reimagined for the future, Seven Seas Grandeur exemplifies Regent's heritage of perfection with unrivaled space, unparalleled service, exceptional cuisine, and transformative experiences that will begin the moment you step aboard. The new ship is available for bookings now.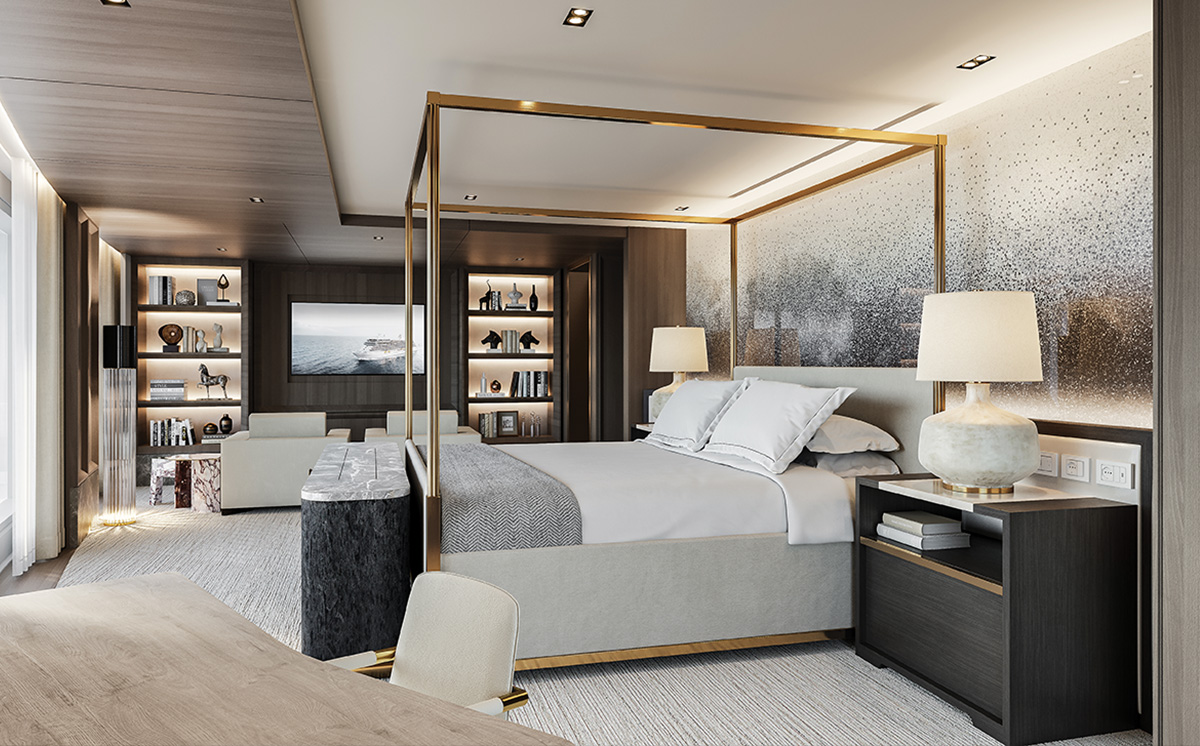 Spotlight: The Regent Suite

3151 square feet of interior luxury and 1292 square feet of private balcony await those who book this marvel of modern luxury. This unparalleled suite boasts an in-suite spa retreat, a private balcony with a Tresse Minipool, two magnificent bedrooms, and more.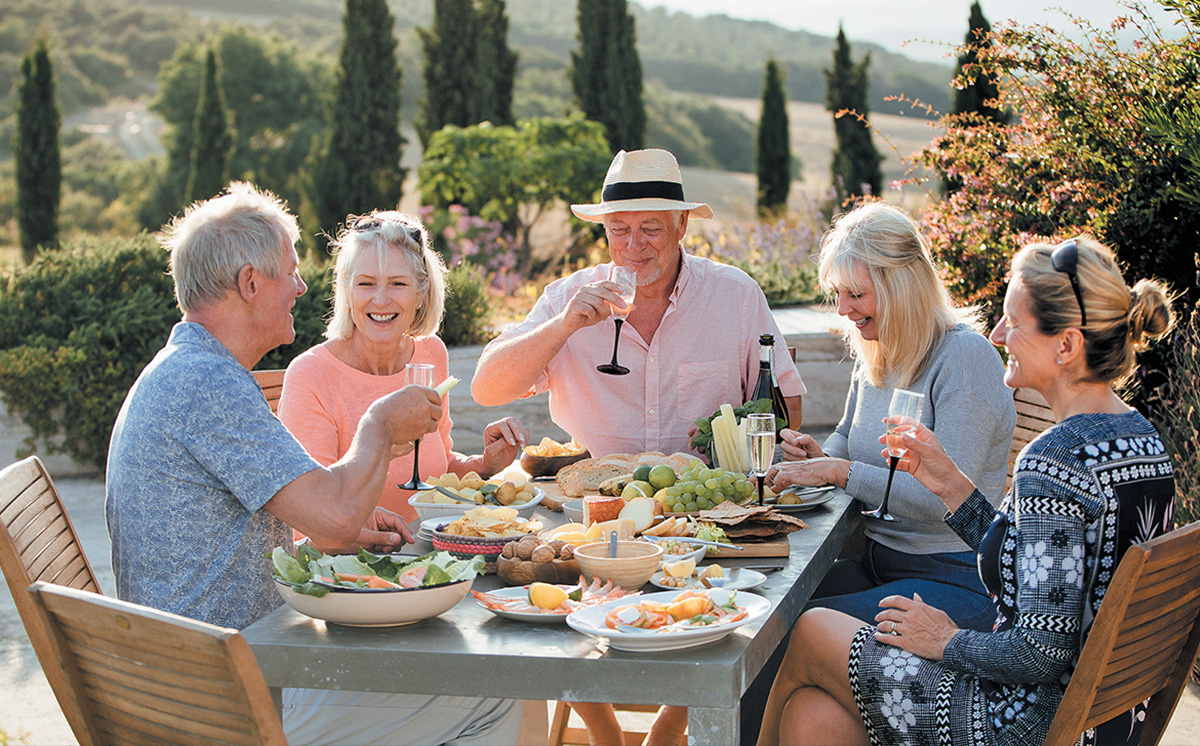 Culinary Experiences
Authentic flavors are infused with creative inspiration, and regional dishes overflow with heritage and variety. Whether indulging in the exquisite meals, fine wines, and spirits on board or headed ashore to delve into Regent's Epicurean Explorations, you'll find plenty of opportunities to satiate your inner foodie and discover the beauty of a shared culinary experience.
Is Regent the Right Cruise Line For you?
If you're looking for a fully inclusive experience, Regent is a great choice. Their fares include an extensive list with round-trip air, transfers between the airport and ship, unlimited shore excursions, wifi, all specialty restaurants, wines, and premium spirits, a mini bar that is replenished daily, gratuities, and a pre-cruise luxury hotel night for those booked into elevated cabin categories.
With its full inclusivity and defined luxury experience, you'll want to choose Regent if you upgrade your room. While all their suites are incredible, the upgraded options are some of the best at sea. When you splurge for a high-end cabin, you should plan to experience the luxury Regent offers.
Regent is also a great choice if you care about service. With one of the best crew-to-guest ratios and a commitment to anticipating your needs, the Regent crew gives you a great reason to choose this cruise line.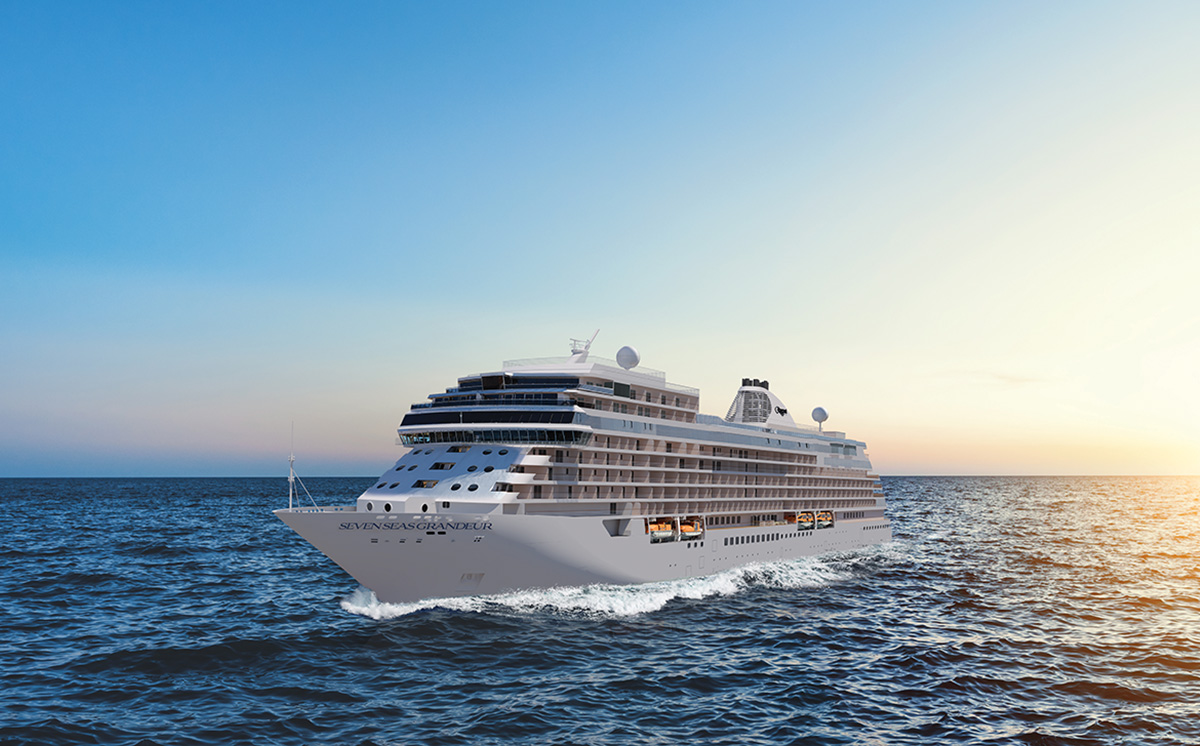 Itineraries we are loving
With incredible ships, great value, and beautiful accommodations, Regent Seven Seas makes the destination as good as the journey with curated itineraries. Whether you sail through the Mediterranean or explore on a world cruise, Regent's itineraries will show the best the world has to offer.
Mediterranean Cruises
Sail into the romance of the Mediterranean and discover ancient worlds and cultural springs of wonder and beauty. Savor the fresh catch of the day with a pristinely aged vintage as you experience each colorful coast, from the stunning and enchanting Amalfi to the captivating history of Ephesus.
Cruises onboard Regent's new ship: The Seven Seas Grandeur
Reserve your ideal escape today, be it a relaxing tour of the Caribbean's tropical shores, a fascinating dive into the historic cities peppered across the Mediterranean, or a romantic Atlantic crossing providing multiple days and nights to soak up all of the magnificent amenities found aboard the Seven Seas Grandeur.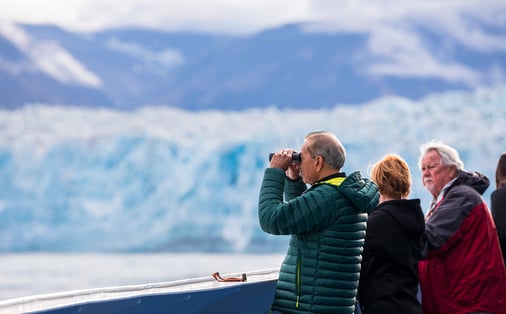 World Cruises
A World Cruise fully indulges your desire to seek, discover and explore. Immerse yourself in the beauty of faraway lands, the mystique of early cultures, and the celebrated cuisines of diverse regions.
Asia
Asia takes you from the Cu Chi tunnels built for the Vietnam War to Yangon's bejeweled Shwedagon Pagoda and from Mumbai's ancient rock-cut Elephanta Caves to Singapore's thoroughly modern Gardens by the Bay.
Africa & Arabia
Namibia's ochre-colored sand dunes are breathtaking, and the glimmering azure waters cradling the Maldives are unforgettable. Sip tea with crushed mint leaves at a Moroccan café or sample exotic fruit at a market in Mozambique.
Alaska
Experience the untamed beauty of Alaska when witnessing the grace and power of a humpback whale breaching the surface, sledding across the otherworldly landscape of Mendenhall Glacier, and journeying through the verdant beauty of the Tongass National Forest, the world's largest temperate rainforest.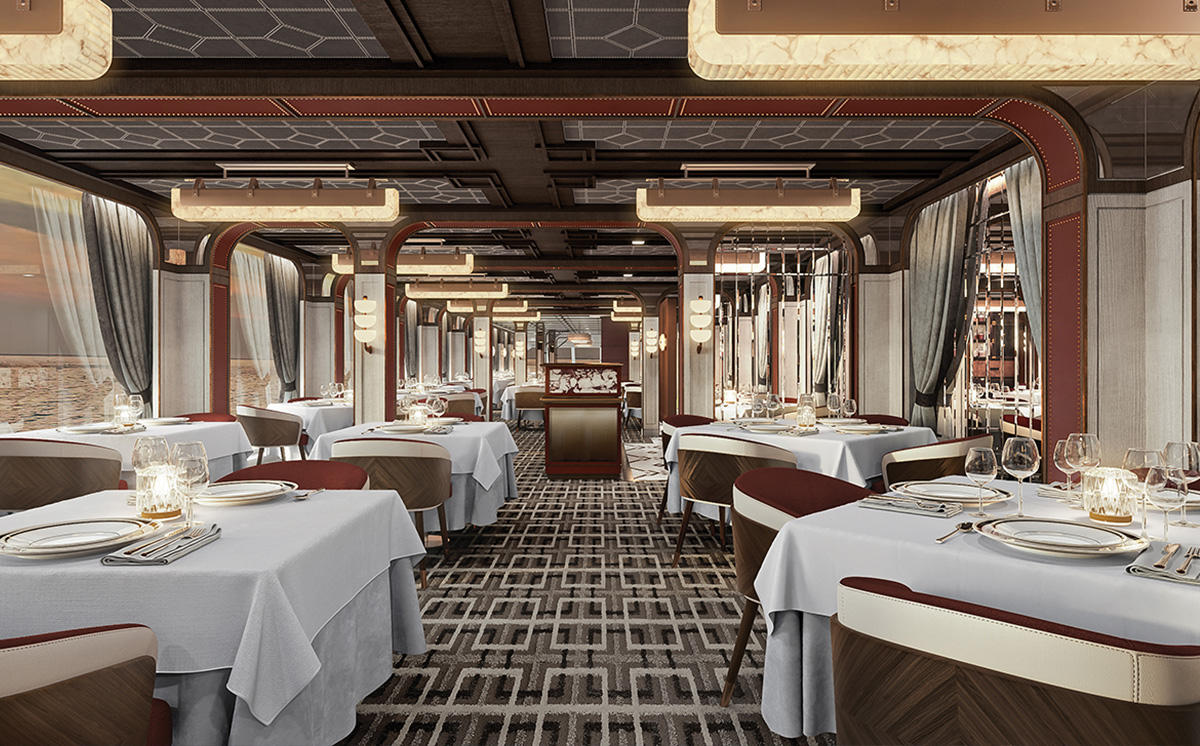 Travel Tip: Splurge the pre or post-cruise accommodations
When you book an upgraded cabin, some pre-cruise hotel options are included. No matter how you book, your pre or post-cruise hotel stay has a huge impact on your trip. We like to choose our hotel room pre-cruise for comfort and ease, while our favorite post-cruise stays elaborate on the narrative of the destination we are visiting. On the best vacations, your post-cruise hotel room embodies luxury, closely defined with local design elements. Spend a few extra days in a spa retreat or discover your port city. No matter how you pass the time, you'll be grateful for the easy transition from your vacation before returning to your daily grind.