Warm Welcome To Belmond Properties
Hit the sun-drenched trails of coastal California, uncover natural wonders in Mexico, or relax in paradise on the beaches of Anguilla. Choose your adventures with Belmond and experience all they have to offer. Belmond is our exclusive Partner of the Month through the end of December, and there are plenty of destinations and amenities to highlight. Take your next vacation to one of the many iconic and stunning Belmond destinations!
Belmond Cap Juluca, Anguilla
A Warm welcome back to Cap Juluca in Anguilla, the ultimate barefoot luxury escape! Take relaxation to the next level at the most exclusive sanctuary on the pristine shores of Anguilla. Belmond Cap Juluca is a dream-like escape, spread across the Caribbean's most beautiful beach. From the moment you land, private transfers are ready to whisk you away to the secluded spot in Maundays Bay. You've always found space, safety and privacy at Cap Juluca, but rest assured they've taken extra steps to make sure your stay remains carefree.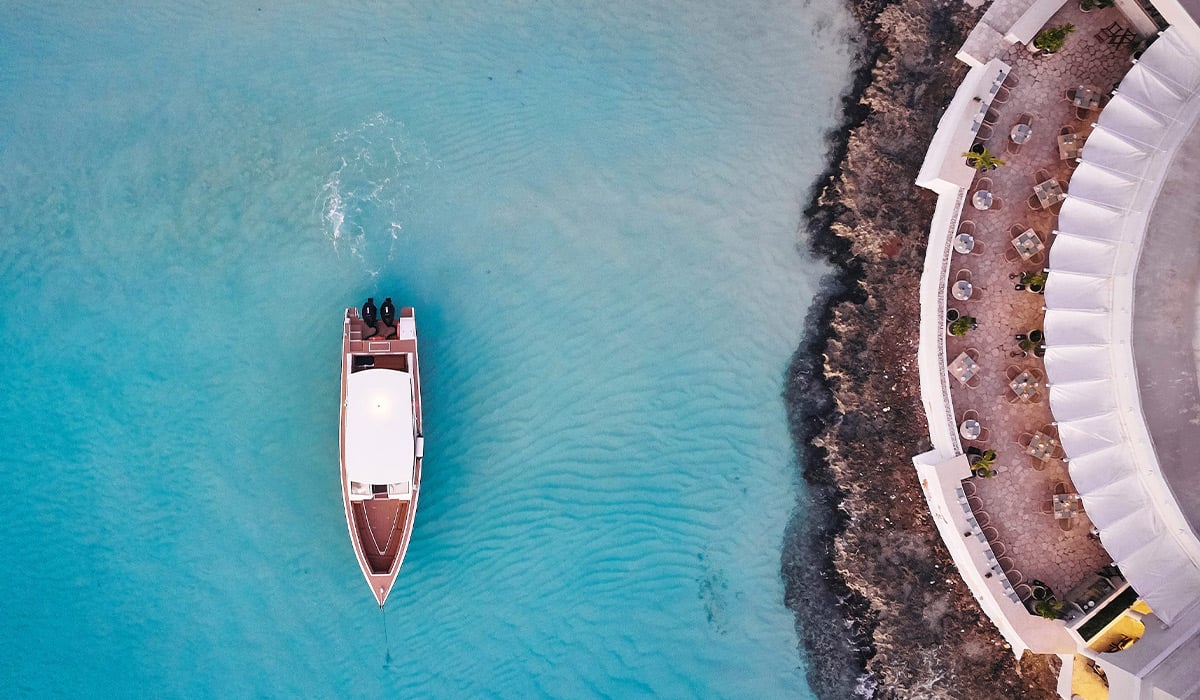 Tuck into divine Caribbean dining at The Cap Shack, take time for self-care with their wellness rituals and discover the natural majesty of Anguilla. There's a reason this island is the Caribbean's number one. Timeless, sophisticated art direction underlines its position as the most legendary Anguilla resort. Along with captivatingly fresh rooms and guest areas, anticipate a new beachfront infinity-edge pool, a 'disappearing spa', a rustic beach bar and irresistible new restaurants. Botanicals motifs and verdant local plants blend with new designs, offering old world charm with new world comforts.
The Resort
From the pristine sands of Anguilla's famed platinum beach to the inviting, cool interiors of the rooms and restaurants, every part of this luxury hotel is designed to enchant. Whether soaking up the sun, diving into the azure waves, or simply making the most of your down time with family and friends, Belmond Cap Juluca has every facility to make your dream Caribbean getaway a reality.
Beach Lounging
Belmond Cap Juluca's beach on Maundays Bay offers much more than just spectacular white-sand and sparkling turquoise waters. Indulge in pampered, personalized service from beach attendants.
Each guest room includes:
Two elegant chaise loungers reserved on the beach, with extra-large, market-style umbrellas and a table

Chaise-side beverage and meal service

Complimentary chilled towels, bottled water and sorbet throughout the day

Access to four cabana bars along the beach
Belmond El Encanto, Santa Barbara
Experience Hollywood glamour in a modern classic. Perched high in the Santa Barbara hills, this iconic hideaway offers the best views of the American Riviera. Spread across seven acres of secluded gardens, Belmond El Encanto opened in 1918 and has been part of Santa Barbara's social scene ever since. The resort is gleaming and glamorous, yet relaxed and low key. The kind of place that invites you to recline poolside, breathe in the ocean air, and sip a glass of crisp local wine. Belmond El Encanto has been the original Hollywood Hideaway for 101 years.
One of California's most indulgent hideaways
Popular with the Plein Air School of artists, Belmond El Encanto's former 1920s glory has been lovingly restored to become one of the most celebrated resorts on the West Coast. The restoration process helped to highlight the original Spanish-colonial and Californian craftsman styles, with modern additions including a zero-edge outdoor pool and sumptuous boutique spa. Here, every sense is heightened.

Spanish-colonial meets Californian craft
Belmond El Encanto celebrates Santa Barbara's early architecture. Fusing California Craftsman and Spanish Colonial, this iconic retreat reflects 1920s style coupled with splashes of modern artistry. Work from local artist Charles Arnoldi adds extra drama to your stay.

Belmond, Casa De Sierra Nevada, Mexico
A heritage hotel in the Mexican heartlands, Belmond Casa de Sierra Nevada evokes the charm of a bygone era. San Miguel is an adventure for the senses. Yet at the very center of this vibrant city lies a safe haven that's at once connected to the locale and is its own private sanctuary.
Ancient cultures, natural wonders and captivating contrasts
Lose yourself among the fairytale streets of San Miguel de Allende. Or explore the emerald cenotes and ancient temples of the Riviera Maya. Whether staying in the buzz of the city or on the golden coast, Mexico is a land of a thousand flavors. So start planning your escape, a stay with Belmond promises to be a feast for all the senses.
Accommodation
Spread out among buildings that include a 17th-century fortress and the famous Casa Principal, each room is rich with intriguing details. Stretch out in your spacious suite before venturing into the tangle of streets. As the day heats up, head to the courtyard for coffee under a square of bright blue sky.
An enchanting hideaway in a fairytale city
Water fountains and blooming flowerpots dot the cluster of heritage mansions that make up the hotel. A large pool, fringed with lush foliage and plants, provides the perfect place to cool off. 17th- and 18th-century buildings reveal inner courtyards, terraces and gardens. Here, history is woven into every stucco wall, tiled bath and curved ceiling, all balanced with modern luxuries.
Mexican fusion at its vibrant best
Be tempted into the leafy, lantern-lit courtyard of Andanza for an unforgettable dinner. The perfect place to lose yourself in the flavors of Mexico, this award-winning restaurant is a destination in its own right. Take home the taste of Mexico with the Sazón Cooking School. Punchy, piquant and alive with color: the spirit of Mexico can be found in its food. In Sazón's 18th-century mansion, you can learn the secrets of its cuisine. Let Belmond chefs guide you in the bold flavors, traditional techniques and modern twists that make local dishes so remarkable.

Belmond Bellini Club Amenities:
Fully flexible hotel or resort credit. US$90 per room per stay. US$200 per suite per stay.

Flexible on board train and river cruise credit of up to: US$100 per person per journey, US$45 per person for day trips.

VIP welcome treats with a local taste

Buffet or full breakfast for 2 daily

Complimentary upgrade based on availability at time of check-in

Complimentary Wi-Fi access

A unique US$500 gift voucher loyalty program when you book a US$5,000* or more holiday with Belmond.