Start Planning Your Future Vacation
Looking to the future, we will continue to provide you with travel inspiration from across the globe. And when you are ready, whether now for a local getaway to destress or at a later time when world travel reconvenes, we will be here for you. And if 2020 is on your radar, we feel that the current lenient cancellation policies, together with wide availability, will provide you the freedom to choose from a variety of ideal travel experiences. For those needing bit of distraction now, a visit to Montecito Village Travel is a good place to start.
Hike in the Canadian Rockies
Explore the Canadian Rockies with Backroads and prepare for a peak experience in this impossibly beautiful landscape of soaring spires, massive ice fields and jewel-hued lakes. All the incredible moments you'll enjoy, like hiking above the treeline to share views with mountain goats, pedaling over Sunwapta Pass, rafting the Kicking Horse River or venturing onto the massive Athabasca Glacier, are worth every step, pedal stroke—and second dessert. The pristine air in the Canadian Rockies will change you. Breathe deeply as you ascend. Breathe slowly when you reach a viewpoint. Snowcapped mountains, virgin forests, flowering meadows, rushing rivers, crystalline lakes—the raw beauty here can take your breath away. Discover this magnificent mountain range by bicycle. And don't forget to breathe.
Escape to Lake Louise
Enjoy dazzling views of the Bow Valley and Cascade Mountain as you ride along the scenic Legacy Trail in Banff National Park and to its postcard-perfect town of Banff. Choose to luxuriate at the world-renowned Willow Stream Spa at the Fairmont Banff Springs Hotel | Pedal amid imposing peaks, gem-colored lakes and endless alpine forests—one of the world's most pristine and dramatic landscapes. Bike to Lake Minnewanka—the largest body of water in Banff National Park—for a picnic beneath soaring spires. Take some time to wander through Banff, popping into shops and galleries.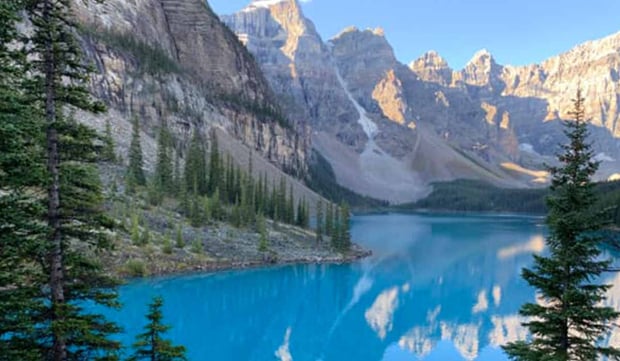 Watch for black bears, elk and bighorn sheep along your route. Pedal Bow Valley's rolling hills past Pilot, Storm and Castle Mountains and the striking Bow River. The spray flies and water pounds at roaring Johnston Canyon waterfall | Up for a longer ride? Add some scenic mileage with a spin up to Storm Mountain or all the way to the hamlet of Lake Louise.
Behold one of the most iconic views in the Canadian Rockies on the ride to Bow Summit—the highest point on the Icefields Parkway. You won't soon forget the vista of milky-blue Peyto Lake beneath a wall of towering mountains | At the venerable Post Hotel, savor what Travel + Leisure proclaims one of the best hotel dining experiences in North America. A marvelous photo op awaits as you stroll along the shore of Lake Louise, a beloved World Heritage site flanked by glaciated spires. Ride to Moraine Lake and visit the Wenkchemna Valley to cap off an amazing week.