From Antarctica, the Arctic or Mediterranean: An Unforgettable Luxury Expedition
Welcome aboard Scenic Eclipse II, the epitome of opulence and exploration at sea. This magnificent vessel is a testament to the beauty of the oceans and the wonders that lie beneath their surface. Designed to offer an unparalleled experience, Scenic Eclipse II combines the utmost in luxury with an array of thrilling itineraries that will leave you in awe. With its maiden voyage April 2023, Scenic continues to redefine cruising with the launch of the Scenic Eclipse II.
Whether you seek the tranquility and wonder of Antarctica or the vibrant cultures of the Mediterranean for your next vacation, Scenic Eclipse II promises to exceed your expectations and create cherished memories that will last a lifetime.
Booking with an MVT advisor ensures a seamless travel experience tailored to your preferences.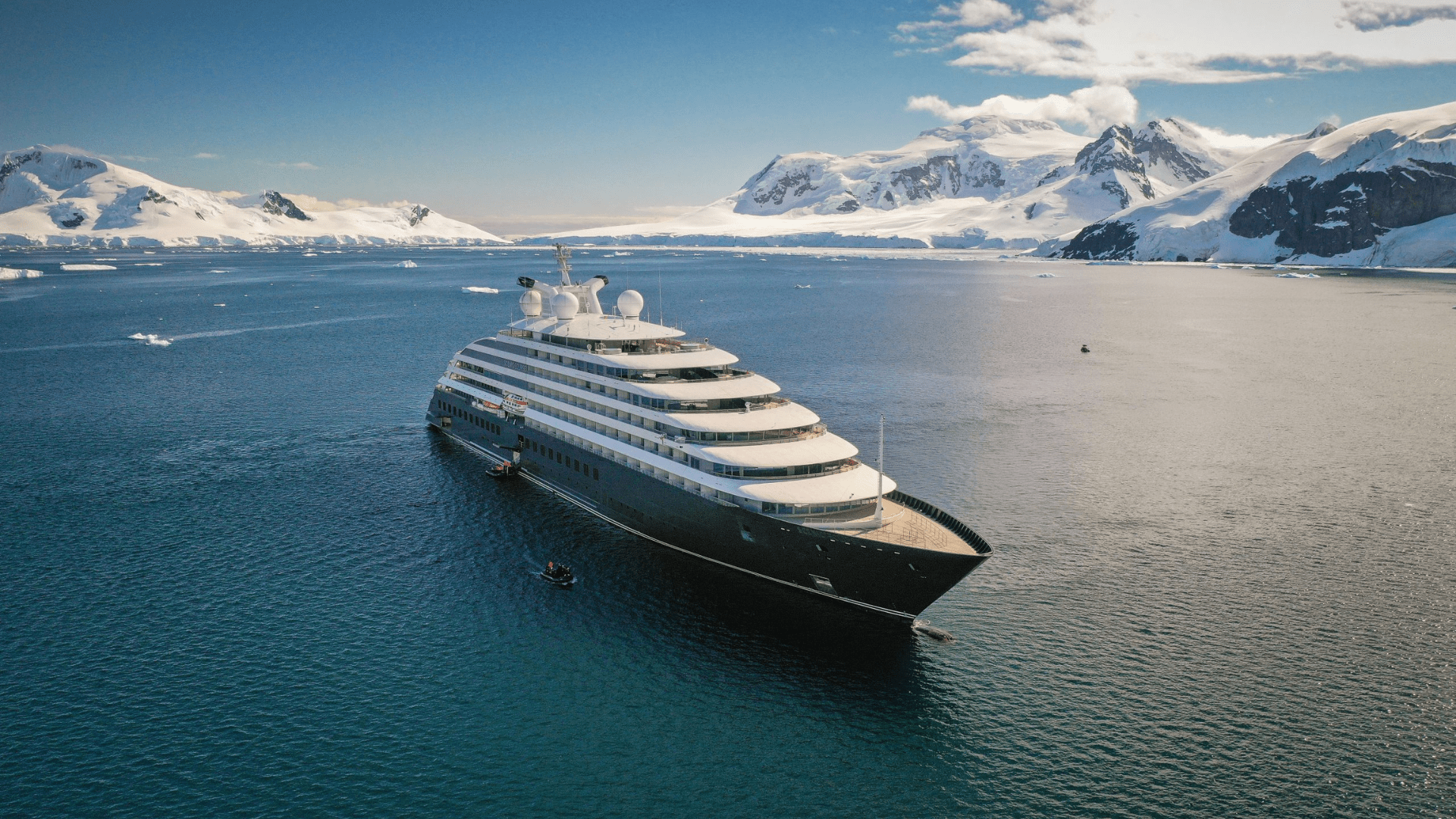 Luxury Redefined
From the moment you step foot on Scenic Eclipse II, you'll be enveloped in an ambiance of indulgence and refinement. The ship boasts lavish interiors, stylish suites, and world-class amenities that redefine luxury at sea. With a guest capacity limited to only 200 passengers, you can expect personalized service and an intimate atmosphere throughout your voyage. Each suite is elegantly designed and equipped with a private verandah, spacious sitting area, and lavish ensuite bathroom. You'll find no shortage of comfort and elegance on this magnificent vessel.
Innovative Technologies
Scenic Eclipse II incorporates cutting-edge technologies and advanced features to ensure the utmost comfort and safety of its guests. The ship is equipped with zero-speed stabilizer fins, which significantly reduce any motion during rough sea conditions, ensuring a smooth sailing experience. The use of dynamic positioning systems allows the ship to remain in a specific location without dropping anchor, minimizing any potential impact on delicate marine ecosystems.
A Perfect Match for Pioneering Discovery Yachts
Dr. Sullivan, known for her remarkable achievements as the first American woman to complete a spacewalk and her deep-sea explorations as the "World's Most Vertical Person," expressed her delight at being chosen as the vessel's godmother. She remarked, "I'm especially delighted to be Godmother to a vessel as well-designed for exploration and discovery as Scenic Eclipse II." Her adventurous spirit and pioneering accomplishments align perfectly with the ethos of the Discovery Yachts.
Embarking on Extraordinary Itineraries
Majestic Fjords of Norway
Begin your adventure with a voyage through the awe-inspiring Norwegian fjords. Sail past towering cliffs, cascading waterfalls, and picturesque coastal villages. Explore the UNESCO-listed Geirangerfjord and marvel at its natural beauty, or witness the breathtaking Northern Lights in the Arctic Circle.
Enchanting Islands of the Mediterranean
A journey to the Mediterranean, where ancient history and idyllic landscapes blend seamlessly. Explore the picturesque Greek Islands, immerse yourself in the rich cultural heritage of Italy, or relax on the stunning beaches of Croatia. Scenic Eclipse II takes you to hidden gems and iconic destinations, ensuring an unforgettable experience.
Pristine Wonders of Antarctica
Prepare to be amazed as Scenic Eclipse II takes you on an expedition to the white continent. Encounter magnificent icebergs, curious wildlife, and vast expanses of untouched beauty. Step foot on the seventh continent and marvel at the grandeur of nature's most unspoiled paradise.
Exotic Isles of the South Pacific
Sail to the remote islands of the South Pacific, where turquoise waters, coral reefs, and tropical landscapes await. Dive into vibrant marine ecosystems, encounter unique wildlife, and immerse yourself in the rich indigenous cultures of these idyllic destinations. Unwind on pristine beaches and indulge in a true tropical paradise.
Amenities and Leisure Aboard
Scenic Eclipse II is packed with world-class amenities to enhance your onboard experience. From a relaxing spa and fitness center to a heated pool and Jacuzzis, every aspect of your well-being has been carefully considered. The ship also features multiple lounges, bars, and restaurants, where you can savor gourmet cuisine and unwind with a drink in hand. Whether you're seeking relaxation or entertainment, Scenic Eclipse II has it all.
On Deck 10, a new bar area with indoor and outdoor seating will be a highlight for guests to enjoy the stunning views with a drink in hand, as they cruise through Antarctica, the Arctic, or the Mediterranean. A large, oval shaped pool with comfortable relaxation space will also be a new feature. A perfect venue for sail-away deck parties.
Discover the Spa Haven on Board
This magnificent vessel not only offers extraordinary adventures and breathtaking scenery but also features a world-class spa that promises to pamper your body, mind, and soul.With its elegant design and serene ambiance, it provides the perfect escape from the hustle and bustle of everyday life. Immerse yourself in a range of revitalizing treatments expertly delivered by skilled therapists. From soothing massages to rejuvenating facials, the spa offers a comprehensive menu of options tailored to your unique needs. Utilizing only the finest ingredients and advanced techniques. The soothing waters of the hydrotherapy pool, where gentle jets and cascading waterfalls provide a blissful respite. Unwind in the steam room or sauna, allowing the heat to melt away your worries and leave you feeling refreshed.
Celebrating the Inaugural Season
Why use a travel advisor?
Now is the perfect time to appreciate the travel advisor in your life or find one here! An MVT advisor can ensure you have a well planned, balanced trip. Booking with MVT also opens doors to VIP status and other exclusive benefits like welcome amenities, flexible check in-out, and hotel spending credits.