Take The Leap and Travel Solo! These Companies Can Help You Experience the World like Never Before
Traveling solo is on the rise, and companies are taking notice! More than ever, jet-setters are opting to explore the world on their own. You can plan the perfect vacation exactly how you want and explore your destination with only you in mind. Without another person as a safety net, you'll also have the opportunity to overcome your fears, muster up the courage to talk with other people, put yourself out there, get lost and discover the explorer inside of you.

AmaWaterways
Take travel into your own hands and explore the world solo – visit the iconic Christmas Markets down the Danube River. Travel back through centuries as you walk along cobblestone streets through grand cities and historic towns bedecked with twinkling Christmas trees and lined with wooden huts gleaming with handcrafted treasures.
"Don't be afraid to introduce yourself to people, even if it's a couple or an entire group... Doing this, I met six wonderful people during my Christmas Markets cruise, and it was instant friendship." – Judy Nutter, AmaWaterways solo traveler
Solo travelers cruising with AmaWaterways always enjoy the following:
Service of an attentive crew that recognizes your individual preferences
An invitation to an exclusive Welcome Cocktail Reception to meet fellow travelers
A welcoming dining environment with open seating
Assistance with planning your ideal shore excursion program, and more!
Solo Traveler Special
25% Single Supplement* on select sailings
25% Single Supplement on all European & Southeast Asia sailings
25% Single Supplement on select 2020 sailings
Waived Single Supplement on select ships in Europe
*25% Single Supplement is not combinable with any other offer
Globus
Maximize your time on your next vacation and let Globus handle the details. A perfectly planned, stress free getaway, hotels in the heart of your destination, more visits, more experiences, more sightseeing included in the price of the vacation, time to explore on your own, top tour directors and guides, VIP to skip all the lines and maximize fun.
Globus maintain the policy of "Leave Only Footprints and Take Only Photos," and is committed to sustainable travel and minimizing its impact on the environment and to reducing its dependence on non-renewable resources.
The Globus family of brands is a global company reaching every corner of the world, yet remains family-owned and steeped in the values to enlighten travelers by showing them the very best of the destinations we know so well.
Book a single room for solo travel – for most tours, there's a number of single rooms where the single supplement is waived.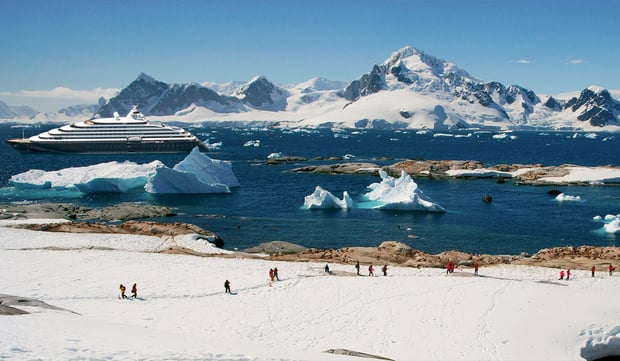 Quark Expeditions
The most rugged, remote, ice-choked and unexplored regions in the world are waiting to deliver the richest travel experience you will ever have—intimate wildlife encounters, diverse landscapes, and exquisite natural beauty. Trailblazer, nature-enthusiast or bucket-lister, we have an Arctic adventure for you.
Explore the Arctic solo, you'll be surprised to discover a portion of guests on every voyage do not have travelling companions.
Solo travelers who really do enjoy a cabin to themselves pay the single supplement. Others can take advantage of our Request-Share program, where solo travelers of the same gender are matched with other solo travelers who indicate they are willing to share.
Abercrombie & Kent
Whether you opt for an African safari, a China tour or travel to Italy, solo travel is an uncommonly rewarding way to experience the world. Solo travel gives you the time and space to reflect, get inspired and take risks in a far-flung environment. The good news is, small group travel is a great fit for solo guests looking to expand their horizons. Make memories that enrich and inspire you and you alone.
Benefits of Solo Travel with A&K:
Local Experts
They not only know the ins and outs of daily life, they're there to introduce you to the spirit of a locale in the most authentic way possible.
On Your Own, But Never Alone
Solo guests enjoy private accommodations on every stop on the itinerary. Best of all, you share the experience of exploring your destination with like-minded travellers who share common interests.
Safety and Security are Number One
You don't have to spare a thought about your safety and security with over 55 offices in more than 30 countries providing round-the-clock support, making your journey as seamless as possible.
"Me" Time with Instant Companions
If the idea of travelling solo seems like a bit too much, small group travel itineraries bridge the gap. You'll travel in the company of an intimate group of guests, who can become companions — even forever friends — while still leaving you time to yourself when you need it.
Meaningful, Authentic Experiences
From dining at restaurants frequented by locals to staying in unforgettable accommodations and insider access experiences that reveal your destination in the very best light.
Experience Home Away From Home
Your hotels have already been hand-picked, the best local restaurants have already been chosen and your itinerary has been planned to include all the must-sees in your destination of choice.
*Savings available on select departures: Anywhere from 50% savings on single supplement to fully waived single supplement on stateroom categories 1-3.
Tauck
Traveling solo doesn't mean traveling alone – with Tauck, it means camaraderie, traveling with like-minded travelers who share similar interests, enjoying the spirit of travel that makes exploring the world a necessary part of life.
"This was the first vacation I took as a single. I wasn't sure how I would feel being alone – but I was not alone! The group I traveled with was friendly, fun to be with, and included me in everything. Also, I can't say enough about my Tauck Director – she was wonderful, on top of everything, and there for everyone." -Arlene Pressman, Connecticut
Seeing the world solo has never been easier than traveling on Tauck's guided trips – you'll find special savings for solo travelers on select departures of many Tauck land trips in Asia, Latin America, Europe and North America.
Tauck Travel Benefits:
Solo Travelers enjoy Special Savings in Category 1 Cabins – No Single Supplement on all European River Cruises! That is savings of up to 50% for solo travelers on every departure of every European river cruise.

Solo Travelers also enjoy Savings of $1000 per cabin in select categories on select river cruises

Tauck Directors who guide your trip – solo travelers themselves! – who are the best in the business