Save Big on Silversea Excursions
Silversea's small luxury ships are designed for those who delight in the thrill of discovery while indulging mind and body in the most lavish surroundings imaginable. All accommodations are spacious, ocean-view suites that include butler service,and most include private verandas. Silversea voyages and cruise expeditions sail to over 900 destinations on all seven continents, more than any other cruise line
Breeze through embarkation and step into the warm welcome of white-gloved staff. Enjoy a flute of champagne as you are escorted to your suite. Renowned for culinary excellence and innovative spirit, Silversea's luxury cruises offer a choice of open-seating dining options throughout the fleet, as well as several specialty venues aboard all non-expedition ships. Enjoy the ease, convenience and value of an all-inclusive cruise fare that includes almost all of your discretionary onboard expenses.
Book by February 28, 2020 and receive up to $1,000 in savings!
Also, book now and enjoy:
Intimate ultra-luxury ships for no more than 608 guests
Unlimited WiFi for every guest
Onboard gratuities always included
Spacious suites with butler service
Open seating and specialty restaurants
Wines and spirits served throughout the ship
In-suite bar with your preferred beverages

Book Early and Save
A dream vacation may seem forever away, but Silversea gives you the opportunity to make it a reality. The shores of the Mediterranean, the wild grace of Alaska, the tropical islands of the Caribbean — with Silversea, the possibilities are almost infinite. No matter where you yearn to visit, take time now to plan ahead and save 10%
With voyages sailing to over 900 immersive destinations on all seven continents, the choices are remarkable and savings are too. The fares include, from ocean-view suites, wines and spirits throughout the ship to complimentary WiFi, included gratuities, a butler in every suite and more.
Discover Authentic Beauty
Save up to $1,000 on a whole host of expeditions including unique destinations such as Nome, Alaska or the island of Hokkaido in Japan!
With over 900 destinations across all 7 continents, wherever you want to go, you can get there with Silversea. Discover the world's most intriguing ports while travelling in extraordinary style aboard Silversea's intimate luxury cruises. Our small luxury ships offer enormous opportunities for you to explore the 7 continents and over 900 fascinating destinations on an all-inclusive cruise.
Sail directly into the heart of St. Petersburg, around the tip of Cape Town, along the oil-rich sheikdoms of the Middle East, across bustling Sydney Harbour and through breathtaking Chilean fjords. On our expedition cruises, every journey is new and unique. Fully immerse yourself in the world's most unspoiled landscapes, from the primeval Galápagos Islands to the lush, tropical edens of Polynesia to the frosted wilderness of Antarctica.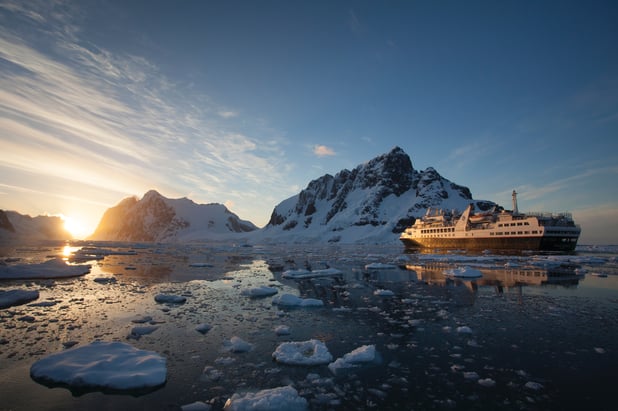 Whether you long to mingle in the Med, swim with the turtles of the Galapagos or embrace the glaciers of Alaska, there is something special about knowing that this cruising is all inclusive.
With Silversea cruises you enjoy free-flowing premium wines and spirits, delicious gourmet cuisine, in-suite dining, full butler service for every suite and of course all gratuities. Savour the peace of mind of knowing that there is no salient price-tag at the end of a wonderful night of entertainment. Which is also complimentary, by the way.