Stamp Collecting & Luxury Travel
For the avid traveler, passport stamps and luggage tags are fun to collect, and there is something satisfying about a lived-in, worn, and well-used passport. Some may even challenge themselves to fill every page before it's time to search for renewal passport application. Did you know you need to have you passport valid for 6 months after your return date from traveling international? Don't be asking yourself how to renew your passport at the last minute.
Some landmark places and continents like Antarctica give novelty stamps for those who love the chase of a new addition to their passport or new countries visited.
Can Americans Travel to Cuba?
The answer is yes!
Although Cuba is accessible to American travelers now, this passport stamp is unique because it's pink! The vibrancy of the country and its people are translated into its passport stamp. Not sure where to start when it comes to planning a trip to the time capsule that is Cuba?
Book with an MVT advisor and gain insider tips and access to exclusive local itineraries. Cuba Candela handles everything from the moment guests arrive to the moment they leave!

Cook Island
This one is trending for One Foot Island's novelty stamp and bragging rights earned. When you make it to Cook Islands you will need to venture to Atutaki to get the truly coveted stamp.
Featured Itinerary: French Polynesia with Paul Gauguin
One of the most natural and relaxed ways to visit far away islands would be to cruise and see a different perspective than flying in. Step onboard and into true luxury island time with Paul Gaugin's 12-day Cook and Society Islands Voyage departing January 2024.
Antarctica & Ushuaia
Antarctica is its own continent, but the science and exploration centers will hand out a novelty stamp to celebrate checking "the last continent" off your list. As the southern most city in the world Ushuaia has it's own passport stamp for its special location. It is usually the starting point to your cruise to Antarctica's other-worldly waters.
Featured Itinerary: Silversea's All-Inclusive Luxury
Experience the closest thing on planet Earth to another planet surrounded in comfort & luxury. Silversea offers two ways of getting to the white continent. Choose to fly straight into the heart of Antarctica in just 2 hours with Antarctica Bridge or sail the iconic Drake Passage for an unforgettable experience.
Door-to-Door and Port-to-Port All-Inclusive fares give you more flexibility than ever before. Plus book now to receive up to $300 USD shipboard credit per person!
Machu Pichu
This UNESCO World Heritage site and one of the New Seven Wonders of the World in Peru offers commemorative novelty stamps at the entrance of the 15th century Incan citadel ruins. You will need to plan several days for this trek, and it is not for the weak.
All aboard Belmond's Hiram Bingham
Travelers can take Belmond's luxury train from Cusco to Machu Picchu. The railway runs along the sacred valley and Urubamba river.

As members of the Belmond Bellini Club, Montecito Village Travel advisors can create magical adventures for anyone looking to visit Peru. Send us a message to learn more about incredible properties like this one.
Cayman Island
Yes the turquoise waters are worth the trip to the Cayman Islands, but their official passport stamp makes your vacation that much better. White-sand beaches and calm turquoise waters set a relaxing scene for sunbathing and beach-combing, while a surrounding barrier reef draws scuba divers and snorkelers to explore the Cayman Islands' 365 dive sites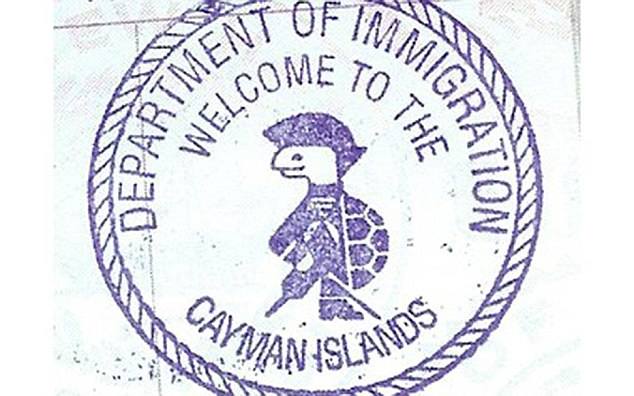 This passport stamp features Sir Turtle, a character designed by Suzy Soto that represents the sea turtle, which has been linked to the culture of the Cayman Islands since 1503.
Dubbed the "Culinary Capital of the Caribbean." The Ritz-Carlton Grand Cayman's annual Cayman Cookout, hosted by chef Eric Ripert, draws celebrity chefs and food connoisseurs to the island for a long weekend of fine dining and fireside grilling.
Featured Itinerary: An unforgettable vacation on Celebrity Cruises
Nothing at sea compares with Celebrity's Wine Experience, underscored with an incredible wine list and one of the largest teams of sommeliers in the world. Explore Celebrity's 8-day voyage to Honduras, Belize, and Cayman Islands.
Book with us and you'll enjoy complimentary specialty dinner for two when booked in a Veranda, Concierge Class or AquaClass stateroom on most 2023 voyages, plus $75 shopping credit per-stateroom when booked in a Suite on most 2023 voyages.
Unique ways to travel: River Cruising with AmaWaterways
Embark on a mesmerizing river cruising experience with AmaWaterways and discover the enchanting wonders of Colombia on our captivating Colombia itinerary. With a legacy of excellence in luxury river cruising, AmaWaterways is committed to providing you with an unforgettable adventure that combines immersive cultural experiences, breathtaking landscapes, and unparalleled service. Step aboard their elegant river cruise ship and be transported into a world of exploration and discovery. Delve into the vibrant local culture of Barranquilla as you indulge in an exclusive "Carnaval" celebration, a testament to the authentic experiences we curate for our guests.
Sailing the Panama Canal on Star Clippers
November 4 2023 - Barbados to Panama, 14 Nights

Adventurous sorts will love climbing the mast to the crow's nest or relaxing on the bowsprit netting with the open sea beneath. On deck, watch the sun drop slowly into the deep blue ocean, as seagulls circle the darkening sky. In the tropical bar, the bartender mixes a shaker full of delicious drinks, as guests happily chat about their day ashore.