Start Planning Your Future Escape
Looking to the future, we will continue to provide you with travel inspiration from across the globe. And when you are ready, whether now for a local getaway to destress or at a later time when world travel reconvenes, we will be here for you. And if 2020 is on your radar, we feel that the current lenient cancellation policies, together with wide availability, will provide you the freedom to choose from a variety of ideal travel experiences. For those needing bit of distraction now, a visit to Montecito Village Travel is a good place to start.
Travel through the legendary Spiral Tunnels, traverse the Continental Divide, and be inspired as you wind through mountain passes and dramatic canyons with Rocky Mountaineer. Experience the only passenger rail service on this historic rail route by Rocky Mountaineer, celebrated for connecting Canada from East to West. Rocky Mountaineer's custom-designed coaches provide you with panoramic views – or get a bit closer by stepping into the outdoor viewing area. See the sights by day, sleep in a hotel at night. With Rocky Mountaineer, you get the best of both worlds: maximum views, and maximum comfort. No sleeper cars here: stay in beautiful hotels at each destination.
First Passage to the West
Your journey begins at the Rocky Mountaineer station situated in the beautiful coastal city of Vancouver, famous for its backdrop of snow-capped mountains and glistening ocean waters. Start the day with a toast to the beginning of your journey before being served a delicious breakfast that warms you to the core. From fertile greenery, the landscape transforms to the towering peaks of the Coast Mountains. You'll see the mighty Fraser River and the raging whitewater of Hell's Gate. Sit down to a three-course lunch prepared by Rocky Mountaineer's onboard chefs as your Hosts entertain you with stories about the region. After a full day on the train, disembark in the charming town of Kamloops - the perfect place to take a soothing stroll along the riverside.
Mountains Stretching to the Sky
As the train ascends, so will your sense of wonder. Before you know it, you'll be surrounded by mountains that stretch up to the sky, enjoying the view with a glass of wine in hand. Enjoy a gourmet lunch inspired by the diverse flavours and local ingredients of Western Canada as you look forward to your Banff arrival.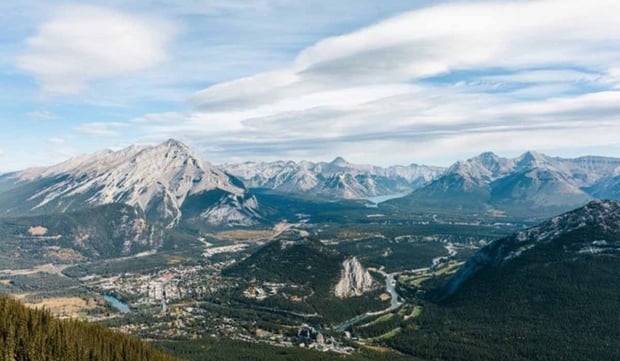 Hear about the incredible history of the railway and the landmarks along the way. One of many memorable landmarks between Banff and Lake Louise, Castle Mountain is named for its imposing appearance, which early explorers compared to that of a medieval castle. In Banff, discover a delightful combination of rugged mountains, lush parks with postcard scenery and wildlife you'll need to see to believe.