John Oberacker is Among the Select few Travel Advisors who are Consistently Setting Trends and Staying Ahead of the Curve
In the luxury travel industry, setting trends instead of following them is a tall order — especially when the definition of "luxury" is ever-changing — but it's what makes the advisors who pull it off so special.
John Oberacker, founder and CEO of Eden for Your World, was named Most Innovative Travel Advisor at the 30th annual Virtuoso Travel Week, on August 16, 2018. The luxury travel network defines this title as the "travel advisor [who] has demonstrated the most innovative, imaginative and out-of-the-box thinking in selling travel."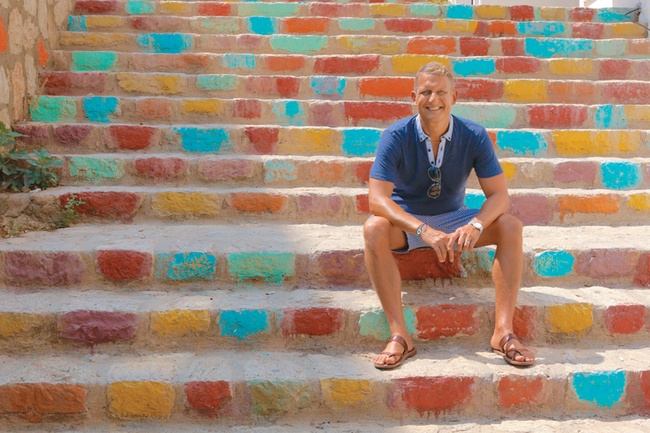 "I think I won because suppliers are the ones that vote for you, and they've seen my dedication," Oberacker tells Luxury Travel Advisor. "I really make it a point to create great personal relationships with the suppliers."
He adds, "The title of 'Most Innovative' is a strange thing because we all, in the luxury travel business, strive to innovate; so, to be much more innovative than someone else is hard to gauge. In the end, I just think my dedication to my clients and my connection with the suppliers helped me win it."
The Latest Trends
Oberacker tells Luxury Travel Advisor that FIT, adventure, honeymoon and multigenerational travel are all among the most common requests he's seeing from clients. Of these, multigenerational travel is the fastest-growing segment. He says that clients comprising small family groups, larger extended families and even 'skip-generation' groups are coming to him looking for unique experiences. Oberacker adds that honeymooners are going more luxury than they have before. He attributes both to the rise in social media and the role it plays in travel: Clients see what their friends or family are doing, as well as what's available in general, and are looking for the same experiences.
Destination-wise, Oberacker says Croatia is "really hot;" he adds that Portugal, Southeast Asia and South Africa are also very popular. For a destination within a destination, he says Puglia, Italy is gaining steam. Among families, however, South Africa seems to be the most popular.
"I think because it's 'Africa lite,'" he says. The lack of a language barrier, the cuisine, and the opportunity for city, adventure and wine experiences make it popular, we're told.
Oberacker adds, "I always tell my clients it's great. Do South Africa first. It's a great introduction if you're going with the family. It's comfortable. It's perfect. Then, you're going to be bit by the bug, and you're going to want to go back to the other parts."
Being Selective
The decision to be more selective with clients is one of the top business decisions Oberacker has made this year, he says. On the same note, he says that he made a conscious decision to work less on weekends ("aside from emergencies, of course").
It's more proof that quality always beats quantity and that you don't have to say "Yes" to everyone in order to run a successful travel agency.
One example of the many trips that Oberacker has put together was one for a family planning to spend two weeks in Israel. The oldest son was already visiting for Birthright but the family wanted to take their two young daughters, one of whom has Down syndrome, as well as one cousin to experience the destination. Oberacker had to find tour operators who had experience in working with families with handicapped children. He wanted to book activities that would be culturally immersive but would be stimulating to the child; these were: Cooking classes with Druze women; a visit to the Buza Ice Cream factory; hiking in a nature reserve; kayaking in the Jordan River; swimming in the natural springs of Sachne; a tour of a date farm; a visit to the fortress of Masada and the Dead Sea to float in the water; and a visit to the Israeli Children's Museum.
Click here to read the full Luxury Travel Advisor article.
About Eden for Your World
John Oberacker and Kasra Esteghamat have been successful business partners for over 17 years. Their honesty and dedication has yielded them a large and loyal client base, and their energy and loyalty has produced a team of unlimited resources around the world. Their boutique luxury travel agency, Eden For Your World, is a natural extension of their desires to share their expertise of all things 'eden' from around the world. For more information, visit www.edenforyourworld.com.