Rivers & Rails of Africa - From Cape Town to Johannesburg
Your African journey begins with a three-night stay in Cape Town where you'll explore the Atlantic Seaboard including the Cape of Good Hope and an African penguin encounter.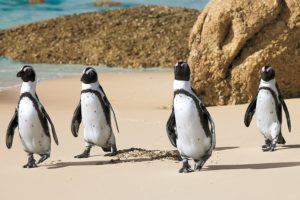 You'll also take a cableway up Table Mountain and then choose between a wine region tour or a visit to Robben Island that includes a cultural tour of Cape Town's diverse neighborhoods.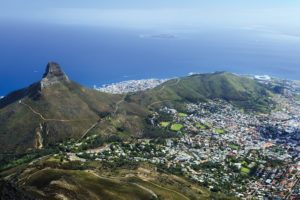 Next, fly to Kasane, Botswana for your four-night Zambezi Queen safari cruise on the Chobe River. Explore Chobe National Park, home to one of the densest populations of wildlife on the African continent. Then continue with two nights at the legendary Victoria Falls, one of the world's great and impressive natural wonders.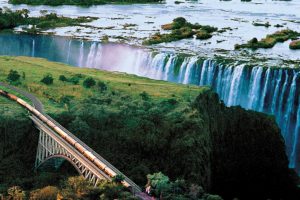 From here, you will join the Rovos Rail. Enjoy a three-night luxurious train journey as you travel through approximately 1,000 miles of breathtaking scenery from Zimbabwe into South Africa.
About Zimbabwe's Largest Game Reserve
Hwange Game Reserve consists of an area of 5,600 square miles teeming with tens of thousands of elephants, buffalo, lions, leopards, rhinoceros, African wild dogs, cheetahs, spotted hyenas, wooly brown hyenas, over one hundred other different species of animals and four hundred species of birds.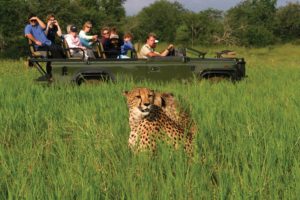 Founded in 1928, all of Zimbabwe's endangered species and protected animals are found in this one park. Over twenty thousand elephants roam through this wildlife haven, among a large pride of buffalo, zebra and lions and one of the world's largest populations of the African wild dog.
Leopards, cheetahs, sable and roan antelopes, wildebeest, impala and spotted hyenas are also often spotted here. The gemsbok antelope and wild and woolly brown hyena roam through the park as well; it is the only protected area where these animals occur in reasonable numbers.
Bird lovers flock to the park too, particularly in the wetter seasons between November and April. Migratory birds from Europe and Northern Africa are present during this time while resident birds can often be seen nesting and in their colorful breeding plumage.