New Destinations And Exciting Experiences Await With Silversea.
Uncharted territory and beautiful destinations await with Silversea Cruises in 2023 & 2024. Featuring some first-ever itineraries in luxury cruising and over 690 destinations to choose from, the time to discover the world is now. 60 new ports of call compliment these voyage options, including expeditions to the Baltic Sea and Arabian Peninsula! Get ready to experience new places with like-minded travelers, while enjoying the all-inclusive luxury Silversea offers. Read below to learn more about some of the destinations we love from the 2023 & 2024 itineraries.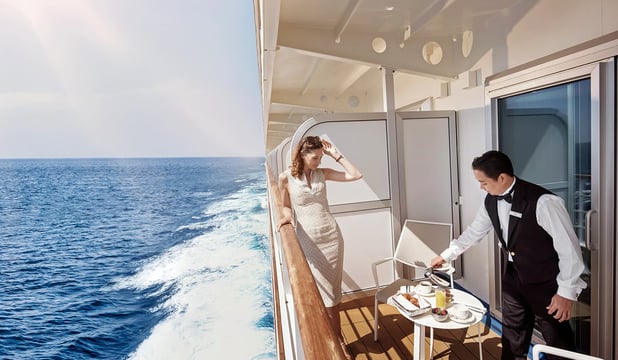 Door To Door All Inclusive
Silversea is known for their door-to-door all inclusive experience, starting right at your own home. Begin with an exclusive transfer service that both picks you up and drops you off back at home. While on your cruise, enjoy included shore excursions, premium alcoholic beverages, live entertainment, all gratuities and butler service! All you have to do is relax and enjoy the journey.
Private executive transfers: Start your cruise as soon as you leave home with our new chauffeur service. Taking you from home to your domestic airport and back again, this luxury service is included with all new bookings on all voyages starting Spring 2022.

All-Inclusive pre/post cruise benefits: Silversea's fare includes international roundtrip flights, business class upgrades in selected destinations, in-country flights (when required by the itinerary) and pre and post cruise hotel nights.

Butler service in every suite: Silversea is the only cruise line in the world to include butler service in every suite, in every category!
Grand Voyage Collection
Offering a perfect balance of comfort on board and excursions that get you out of your comfort zone, Grand Voyages are the ultimate experience for new and experienced cruise guests. Travel deeper and learn more about each spot you visit on your journey; it's the ideal way to really get to know a region.
Visit the coasts of Africa and the Arabian Peninsula as well as delve into the riches of the Eastern Mediterranean. Think beyond life onboard and deep dive into the authentic beauty of the world. If you love discovering destinations in depth, then these are the voyages for you.
Africa & The Indian Ocean
What comes to mind when we think of Africa & Indian Ocean voyages is the wonder and natural beauty these destinations boast. From whale watching to safaris and snorkeling, these voyages offer extensive itineraries perfect for the adventurous cruise guest.
Enjoy new destinations that offer in depth discovery of the Red Sea, extended stays in the Persian Gulf, and multiple UNESCO World Heritage Sites to really discover this fascinating region.
Northern Europe & The British Isles
Explore the rugged shores and maybe even the northern lights in Northern Europe! Silversea has been cruising to this region for over 25 years, and are still adding new destinations to explore every year! Discover the holy island of Lindisfarne, remote ports in the north of Finland and a whole new set of itineraries across the Baltic Sea. The Norwegian Fjords cruises are a great chance to experience autumn in this region, and you will have a good chance of seeing the northern lights!