Le Blanc Spa Resort Los Cabos:
The Singular Adults-Only, All-Inclusive Resort In Cabo.
Elegance and ultra-luxe amenities await at Le Le Blanc Spa Resort Los Cabos, with a setting that is beyond unforgettable. All-inclusive luxury takes on a whole new meaning at this resort.
How to get the VIP treatment: Lush Experiences
Lush Experiences is one of North America's most respected Affluent Hospitality Sales & Marketing Representation companies whose focus is working with the finest luxury hotels, and destination curators throughout the world. Booking with Lush Experiences gives you all the perks of booking direct, with the added knowledge of a destination specialist at your side.
The Resort

|| An Adults-Only Oasis

Enter through the spacious lobby overlooking the beautiful paradise that it Los Cabos. Featuring stunning accommodations, butler service, infinity pools, and more, this resort raises the bar for all-inclusive experiences. From the moment you step foot on the property, the staff will be by your side to handle every request you might have. From unpacking your luggage to custom bath soaps, your butler is here to make your stay that much more memorable.
Accommodations

|| Luxury Meets Comfort
Staying well rested is the key to having an action-packed vacation, and Le Blanc has exclusive amenities to make sure you wake up ready to explore. Begin each day with views of the ocean from your balcony, enjoying a cup of coffee and imagining what the day ahead brings. Each room features premium BVLGARI bath products, a premium liquor dispenser, luxurious robes, and more.
A Room With A View: Royal Deluxe Ocean View
The Royal Deluxe Ocean View features the sound of the ocean mixed with blissful amenities. Signature butler service is included in all rooms, making every experience you have inside and outside the room seamless. Your personal butler will arrange personal experiences from custom soap and drawing a rose petal bath, to arranging spa treatments and dinner reservations.
All Accommodations Include:
Welcome bottle of Mondavi Wine
Minibar (refreshed daily)
Smart TV with Google Chromecast
Night petit fours
Welcome bottle of Tequila
Comfort Menu
Personal Butler Service

Activities

|| A Day At The Pool, Drink In Hand

The beauty of an all-inclusive resort is the ability to do as much or as little as you desire. Relaxation can take many different forms, whether it be a challenging water spin class, or lounging on a pool chair drinking Le Blanc's iconic green garden drink. Le Blanc offers a variety of activities to keep you entertained and social with other guests throughout the day.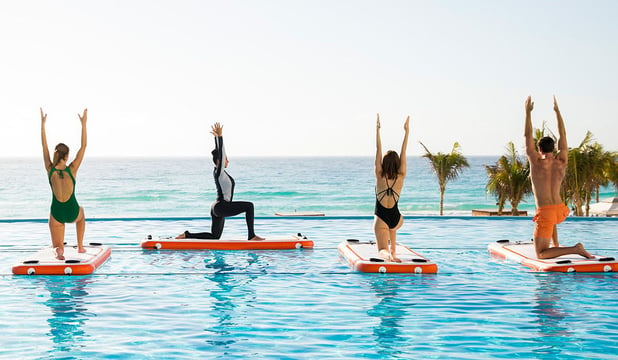 A Must Try Activity: Paddle Board Yoga / Aquatic Spinning
One can't-miss activity at Le Blanc Los Cabos is their water fitness classes. Offering both paddle-board yoga and aquatic spinning, you can stay fit while enjoying an amazing view of the ocean. Once you've gotten the hang of standing on the paddle-boards, take your skills over to the main pool, where a paddle board balancing competition draws quite the crowd.

Dining

|| Innovation At Every Bite

Beautifully crafted menus and innovative options are at the heart of every restaurant available at Le Blanc. From French cuisine to oceanside seafood experience, there is something for everyone available every night of the week. One thing you will notice at each of the restaurants is the staff's dedication to making each customer's experience amazing.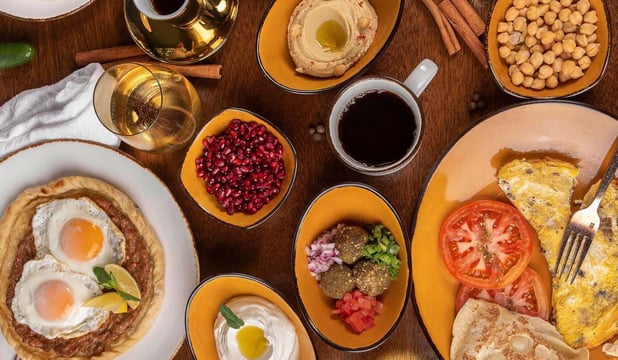 Flavor Meets Entertainment: Mezze
If you're looking for what some would consider an over the top dining experience, Mezze is the place to begin. Upon entering, you will be greeted by your server for the night. Once being seated, your server will put together an array of appetizers for you to enjoy while you decide what to choose as your main course. The drinks here are artfully crafted, and traditional Lebanese coffee is available at the conclusion of your meal.
If you enjoy entertainment while dining, check the dinner schedule daily to see what times there will be dancers! Belly dancers with a pianist will be the highlight of your night.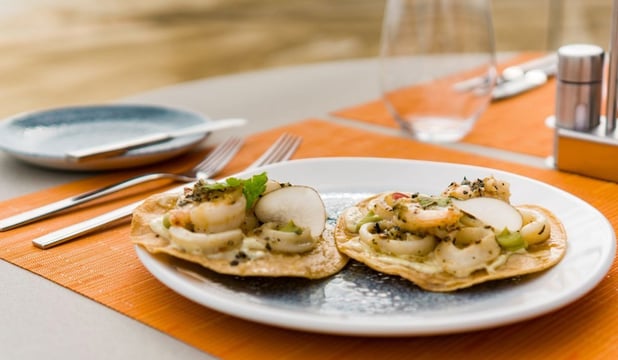 Blanc Ocean: A Seafood Experience
Tempt your taste buds with a mouthwatering seafood experience that perfectly combines fresh local and imported ingredients with modern culinary techniques. Elegant breezes and luscious, succulent sea fare fill the tables at Blanc Ocean. Enjoy the freshest dishes inspired by the Sea of Cortez in a stylish space overlooking the deep blue sea.

The Spa

|| Traditional Healing Techniques For Relaxation

From massages and facials to longer healing journeys, Blanc Spa features beautifully modern facilities that are available for all guests to use. Choose from a variety of treatments to meet your needs, all which feature a complimentary hydrotherapy circuit. Both your butler and spa staff can help you create the perfect spa day for you.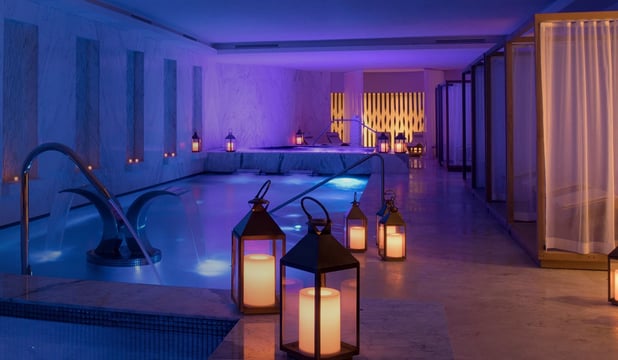 Included In Your Stay: Hydrotherapy Journey
One experience you should take advantage of daily is the complimentary Hydrotherapy Journey. This journey was inspired by traditional Greco-Roman rituals, along with the concept of healing through the power of water.
This ritual splits men and women into different treatment rooms, as you go through 5 different experiences solo. This experiences include variations of hot and cold, steam, and massage. Once you've completed this stage, you are then invited to go to the group area, featuring large jacuzzis and cabanas. Drink your choice of cucumber or lemon water, and replenish your body with light snacks.
Detox your body using the sauna room
Depart the heat and enter our ice room.
Relax in our steam room
Continue to the sensation showers
Relax in our heated stone lounge beds as you receive a scalp massage
Immerse in our Jacuzzi
Pause after phase to relax in the sensation pools (cascade cobra waterfalls and bubble lounge beds)
Finish your circuit in the polar plunge pool