Disney Brings Magic To Hawaii with the Aulani Resort and Spa
A one of a kind Disney experience is here, featuring the natural wonders of Hawaii with the joy of Walt Disney.
World-class hospitality, enchanting moments, and legendary service await you at this resort. From themed pools to activities that showcase the beauty of Hawaiian traditions, there is something for everyone at Aulani. This tropical paradise is perfect for both families, and those looking to bring a little magic to their getaway.
For a limited time, book with Pleasant Holidays to save up to 30% on stays 5+ nights at Aulani Resort!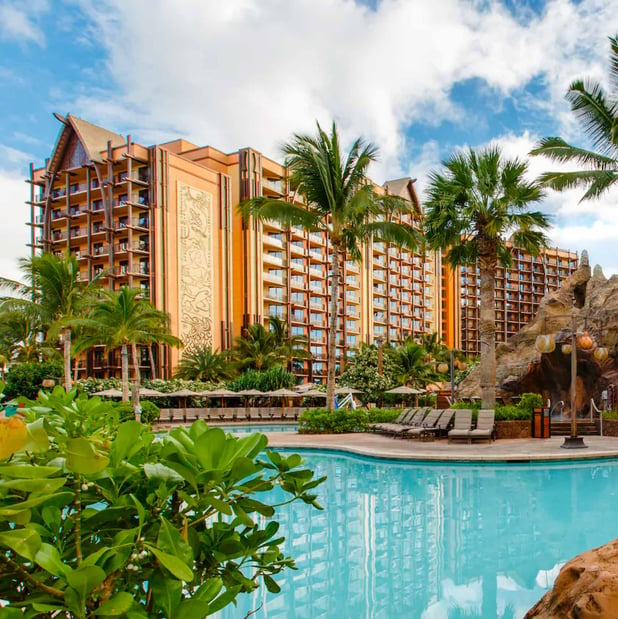 About Aulani Resort
Located on the coast of O'ahu, this stunning resort is positioned on one of the most beautiful beaches in Ko Olina. With 21 oceanfront acres to explore, you will be in awe of the serene lagoon with a view of the stunning mountains behind the resort.
The name "Aulani" means "messenger of a chief", and at this resort you will discover the legends of the Hawaiian islands with a variety of Hawaiian-inspired experiences.
Aulani is partnered with the Ko Olina Resort Community and Marina, which includes exclusive experiences both at and around the resort. Enjoy the spectacular beaches and lagoons, take a swing at a champion golf course, and discover what's under the sea with water sports like snorkeling and sport fishing.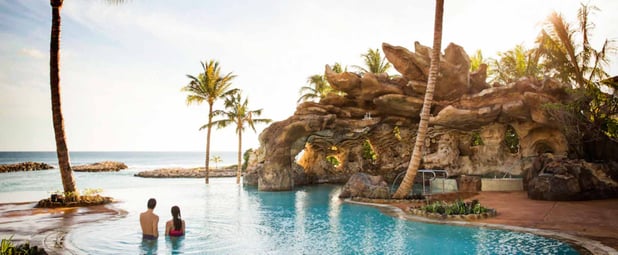 Take a Dip in the Grotto
Enjoy sweeping views of the ocean from the many pools at this resort. The Ka Maka Landing is perfect for families to relax both during the day and at night. The Ka Maka Grotto is a must visit, featuring an infinity edge pool overlooking the beach, a misty grotto feature, a whirlpool spa, and Keiki cove Splash Zone.
For an unforgettable nighttime experience, come to the Ka Maka Grotto pool to see thousands of glittering lights decorating the pool and surrounding area.
If you are looking to get up close with some of the tropical fish who call this resort their home, look no further than the Rainbow Reef snorkeling lagoon. This is the only private snorkeling lagoon on O'ahu, and offers both swimming and viewing experiences. Here you can snorkel without worrying about waves and currents which is perfect for families with young children.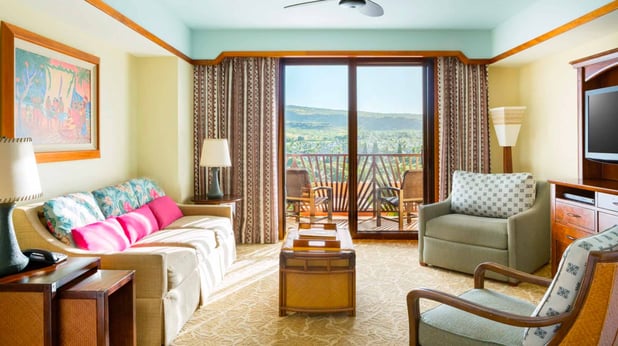 A Room with a View
While most of your time at this resort will be spent exploring the many pools, planning activities, and relaxing on the beach, coming back to a nice room is always a perk. One of our personal favorites is the ocean view standard room offered at this resort.
This room fits up to four guests and offers a view of the ocean from either the room or the balcony. With many convenient amenities included as well, you can pack lightly and feel right at home in this room.
Traveling with young children? This room provides a variety of amenities for younger guests including:
Pack 'n Play playard
Bed rails
Bottle warmer
Outlet covers
High chairs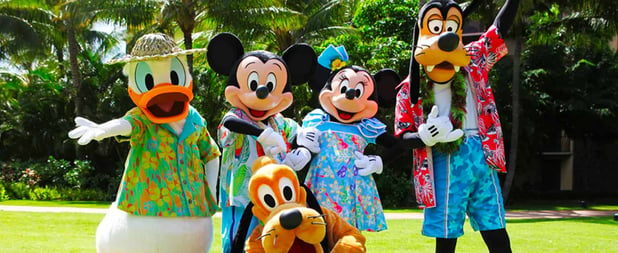 Say Aloha to Mickey and Friends
No Disney experience would be complete without a visit from Mickey Mouse and his pals! Mickey, Minnie, Donald, and Goofy have all arrived at the resort to enjoy some fun in the sun with you and your family. There are an array of fun character experiences across the resort from beach parties to games and more!
One of the resorts most loved character experiences is Kakamora Chaos with Moana, a fun filled experience playing Hawaiian games with the Princess of Motunui herself!
About Pleasant Holidays
Pleasant Holidays offers a variety of vacation packaged paired with expert service to make sure your vacation is one to remember. From flights to hotels and excursions, Pleasant Holidays is an expert in providing amazing experiences.