Combine two incredible Alaska voyages and sail round-trip from Vancouver to iconic ports and glacier-viewing, then return for a new point of view on your way to Japan's exotic destinations.
Your Experience Aboard The Queen Elizabeth
Depart from Vancouver, BC, Canada aboard the Queen Elizabeth, and get ready to explore two amazing destinations. The Queen Elizabeth allows you to immerse yourself in her evocative art deco elegance. This new ship exudes style and has an especially refined feel. Prepare yourself for a truly remarkable voyage. Holding just over 2,000 guests, this ship brings a sense intimacy with opportunities to be social throughout the ship.
The Destinations
Begin your journey in Vancouver, which provides some stunning scenery such as Grouse Mountain and the Capilano Suspension Bridge. Then cruise by the inside passage, consisting of over 1,000 islands and known for it's ever changing scenery.
Alaska is next, offering beautiful scenery and can't miss attractions and wildlife. Beneath an ice field that never melts, on a waterway that never freezes, Juneau is the unusual and disarmingly beautiful capital of Alaska. The Mendenhall Glacier is the not-to-be-missed attraction. Look for orca and humpback whales as we sail into Juneau. There's plenty to entertain and intrigue in the city. If you're feeling fit, explore the glaciers by kayak or trek with crampons and an axe. This cruise takes you to various points in Alaska throughout the 30 days.
After only a few days at sea, arrive in Kushiro, Japan. Once the base of Japan's largest fishing fleets, Kushiro, "The City of Mist," is your gateway to the pristine natural beauty of the Kushiro Wetlands and Akan national parks. Kushiro is surrounded by breathtaking natural beauty, which is often overlaid with a thick mist, giving it a surreal feel. This one-time prosperous fishing port is now known for its stunning Kushiro Wetlands and Akan national parks – and its endangered, Japanese red-crowned cranes.
Hakodate is one of the next stops and is one of the most popular city destinations in Japan. Here you can experience diverse dynastic architecture, the last Shogun battlefield and enjoy shimmering night views from Mount Hakodate. The Motomachi buildings from the Edo period and Meiji era of the late 19th century blend with Western-influence to create an exciting cultural concoction. In Goryokaku Park, where the last battle of the Japanese civil war was fought, you can now enjoy peaceful contemplation amongst the fragrant blossom of 1,600 cherry trees.
To conclude your trip, arrive in Tokyo, Japan. This is where your journey ends, but the memories will continue on forever. With so many ports and activities along the way, you will leave feeling both refreshed and with a new outlook on the world.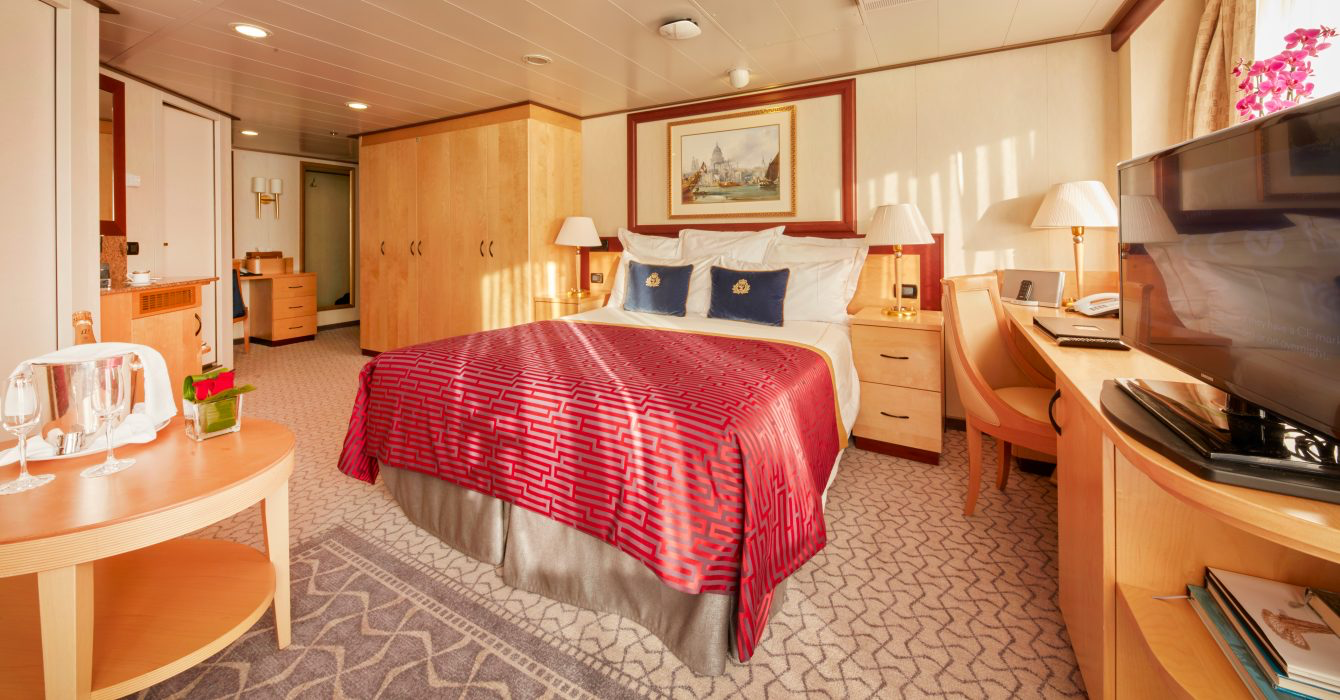 The Suite Life
If you want to spend the next 29 nights in style, we recommend none other than one of the Queens Grill Suites. These suites include a king-sized bed or two twin beds, pillow concierge menu, dressing area, luxurious bathroom with bath and shower, Penhaligon's toiletries, robes and slippers. Satellite TV, a fully-stocked bar, illy coffee machine, and fresh fruit. Relax in your lounge area, enjoy pre-dinner canapés and even order from the Queens Grill restaurant menu and dine in your suite. Your butler and concierge will see to your every request, while priority embarkation, disembarkation and Grills Lounge and Grills Terrace access enhance the experience.
With 6 different levels of accommodations to choose from, there is something for everyone aboard. From inside rooms to ocean views and verandahs, your room is here to enhance your experience.

Fine Dining
Queens Grill: The finest culinary experience is available every morning and afternoon in this dining room that conveys sophistication and classic style. Each evening, dine whenever the mood takes you between 6:30 pm and 9:00 pm.
Princess Grill: Cunard is known for its imaginative menus, intimate setting, and superb service which all combine to bring you an unforgettable time every meal. Take your table each morning, every afternoon, and whenever you choose in the evening from 6:30 pm to 9:00 pm.
Your Voyage Awaits with Cunard
With over 50 years of experience in travel, you can trust that we'll help you make the best decisions, guiding you throughout the entire trip planning, and traveling process.