Experience The Value Of Luxury Cruising With Oceania Cruises!
For travelers looking to get more out of their cruising experience, Oceania Cruises offers an exceptional value that differs from other cruise lines. Before you board, take advantage of airfare and transportation. Once onboard, enjoy exclusive amenities like internet service, specialty coffee and teas, complimentary specialty dining, and more!
ONLY A FEW MORE DAYS! The Labor Day Sale for Oceania Cruises is here until September 7, 2021! Take advantage of up to a four category room upgrade. Contact us today to find out more!
Bringing Value To Ocean Cruising
The Suites:
The average suite size onboard is 249 Sq ft!

All suites include butler service.

Enjoy a staff to guest ratio of 1 to 1.6.
While Onboard:
The small guest count of only 872 guests allows for a more personalized experience.
Free internet service keeps you connected while onboard.
Roundtrip airfare and transfers are included!
Complimentary fitness classes to keep moving while you're cruising.
Off The Ship:
Free shore excursions allow you to immerse yourself in the culture of each destination.
In-port shuttle service.
Culinary Highlights
One highlight of cruising with Oceania is their dining program, which offers a variety of benefits that other cruise lines do not. All meals are prepared to order with only fresh, artisanal ingredients being put into every dish. Fresh provisions are brought on board every 3-5 days, with five-course main dining available onboard. If you have any dietary restrictions, Oceania offers a vegan menu that fits dietary requirements while still offering fresh and innovative flavors.
Speciality dining is often a can't miss while cruising, but at $25-95 per meal on other cruise lines, it can quickly become costly. With Oceania Cruises, enjoy free specialty dining while onboard, as well as six specialty dining restaurants to choose from!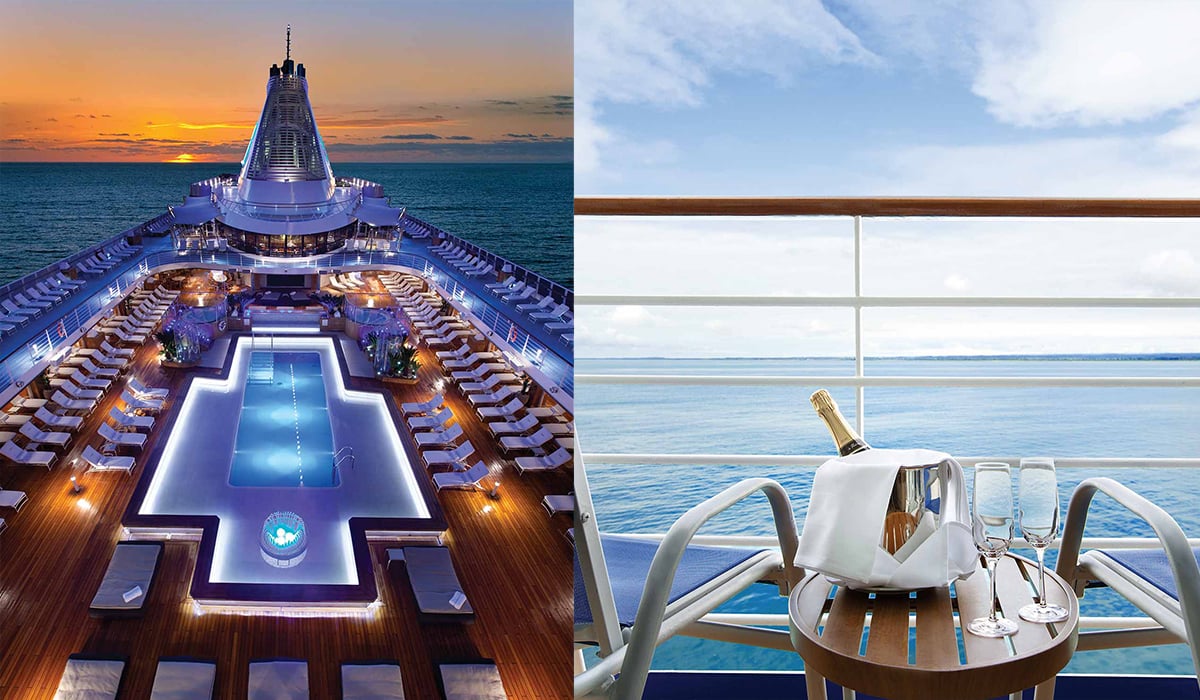 Are You An Oceania Club Member Yet?
Becoming a member of the Oceania Club allows you to enjoy rewards immediately after your first cruise! Exclusive cocktail receptions, savings, and shipboard credit are just the beginning. More important than the benefits you earn, become a part of the Oceania family and feel right at home every time you come aboard.
After just one cruise with Oceania you earn:
Instant membership to the Oceania Club
Exclusive membership-only offers
OLIFE Magazine subscription
Membership pins
Advance notice on new itineraries
Exclusive Oceania Club cocktail reception
10% savings on Oceania Cruises logo merchandise
As you continue to cruise with Oceania, the benefits get better and better. Reach President's Club Status to unlock amazing benefits such as $1,000 shipboard credit and a free cruise!

About Oceania Cruises
Oceania Cruises is one of the world's leading cruise lines, with a focus on culinary experiences and inspiring destinations. With seven small ships in their fleet, each ship carries no more than 1,250 guests. Oceania Cruises takes guests to over 450 marquee and boutique ports across Europe, Alaska, Asia, Africa, Australia, New Zealand, New England-Canada, Bermuda, the Caribbean, the Panama Canal, Tahiti and the South Pacific in addition to the epic 180-day Around the World Voyages.