Regent Seven Seas is waiting for you!
Start planning your next trip back at sea and take advantage of the Return with Regent Featured Offer. Get ready to unwind and escape to your next destination on Regent Seven Seas Splendor. Travel from Stockholm to Copenhagen on this 7-night cruise in June 2021, with stops in Helsinki, Finland, St. Petersburg, Russia, Tallinn, Estonia, and Wismar, Germany.
Return with Regent Featured Offer
Regent Reassurance, which gives you freedom to cancel for any reason up to 15 days prior to departure and receive a 100% Future Cruise Credit

Plus 50% Reduced Deposits

$1,000 Shipboard Credit

Stockholm, Sweden
Stockholm is the largest city in Scandinavia and architecturally one of the finest in the world, with broad streets, waterside parks and many pedestrian walkways. Take a walking tour of Old Town, see the Royal Palace and take in the views from the observation deck in the Town Hall. A main attraction near the center of town is the Vasa Museum, on the island of Djurgården, displaying the almost fully intact 64-gun warship Vasa, that sank on her maiden voyage in 1628.
Helsinki, Finland
Helsinki, the sustainable capital of Finland, is a vibrant seaside city of beautiful islands and great green urban areas. This city marches to a wonderful and unique beat of its own with dynamic food, design, architecture – and sauna! – scenes. This laid-back feel, the locals and Nordic culture make this city memorable.
St. Petersburg, Russia
Peter the Great's "Window on Europe" is known as Russia's artistic and intellectual center. Tour the many cathedrals, including St. Isaac's Cathedral, and the iconic Church of the Savior of the Spilled Blood. For cultural perspective, take in a ballet and the world-class Hermitage Museum. To complete your Russian experience, take a day trip to Moscow or a half-day trip to Catherine's Palace in the countryside.
Tallinn, Estonia
On the southern coast of the Gulf of Finland lies Tallinn, the capital and main seaport of Estonia. Though the city has been bombed and pillaged many times throughout the ages, much of the town as it was in medieval times remains. Ancient convents, steepled churches and handsome guild houses are all preserved as they were in Tallinn's Old Town area, which was named a UNESCO World Heritage Site.

Wismar, Germany
This laid-back port is distinctive enough to have been designated a UNESCO World Heritage site. Stroll the cobblestone streets of the Old Town to visit several noteworthy churches and inviting little shops, and find the bridge with a sculpture of a pig rolling around in apparent glee, which is said to bring good luck if you give it a rub. Also note that Wismar is close to several other quaint northern German towns, as well as gorgeous Schwerin Castle.
Copenhagen, Denmark
The royal capital of Denmark, Copenhagen is one of Europe's oldest capitals. It was a fishing village until the middle of the 12th century, but because of its harbor, it soon became a place of commercial importance. Theaters, museums, art galleries and musical entertainment are among the attractions that make Copenhagen memorable.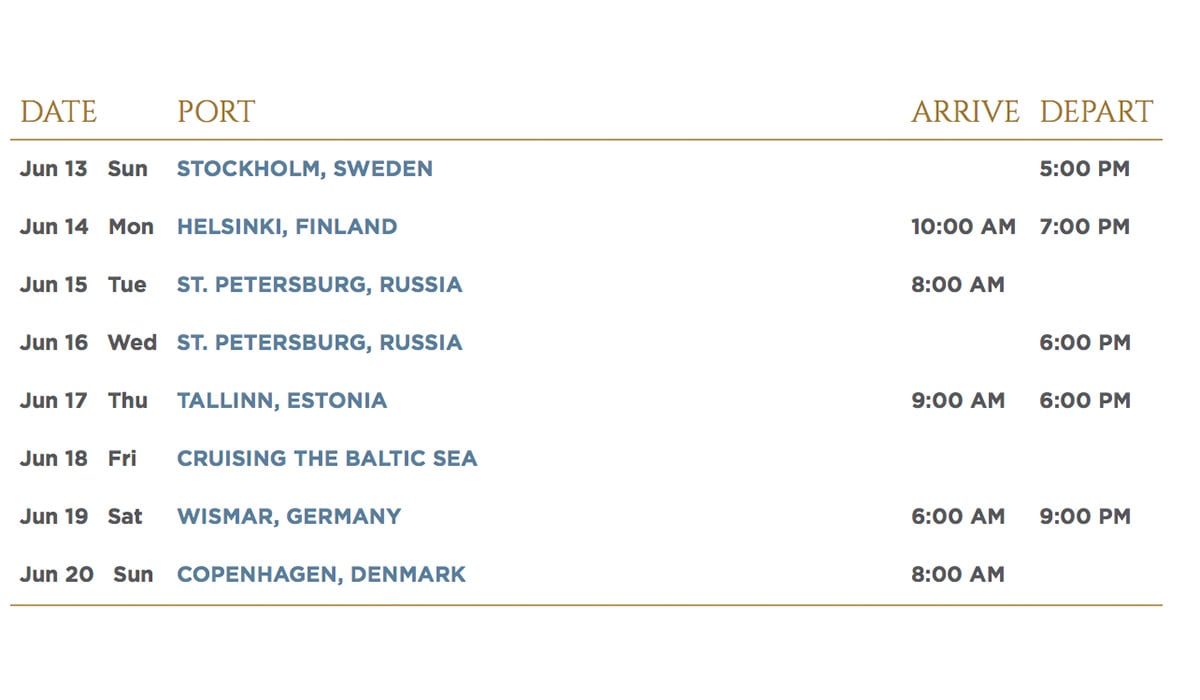 All Fares Include:
2-for-1 All-Inclusive Fares
FREE Roundtrip Air* with FREE transfers between Airport and Ship
FREE Unlimited Shore Excursions
FREE Unlimited Beverages Including Fine Wines and Premium Spirits
FREE Open Bars and Lounges Plus In-Suite Mini-Bar Replenished Daily
FREE Pre-Paid Gratuities
FREE Specialty Restaurants
FREE Unlimited Wi-Fi
No matter how large you choose to live on Seven Seas Splendor™, the same exceptional standards of design and comfort apply to every suite. Layouts range from 307 to 4,443 square feet, and all include a furnished private balcony. Perfection is in the details. From her grand social spaces to the private balconies adorning every suite, Seven Seas Splendor is a work of art from bow to stern.
Entertainment and Dining
Evenings are filled with music and fun, from a rousing cabaret show to a lucky night at the Casino. Wine and dine with exquisite meals prepared by Seven Seas Splendor master chefs. Take your culinary experience to the next level and join chefs in a state-of-the-art teaching kitchen and learn to prepare authentic local recipes, and savor flavors of the regions you are visiting.
Relax and Unwind
Spend your time aboard lounging by the pool, sipping afternoon tea, enjoying the fitness center, or indulging in the holistic and globally inspired restorative treatments at the spa.