The Ultimate Guide to the Best Beaches in the Canary Islands
The Canary Islands are home to more than 500 beaches, ranging from endless stretches of white sand to hidden bays and magical black lava beaches. Whether you're looking for total relaxation and seclusion, adrenaline packed water sports or beach parties, these islands are a favorite travel destination for everyone seeking a perfect climate and year-round sunshine.
Tucked into the far southwestern corner of Europe, the nations of the Iberian Peninsula are home to diverse cultural riches and myriad opportunities for outdoor exploration. Start a cruise vacation to experience Spain's Islamic-inflected architectural heritage at the Alhambra in Granada and the Giralda in Seville. See the dramatic cliffs and turquoise waters of Portugal's Algarve, and take exhilarating hikes around the calderas of active volcanoes in the Canary Islands.
Whether you prefer to laze on the golden sands of Spain's Costa del Sol, such as at Málaga's La Malagueta Beach, or trek above dramatic cliffs in Portugal's Algarve region or on Tenerife in the Canary Islands, the Iberian Peninsula has all beach bums covered.
Cofete Beach, Fuerteventura
3,000 hours of sunshine each year bathe the beaches that wrap the 90 miles around Fuerteventura's coast, ranging from those well served by shops and restaurants to stretches of golden sand that are totally undeveloped.
Cofete Beach is located in the south of Fuerteventura and features stretches of golden sand as far as the eye can see. Nicknamed "the loneliest place in Spain," Confete Beach remains unspoiled due to the fact that it can only be accessed via a dirt road from Morro Jable. There is also a bus that makes the journey twice daily.
Insider tip: The Canary Islands are warm all year round but there are occasional showers. Be sure to pack a light waterproof jacket.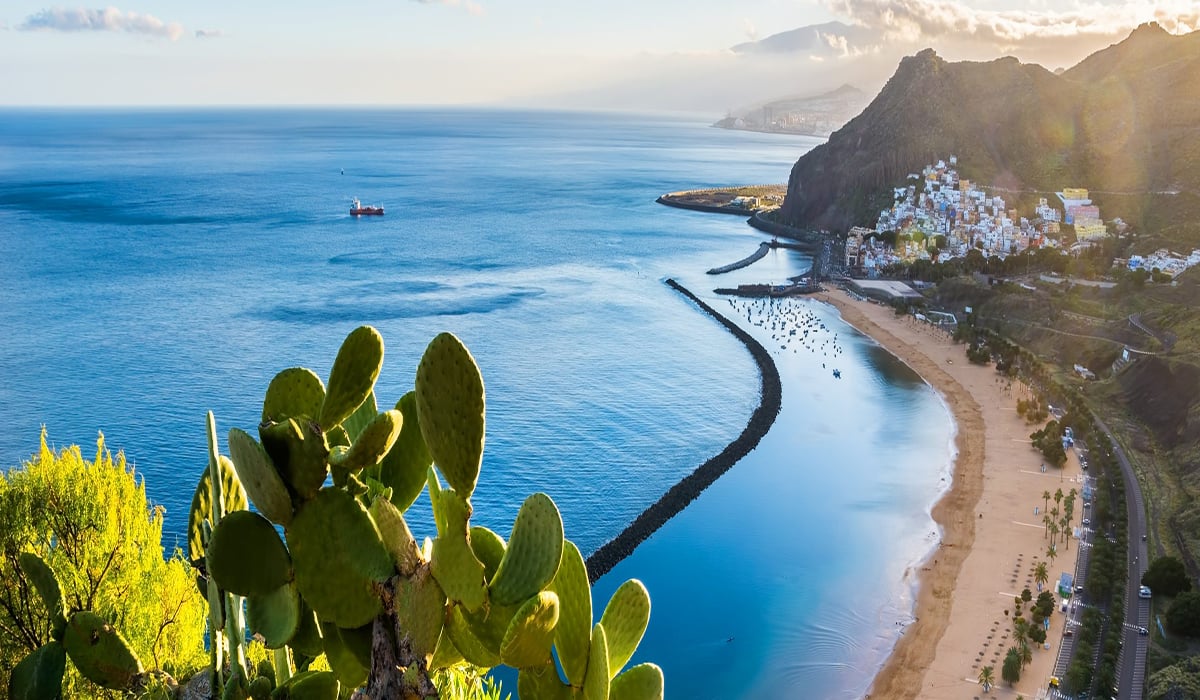 Las Teresitas Beach, Tenerife
Beloved for its beaches, Tenerife also offers a feast for the eyes. Either from the numerous galleries and museums or the incredibly panoramic cable car ascent of Mount Teide, there is so much to see.
While most of Tenerife's best beaches are far outside the center of Santa Cruz, you have a couple of options a short taxi or bus ride away. The most popular is Las Teresitas, whose golden sands look particularly striking contrasted with the crystalline blue water that laps at them.
Las Teresitas is located five miles from Santa Cruz de Tenerife and is an ideal location for a family day outing due to its calm waves and readily available amenities. There is also a lifeguard on duty as well as showers and several nearby restaurants.
Insider tip: Travel by cable car to the top of Spain's highest peak, Mount Teide, where, on a clear day, you can see the other Canary Islands and even the coast of North Africa.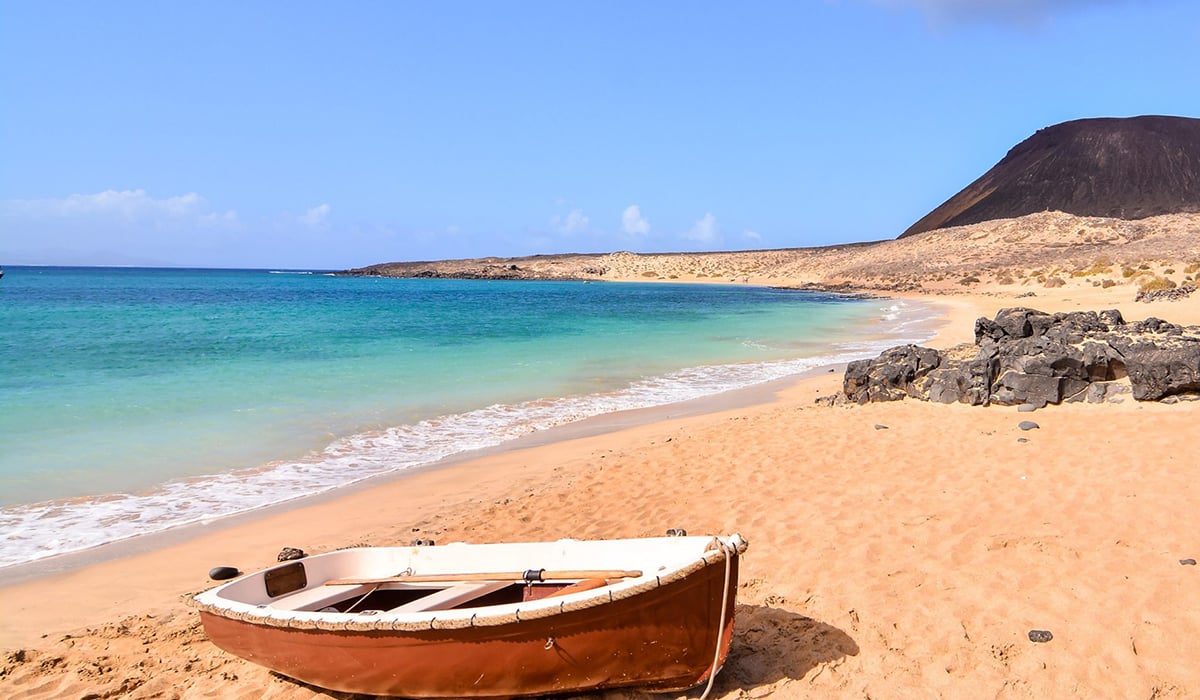 Playa Las Conchas, La Graciosa
La Graciosa is a short 20-minute ferry ride from Lanzarote and offers seclusion away from the more touristy beaches. The golden sand and turquoise waters make Playa Las Conchas a truly breathtaking destination. This hidden gem is a paradise surrounded by a volcanic landscape with stunning views of the Isla Alegranza and island of Montana Clara.
Insider tip: You can reach Playa Las Conchas by walking from the harbor, which will take about an hour, or you can rent a bike or for €20, a taxi will drop you off and pick you up at your requested time.

Costa Calma Beach, Fuerteventura
Fuerteventura is an island located within the Canary Islands archipelago, which is an autonomous region of Spain. One of Fuerteventura's biggest claims to fame is having 150 km of beaches (93 miles). Another claim to fame is that the entire island is a UNESCO World Biosphere Reserve. Those two things alone inspire many people to visit Fuerteventura, and when you combine that with delicious cuisine, vibrant culture, and fascinating landscapes, it's no wonder a Mediterranean cruise to Fuerteventura is at the top of many traveler's wish list.
The beaches, along with the verdant volcanic landscapes, are a major reason Fuerteventura is a designated UNESCO Biosphere Reserve. What's more, the mix of trade winds and Atlantic Ocean swells offer the perfect mix for watersports enthusiasts. Fuerteventura is considered a windsurfer's and kite surfer's paradise.
Costa Calma is a resort town that's famous for its shallow-water, white sand beaches. Due to the beach resorts dotting the coastline, there's no shortage of sunbeds, parasols and a wide range of water-based activities.
Insider tip: During your stay, be sure to check out Fuerteventura's famous lighthouse, the still active Morro del Jable Lighthouse.

Costa de Papagayo, Yaiza, Lanzarote
Lanzarote, one of the Canary Islands, is home to gorgeous aquamarine seas, white-sand beaches and nearly year-round sunshine. Travel inland, and you'll find more than 350 volcanic cones rising out of its National Park, making for an otherworldly volcanic landscape. More than 100 volcanoes erupted here in the 1700s.
From that even arose a series of black-ash vineyards that now produce award-winning wines — not to mention strange, haunting beauty. UNESCO has dubbed the island a biosphere reserve protected site, and its remote, wild beaches are the perfect place for a surfing excursion or a simple afternoon spent relaxing at what feels like the edge of the world.
There's no shortage of stunning beaches on Lanzarote, in fact, there are over 100 of them! From powdery beige sand to black and volcanic, Lanzarote is the ideal beach holiday destination for anyone and everyone.
Costa de Papagayo is one of Lanzarote's most popular beaches and for good reason. The still emerald green water is the perfect spot to take up snorkeling or splash around with younger children. Don't miss the magnificent views of Lanzarote's high hills and looking out to Fuerteventura and Lobos.
Insider tip: The best way to explore the island is by renting a car, and bike rentals are also popular and easy.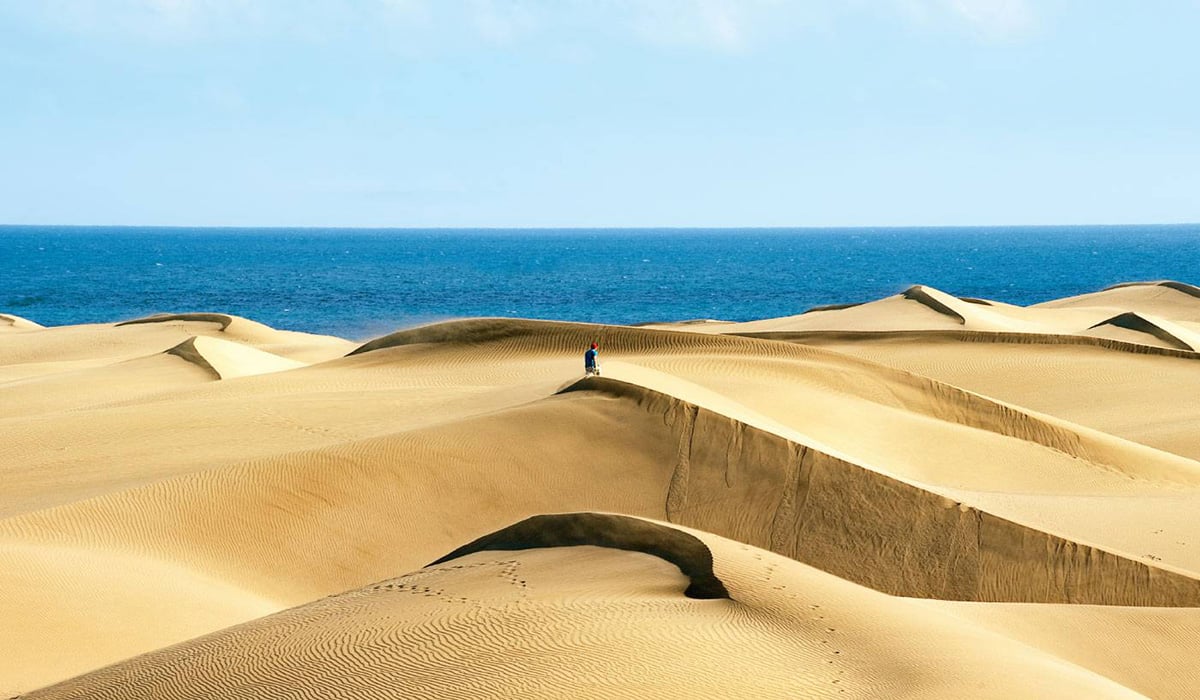 Maspalomas Dunes, Gran Canaria
You have to see Gran Canaria's coastline to believe it. It shifts from rugged and monumental to pristine and sandy. Cruise to Gran Canaria and hop on a car, a bike or a safari-style tour and get to know this tropical destination that's unlike any other.
Floating off the west coast of Africa, Gran Canaria is an island where nature's many faces come together. A rocky coastline embraces most of the island, while beaches dot the periphery. Desert-style dunes adorn the south, and leafy mountains crown the center.
Outdoor lovers will find spectacular views while they surf, hike, bike or go on a road trip with Canary Islands cruises. Meanwhile, urbanites can stroll through the museum, cafes and town squares of Las Palmas — this cosmopolitan center is the seventh-largest Spanish city, filled to the brim with buildings that make you forget you're on a tiny island.
Head to the southern part of Gran Canaria to experience a desert-like atmosphere. In Maspalomas, you'll encounter dunes believed to have formed after a tsunami hit this part of the island.
Insider tip: While you're there, take a break from the arid landscape and escape to the nearby botanical gardens.
Playa del Duque, Costa Adeje, Tenerife
There is a huge variety of beaches in Costa Adeje that will suit anyone's taste. Playa del Duque is a gorgeous white sand beach, lined with luxury hotels and restaurants. There is a large rock that protrudes into the sea and cuts the beach off from the main resort area. This provides some exclusivity from the banana boats and rowdiness.
Playa del Duque is the perfect spot for beach lovers looking to relax before checking out the boutique shopping and upscale restaurants. Be sure to head back to the beach for sunset, as it is not to be missed!
Insider tip: If you happen to visit Tenerife in February, make sure to check out the island's annual Carnival.

Explore the Jandia Peninsula in Fuerteventura
This gorgeous strip of land is a marvel to walk down due to its magnificent stretch of golden sand bordered by the ocean in shades of teal and turquoise. Something interesting to think about while you're walking down Jandia Peninsula is that it is believed it was once its own island and became connected to the rest of Fuerteventura after a strong volcanic eruption that occurred thousands of years ago.
Getting There
12-Night Canary Island Cruise with Cunard Line
Four captivating isles await on this discovery. Explore lush Madeira and La Palma's sugar cube capital, Mount Teide on Tenerife and Lanzarote's volcanic landscapes before your return via Lisbon.
Up to 20% off launch fares
Up to $1,000 onboard credit per stateroom
Free gratuities for past guests
Grill Suite guests receive free drinks and free gratuities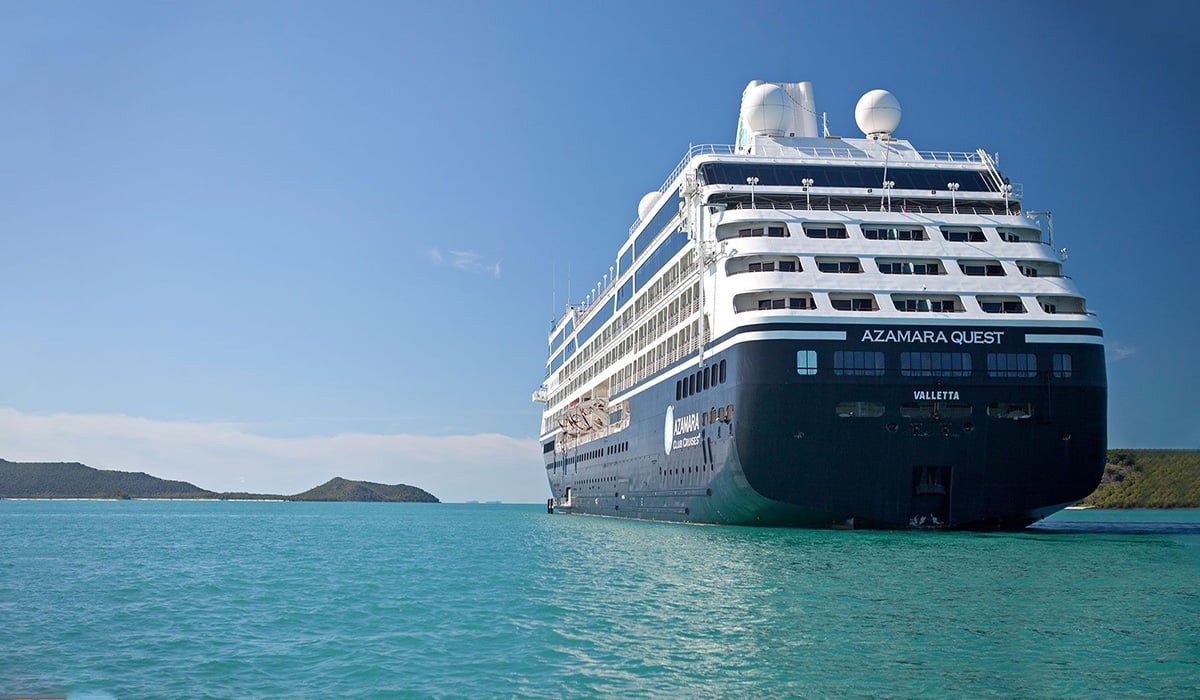 16-Night Portuguese Quest Voyage with Azamara
Your adventure begins in Lisbon, one of the world's oldest, most vibrant cities and the perfect place to immerse yourself in Portuguese culture. Check out a film festival, art exhibition, or fashion show, or go for an historic twist by visiting the venerable Castle of São Jorge.

After an indulging day at sea, explore Madeira's colorful market stalls and sip excellent local wines. Next, sail to festive Tenerife, packed with cafés, bars, and restaurants, and the Canary Islands, where you'll discover the lush beauty of La Palma.

Relax at sea for two nights before docking in Mindelo, Cape Verde's lively capital city. Check out panoramic views from the top of Monte Verde or from the historic Torre de Belem.

Unwind and enjoy everything our boutique hotel at sea has to offer. Relax with our head-to-toe spa treatments, taste delicious dining from around the world, and explore all the fun activities on-board during a five-night Atlantic crossing. Dock in Salvador de Bahia, Brazil, where you'll be awed by opulent churches and architecture in Pelourinho, the city center. Sample the local cuisine, a savory and spicy blend of Brazilian and African flavors. After two nights at sea, your journey ends in exciting Rio de Janeiro.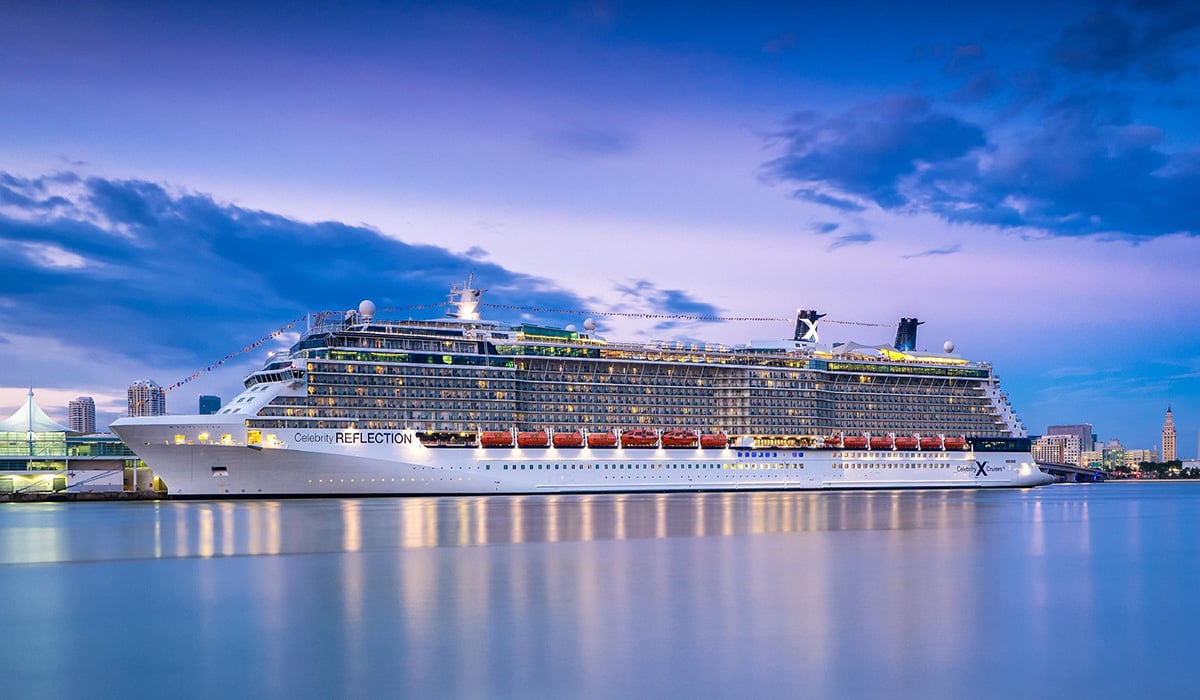 11-Nights Canaries & Azores Cruise with Celebrity Cruises
Discover mysterious step pyramids at Güímar, meet the world's largest collection of parrots at Loro Park, or take in a show at the ultra-modern Tenerife Auditorium. Foodies will have fun sampling the fresh fish, famous cheeses and sumptuous wines of the island.
Of the 7 islands that comprise the Canary Island archipelago, Tenerife stands out as the largest. Depending on your mood and what you are looking to get out of your Tenerife cruise, there are things to consider. For one, the island offers a vastly different terrain depending on where you go. The northern part of the island is quite verdant, so expect the climate to include more rain. In the south, you'll find it much more arid and dry emulating more of a desert climate.