Get your camera out because the Intercontinental Tahiti Resort & Spa is the island escape you'll want to show everyone.
With unforgettable views of the surrounding islands, this world class resort is nestled in a tropical oasis spanning over 30 acres. Located next to the airport and the downtown city of Papeete, you'll feel right at home at this Tahiti resort. Low buildings are a special part of this resort, as they ensure no man made structures will be seen past the coconut palms. This resort captures the essence of Colonial Polynesia, and there a variety of room types to choose from.

Hidden Treasures at Every Turn
This island offers a variety of activities to help you get to know the island. From exciting 4x4 tours to hiking some of the most beautiful jungle trails, these excursions cater to every fitness level. One of the most sought after excursions is viewing the island from above via helicopter. If you're looking to cool off, take advantage of jet ski tours, dolphin cruises, and whale watching on the sea.
If you wish to explore more of what's under the sea, the Intercontinental offers a natural aquarium experience at the resort. Called the Fare l'a Reserve, this lagoon houses a reef ecosystem which recreates the natural underwater conditions and is home to over 200 species of sea creatures. Twice a day, watch as the fish are fed, which is said to be a great photo opportunity.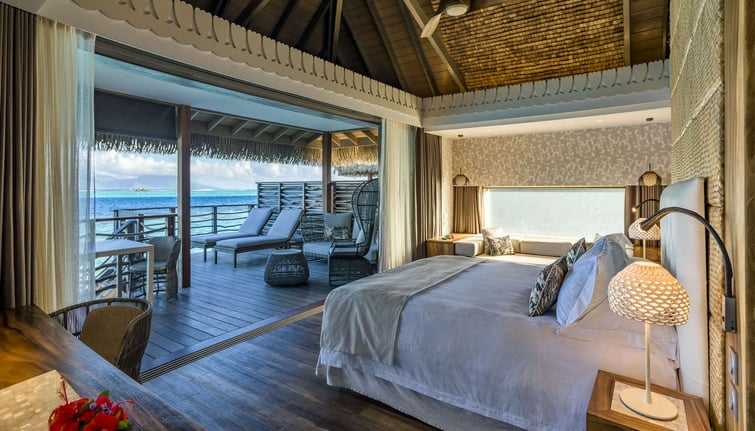 Spend a Night Over the Water
If the ocean is calling to you, an overwater bungalow is the perfect way to reconnect with the sea. This is the ultimate luxury experience includes a 95 square meter overwater villa with a large deck. Located directly over the lagoon, this bungalow is perfect for a friends getaway or couples retreat.
While the ocean may be enticing for some, the land villas are just as beautiful. Each standard room comes with a private balcony, and is furnished with traditional wood furniture and lots of natural light. Choose between a garden view or lagoon view, you can't go wrong either way.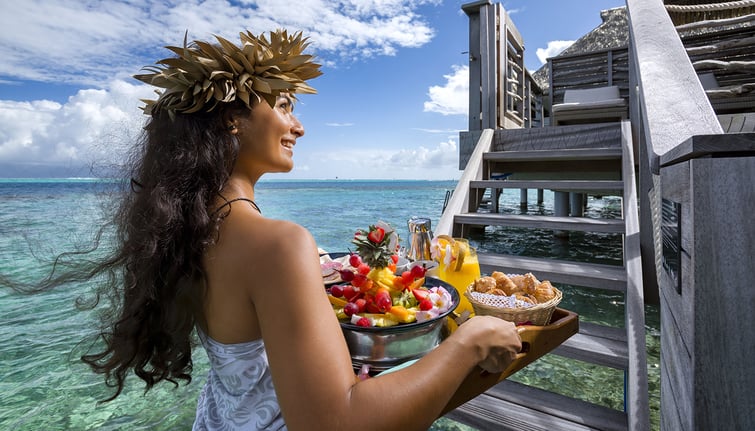 Dine in or Dive in
Delite your taste buds with an authentic Tahitian-style food from the main restaurant Te Tiare. Overlooking the infinity pool, experience luxury dining while looking at the many peaks of Moorea island. If you can't be bothered to get out of bed in the morning, room service is available for breakfast. This menu features a variety of fresh fruit, juices, and pastries that is brought to your land or overwater villa.
If you are staying for the weekend, Friday's are a can't miss on the island. Featuring a Polynesian Buffet and Tahitian dance show, this is a night you won't forget. Discover the story of the vahine Hinarere and her legendary beauty during the show, while indulging in local flavors featured In the buffet. This new experience is available every Friday night, and is a great way to begin or end any trip.
↓ Learn More About This Unforgettable Resort ↓
Why Travel With Journese?
Journese has handpicked properties around the globe, and this established travel group ensures VIP treatment as some of the worlds best resorts, trains, and cruises. With superior service and a world-class portfolio of hotels ranging from boutique to all-inclusive, Journese will help you find that special place you are looking for. Serving connoisseurs of travel since 1977, Journese embodies the promise of an exquisite journey, with fine travel made seamless and effortless through experienced Destination Specialists.