Wine Taste Your Way Through The Northwest With American Queen!
Wine signifies the beauty in aging, from maturity and experience to ever-growing knowledge. American Queen Steamboat Company brings the best of the Pacific Northwest wine tasting on this cruise. Learn more about one of the world's most popular beverages, and how it has it varies from area to area.
Wine cruising with American Queen allows you to visit and taste from a variety of boutique wineries in the Pacific Northwest, while learning more about the influences this area has on the journey from vine to glass.
Featured Cruise:

S

pokane to Portland (or reverse)
October/November 2021 & 2022 on the American Empress
This wine cruise is a unique opportunity to experience the Pacific Northwest while enjoying featured wines from vineyards along the route. Small river towns and beautiful green landscapes are viewable throughout the duration of your cruise. While onboard, enjoy the sound of the river while you relax and take in the sights.
ITINERARY:
Hotel Stay in Vancouver, Washington
Vancouver, Washington
Astoria, Oregon
Stevenson, Washington
The Dalles, Oregon
Richland, Washington
Clarkston, Washington

From $2,999pp

About The American Empress
The American Empress is the largest overnight riverboat west of the Mississippi River, and cruises the Columbia and Snake Rivers. This boat features a vast collection of intricate artifacts from Native Alaska, Russia, the Gold Rush and the sternwheeler era in and around Portland, Oregon. You'll love the interior of this riverboat as much as you love the scenery around you.
Luxurious amenities and great service are just the beginning on this riverboat, as a truly authentic experience awaits you onboard. While you are cruising, learn more about the region you are traveling through. The American Empress offers many enrichment programs while onboard and ashore. Take advantage of the guided Hop-On Hop-Off shore excursions, or take part in an expertly designed premium experience. When you return to the ship, take a seat and enjoy chatting with some of the onboard historians, nicknamed Riverlorians. They are onboard to provide you with lectures on both the history and culture of each area you travel through.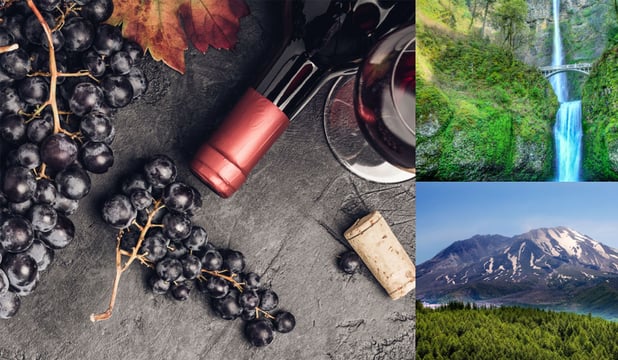 Wine Tour Highlights
Sip it all in…
A private wine reception at your pre-voyage hotel
Tastings, pairings and educational series by regional experts
Featured wines from local Pacific Northwest wineries
Special dinner menus inspired by featured wines
A Port We Love: The Dalles, Oregon
The Dalles is a unique place in history with stories of pioneers, soldiers, gold miners, and more! The Dalles is just at the end of the overland Oregon Trail, and while it's considered to be the Oregon High Desert, it's actually a prime spot for the growing of grapes. Because of this, wine tasting is superb in this area of Oregon. Enjoy beautiful rolling hills with vineyards around every corner.