Michès Playa Esmeralda in the Dominican Republic: One Resort, Four Boutique Villas
Club Med Michès Playa Esmeralda is scheduled to open in December 2019 in Miches, a preserved paradise located on the northeast coast of the Dominican Republic. This will be ClubMed's first full Exclusive Collection resort to open in the Americas and will be the very first operating resort in the soon-to-be-developed region.
Miches is a pristine, natural haven in a lush Dominican palm grove. It is situated about an hour from the Punta Cana International Airport, easily accessible via a scenic highway with captivating mountain views. This hidden paradise features miles of untouched tranquil coastlines with unique natural gems.
Local wonders provide various opportunities for guests to discover new breathtaking sights and activities, such as: Laguna Limón, a nature reserve with stunning waterfalls; Samaná Bay, a bay featuring protected islands with native flora, wildlife, and a known site for humpback whale watching;and Montaña Redonda, a "rounded mountain" with 360-degree panoramic views of the surrounding flourishing landscape, known for its photo-famous swing.
Read Club Med's full press release here.
Explorer Cove
Breathe a sigh of relief when you no longer have to think about how to keep your kids entertained. Play with your kids all day or let them meet new friends at the nearby children's clubs. Finish the night with other families for a movie under the stars. Here, the young and the young-at-heart come together to celebrate.
ROOM TYPE, SQUARE FOOTAGE, MAX CAPACITY & VIEW
| Room Type | Square Footage | Max Capacity | View |
| --- | --- | --- | --- |
| Junior Family Suite | 678.13 | 4 People | Sea View |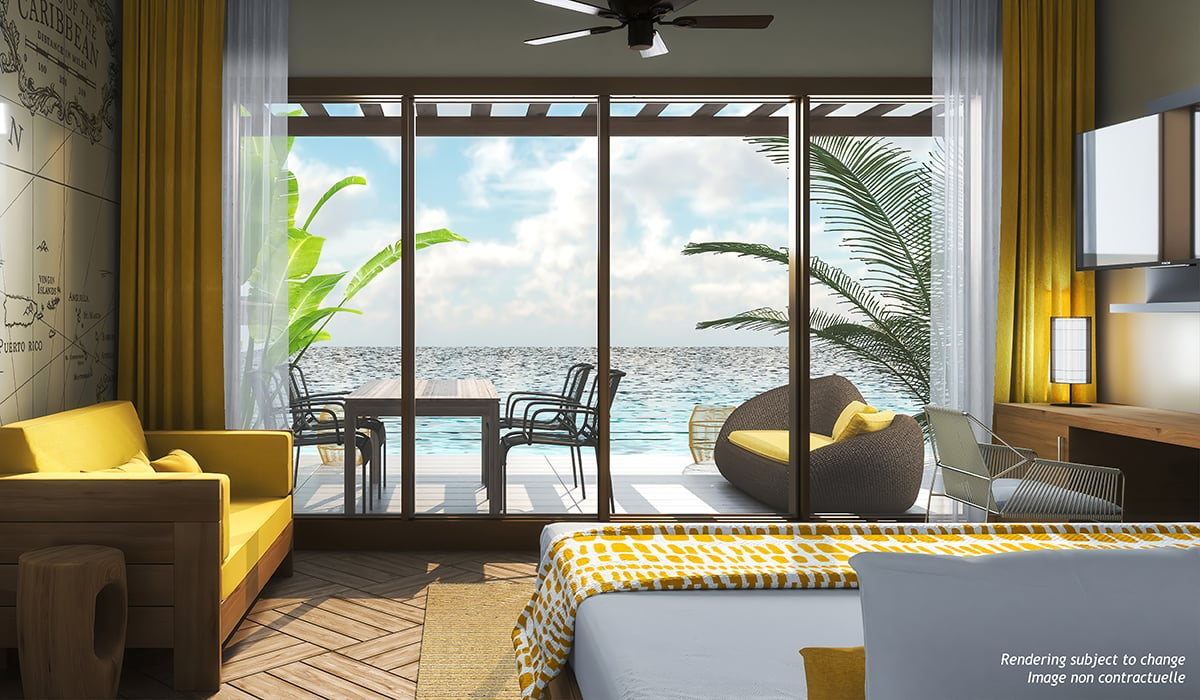 Caribbean Paradise
Step into the festive colors and rhythms of the Dominican Republic. Start your vacation in the heart of it all, and then choose your path: poolside activities, nightly shows and flavors from all four corners of the world await. Continue the Caribbean vibes back in your room with décor inspired by local exotic flora.
room type, Square Footage, max capacity & view
| Room Type | Square Footage | Max Capacity | View |
| --- | --- | --- | --- |
| Connecting Deluxe Room | 968.75 | 6 People | Garden View |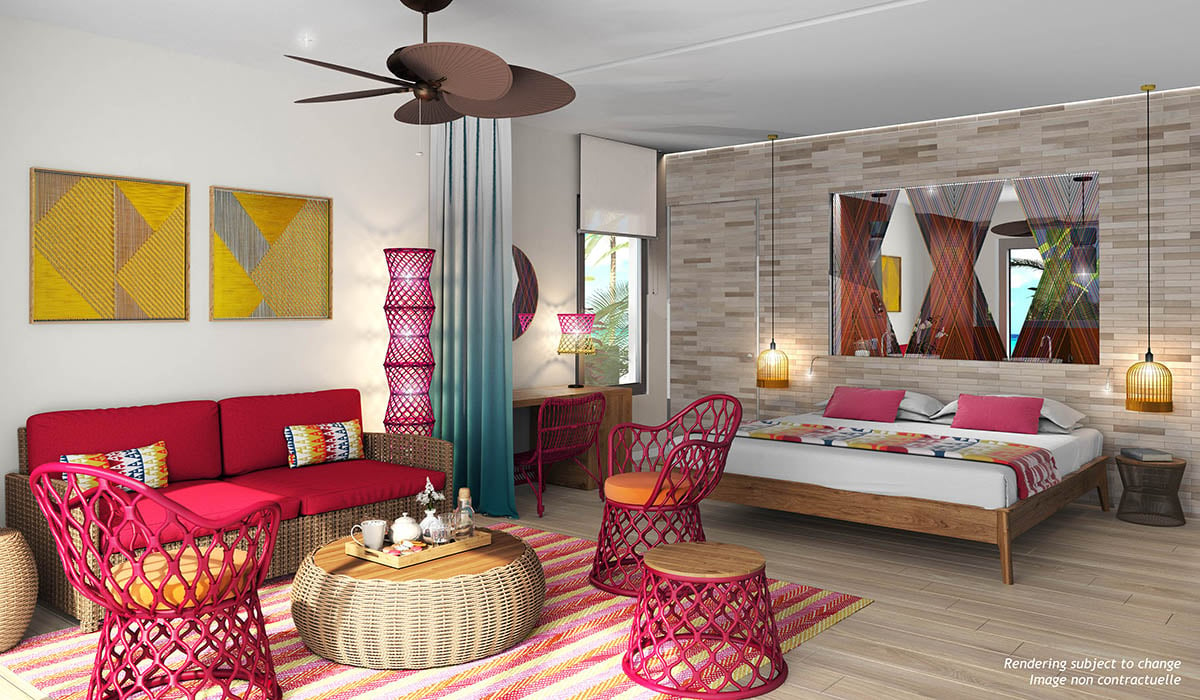 Emerald Jungle
Close your eyes and picture yourself in a calm oasis – what do you hear? The rustling leaves from the local palms? The sounds of the natural pool? Or perhaps the "ohms" from the treetop yoga class? Picture yourself here: tucked away deep into the Dominican groves in an adults-exclusive Zen Oasis steps away from the spa.
ROOM TYPE, SQUARE FOOTAGE, MAX CAPACITY & VIEW
| Room Type | Square Footage | Max Capacity | View |
| --- | --- | --- | --- |
| Single Deluxe Room | 484.38 | 2 People | Garden View |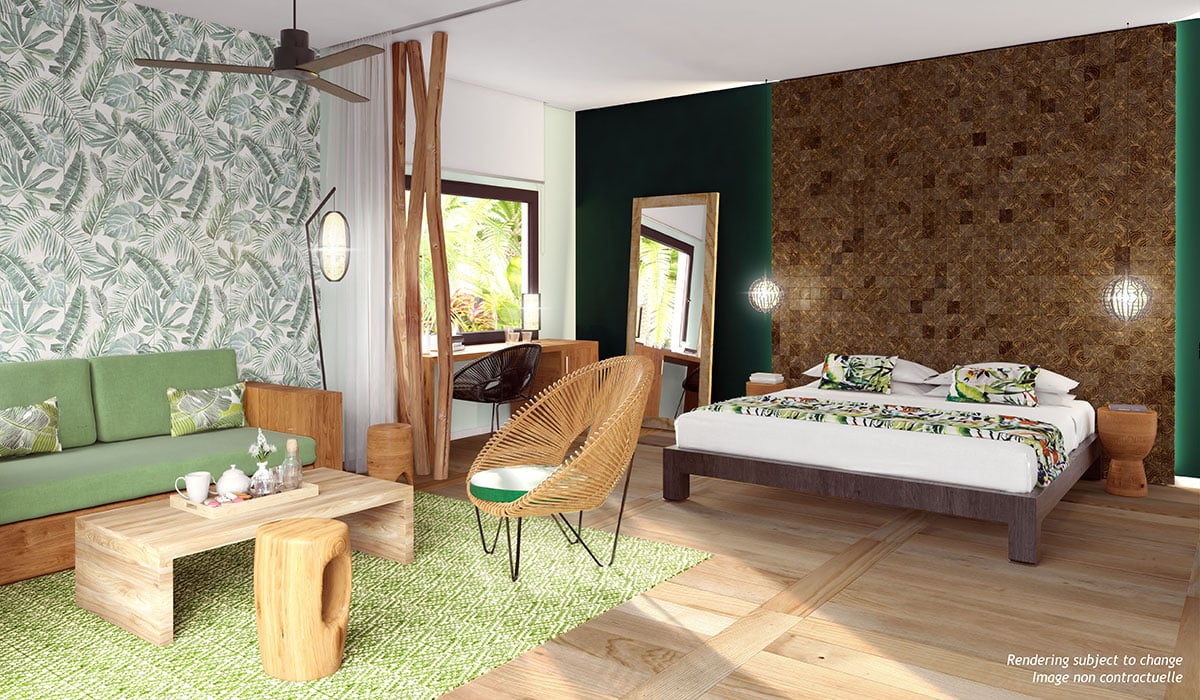 Archipelago
Imagine an intimate getaway in a haven where from the moment you walk into your room, you see an endless hue of blue. From your own private pool to a personal outdoor shower just steps away from the unspoiled beach, you and your loved one will have the perfect hideaway. Unwind in your oceanfront daybed with a book in one hand and a cocktail in the other. Honeymooners beware: you may never want to leave.
ROOM TYPE, SQUARE FOOTAGE, MAX CAPACITY & VIEW
| Room Type | Square Footage | Max Capacity | View |
| --- | --- | --- | --- |
| Oceanfront Suite | 753.47 | 2 People | Sea View |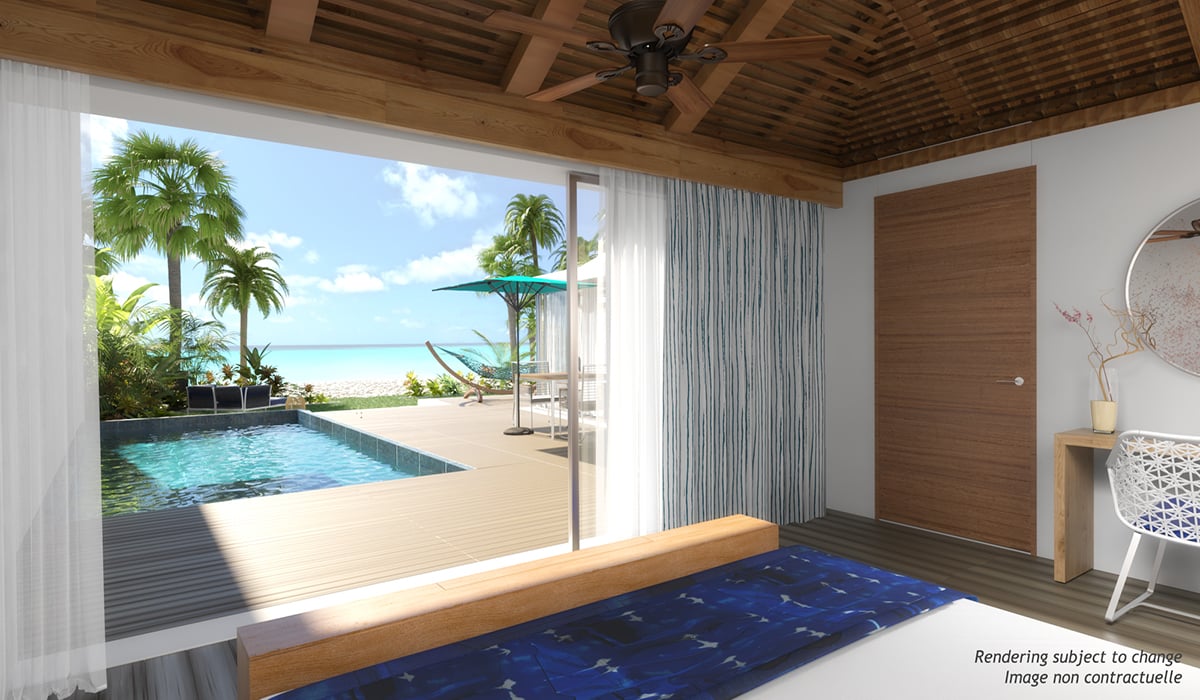 About Club Med
Club Med, founded in 1950 by Gérard Blitz, is the pioneer of the all-inclusive concept, offering more than 70 premium resorts in stunning locations around the world including North and South America, Caribbean, Asia, Africa, Europe and the Mediterranean. Each Club Med resort features authentic local style and comfortably upscale accommodations, superior sports programming and activities, enriching children's programs, gourmet dining, and warm and friendly service by its world-renown staff with legendary hospitality skills, an all-encompassing energy and diverse backgrounds.
Club Med operates in more than 30 countries and continues to maintain its authentic Club Med spirit with an international staff of more than 23,000 employees from more than 110 different nationalities. Led by its pioneering spirit, Club Med continues to grow and adapt to each market with more than 15 new resorts opening within the next three years.