Start Planning Your Future Experience
Looking to the future, we will continue to provide you with travel inspiration from across the globe. And when you are ready, whether now for a local getaway to destress or at a later time when world travel reconvenes, we will be here for you. And if 2020 is on your radar, we feel that the current lenient cancellation policies, together with wide availability, will provide you the freedom to choose from a variety of ideal travel experiences. For those needing bit of distraction now, a visit to Montecito Village Travel is a good place to start.
A Teardrop on the Face of Eternity
Legend has it that Shah Jahan's hair turned white overnight, such was his grief at the death of his wife. Mumtaz Mahal died giving birth to their 14th child, but before her death she asked Shah Jahan to promise that he would never marry again, and that he would build the most beautiful mausoleum the world had ever seen. He kept both promises. The Taj Mahal is truly a marvel. The day we visited was hot, humid, bustling with thousands of people — and fantastic. Just as the photos of the world's iconic places don't do them justice, one has to see the Taj Mahal in person to know how gracefully the white marble dome and turrets appear against a bright blue sky, and the way the carved heavy stone gives the appearance of delicate lace. I've been fortunate to have seen some iconic buildings: the Eiffel Tower, Sydney's Opera House, Colosseum and Hagia Sofia among them. The Taj Mahal, this "teardrop on the face of eternity," is the fairest of them all.
Experience Delhi

Back to the beginning…We arrive at Indira Ghandi International Airport and
transfer to the Oberoi, New Delhi. The hotel was built in 1965 and refurbished for a grand reopening in 2018. During our stay we were treated to the sight of guests arriving for a wedding reception, with the ladies wearing gorgeous saris in every color imaginable. The hotel is located in a residential / consulate area of New Delhi which is quieter that the hustle-bustle of Old Delhi.
After breakfast the next morning we meet our guide Neelam for a sightseeing tour of Old Delhi. Our first stop is Humayun's Tomb, built in the 16th century. The red sandstone building is a UNESCO World Heritage site and the Mughal architecture a precursor of the Taj Mahal.
We made a brief stop at an orphanage founded by Mother Teresa, with the children, most of whom are girls and all of whom have a disability, seem very well cared for by the nuns and young female assistants.
Our next visit is to Jama Masjid, one of the largest mosques in India. Before entering, we remove our shoes and socks and don robes provided by the staff. The red sandstone and marble building sits on an elevated platform and faces west toward Mecca. The courtyard can accommodate 25,000 people and features a hauz where worshippers wash hands, face and feet before entering the main building for prayers.
Upon leaving Jama Masjid, we descend the stairs to a waiting group of rickshaw drivers, who drive us through the maze of streets. Cars, tuk-tuks (essentially, motorized rickshaws) and bicycles are all traveling in organized, horn-honking chaos. Our destination: Chandni Chowk, a bustling market area where youwill find anything and everything: spice shops, jewelers, streetside barbers, auto repair shops, wedding dresses — if you want it, you'll find it here. We visit a spice store and are given a crash course on the different sweet and savory items available and how to cook with them.
After lunch, we enjoy a visit to Gurudwara Bangla Sahib, a Sikh temple that serves more than 10,000 free meals every day. We take a quick tour of the kitchen and see men stirring huge pots of daal and groups of people making Chapatis (Indian flat bread). We peek into a storage room that is stacked wall-to-wall and floor to-ceiling with bags of flour. As we exit, one group of diners is finishing their meal and another group is waiting patiently outside. It's a massive undertaking but seems very orderly and efficient.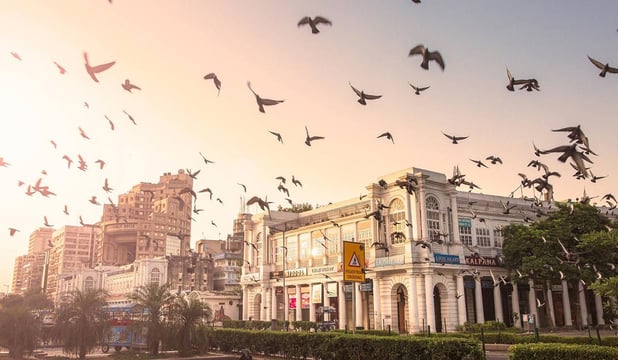 The following morning, we are off to the train station to board the Gatimaan Express for the 1.40 hour trip Agra. Upon arrival we transfer to Agra Fort, a massive red sandstone fort built by Emperor Akbar. This UNESCO World Heritage site boasts 65-foot walls that measure more than a mile and a half in circumference. The complex has numerous buildings, courtyards and ceremonial halls where the emperor would hold private
meetings.
Agra Fort is an interesting mix of strength and beauty; the sandstone is inlaid with marble or carved with flowers, the hallways have scalloped arches, and the grounds are lush with green grass and trees.Within the walls of Agra Fort is the Khas Mahal, where Shah Jahan was imprisoned by his son Aurangzeb for eight years until he died in 1666. From the Khas Mahal, Shah Jahan could look across the Yamuna River at the Taj Mahal, and to his wife's burialplace.
After our subsequent visit to the Taj Mahal, we check into the Oberoi Amervilas in Agra. This hotel is old-world luxury, with silk-embroidered pillows, plush velvet chairs and teak wooden floors. All rooms have a view
of the Taj Mahal, which is less than a half-mile away and can be accessed by way of private golf carts.
The next day's first stop is Fatehpur Sikri, built by Emperor Akbar in the 16th century. The red sandstone complex includes a mosque and three palaces, one for each of Akbar's favorite wives (a Hindu, a Muslim and a Christian, according to lore). Then a three hour drive to Jaipur where we check in at Oberoi Rajvilas in the early evening.
Oberoi Rajvilas has lovely grounds with an 18th-century Hindu temple, lily-ponds, lush lawns and a tree-shaded pool. The rooms are uber-comfortable;
cottage-style with 4-poster beds, bay windows and spacious bathrooms with sunken tubs that look out onto a private garden.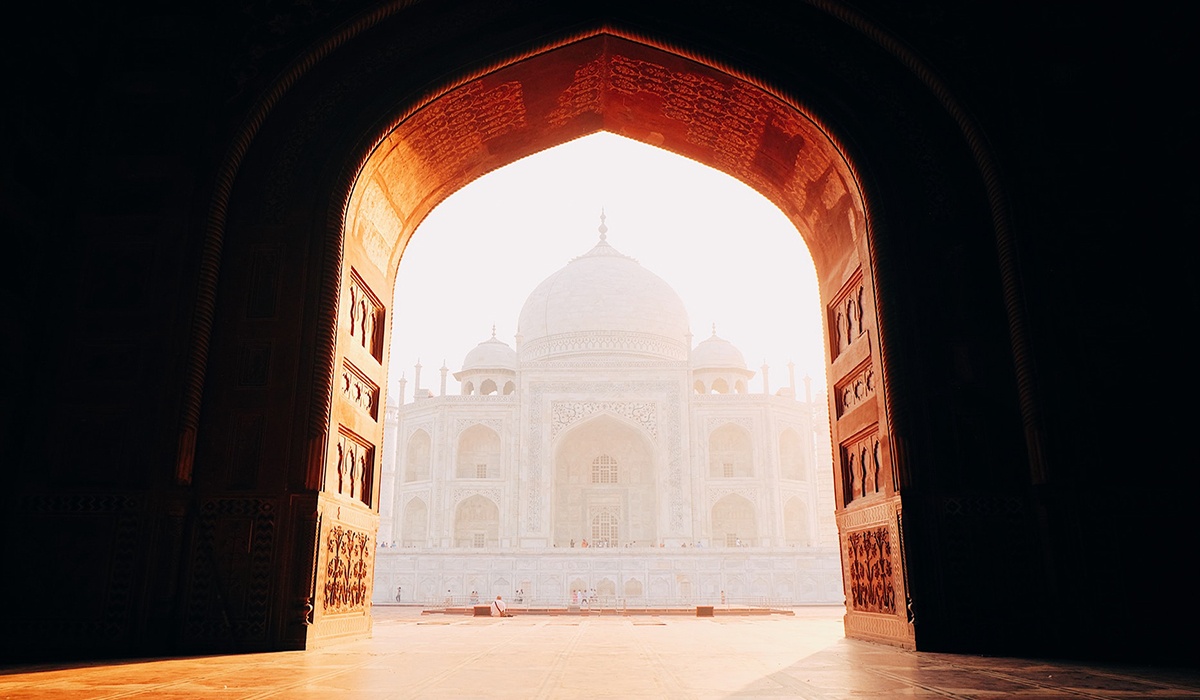 After a very restful night, we meet our guide Mahendra and proceed to Amber Fort. We climb aboard elephants that take us up the hill to this impressive hill-top fort — ambling up the cobblestone pathway on the back of an elephant and entering through the enormous gate is a fun way to start the visit. The construction of Amber Fort was started in 1592 by Raja Man
Singh I. Like Agra Fort, it has public and private meeting spaces, courtyards and huge gates. It also has beautiful Sheesh Mahal, or Mirror Palace, and a commanding location high on a hill overlooking the town.
This evening we head out to Dera Amer Camp, a wilderness camp located in the hills behind Amber Fort and about a 30-minute drive from Jaipur. We
arrive in style by way of a camel cart and proceed to enjoy this "glamping" opportunity. We have our hands painted with traditional henna, followed by dinner under the stars.
The following morning's excursion brings us to the City Palace, actually a complex of palaces, other buildings and the Maharaja Sawai Man Singh II Museum. The Chandra Mahal is still the residence of the royal family of Jaipur. The museum collection includes ancient weaponry, royal carriages,
paintings and photographs of the royal family, furniture, clothing, and other royal artifacts. We say goodbye to the Pink City of Jaipur and fly to Udaipur on a 50-minute flight aboard Indigo Airlines.
We have arrived in Udaipur after a magical visit to India's Golden Triangle of Delhi, Agra and Jaipur. We are fortunate to arrive at the Oberoi Davila's by boat. As we motor across Lake Pichola we can see the 50-acre hotel off in the distance. Upon disembarking, we hop on carts that take us up to the entrance courtyard where we are greeted dancers, drummers and camels draped in colorful blankets. The property on which the hotel sits once belonged to the Maharana of Mewar…and you'll feel like royalty yourself when you stay here.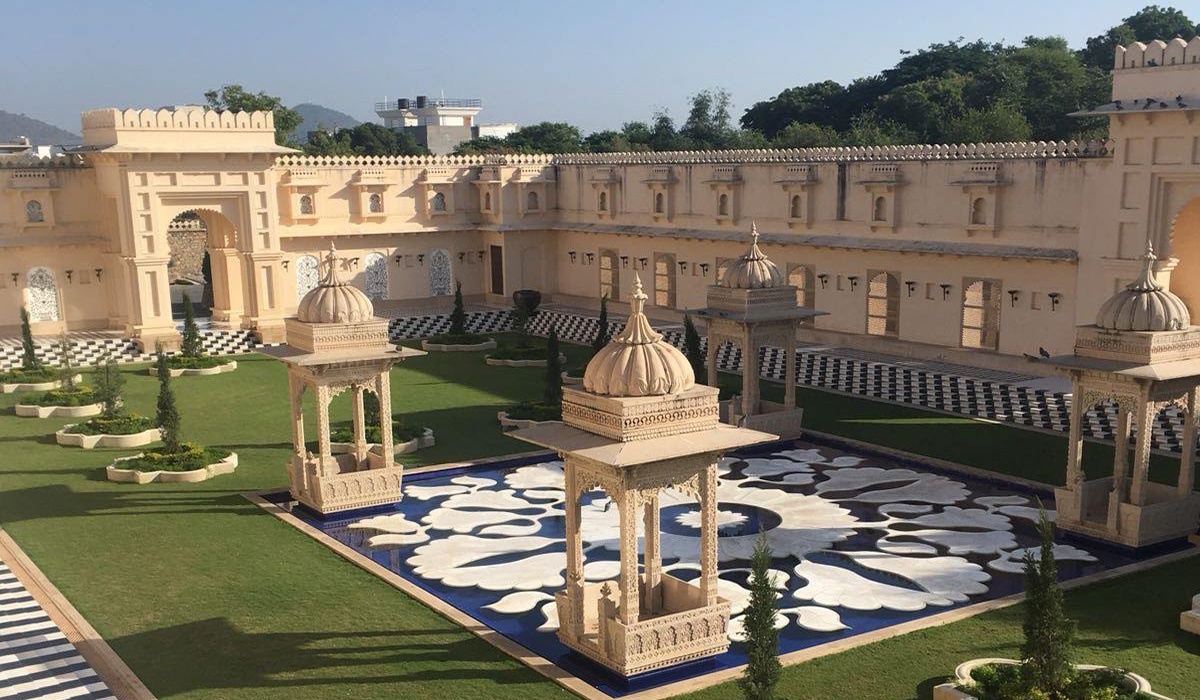 The sprawling hotel is a warm ivory color with golden domes and interconnecting corridors. Peacocks stroll the grounds surrounding the hotel and views of Lake Pichola are everywhere. Our guide today is Kamal, who escorts us to the City Palace of Udaipur, which overlooks LakePichola. Like its counterpart in Jaipur, this is a complex of palaces and galleries containing royal artifacts. A towering gate has lethal-looking spikes which in times past helped to repel enemy warriors astride elephants. Them or Chowk (Peacock Courtyard) displays gorgeous mosaics of peacocks made of 5000 pieces of glass. We visit Fateh Prakash Palace and its Crystal Gallery which houses the largest private collection of crystal in the world.
A visit to Mewar Art Gallery where miniature paintings are made and sold. The paints are derived from dried fruits, flowers and stones and the resulting colors are mixed with water and gum to make the paint. The "brushes" used to make these paintings are squirrel tails or camel eyelashes. The work is so meticulous you can see every single leaf on a tree and distinct facial features of every person in crowd.
A 45-minute drive from Udaipur Eklingji, a complex of over 100 temples, the first of which was built in 734 AD. Intricate carvings in sandstone and marble include some pretty racy Kama Sutra designs. Nagda, about a mile north of Eklingji, is not as large or as well-preserved but features the ruins of SaaS Bahu, the "mother in-law / daughter-in-law" temple.
Another 45-minute drive takes us to Udaipur Airport, where we board quick flight to Mumbai and check into the Oberoi Mumbai, ranked the #2 Best City Hotel in Asia by Travel and Leisure. The atrium lobby features a bright red piano in the center and is flanked by restaurants, lounges and bars, a 24-hour spa, and floor-to-ceiling windows. It's nice for this native Santa Barbaran to see the ocean again!
The next morning a small group of us heads out for a walkalong the waterfront. We have a lot of company, with families out strolling and individuals jogging and working out on the wide seawall. This is the only place in India where I see people walking dogs; in every other city the dogs we saw were feral. They are not abused so much as ignored and neglected — a sad thing to see for all of us dog lovers.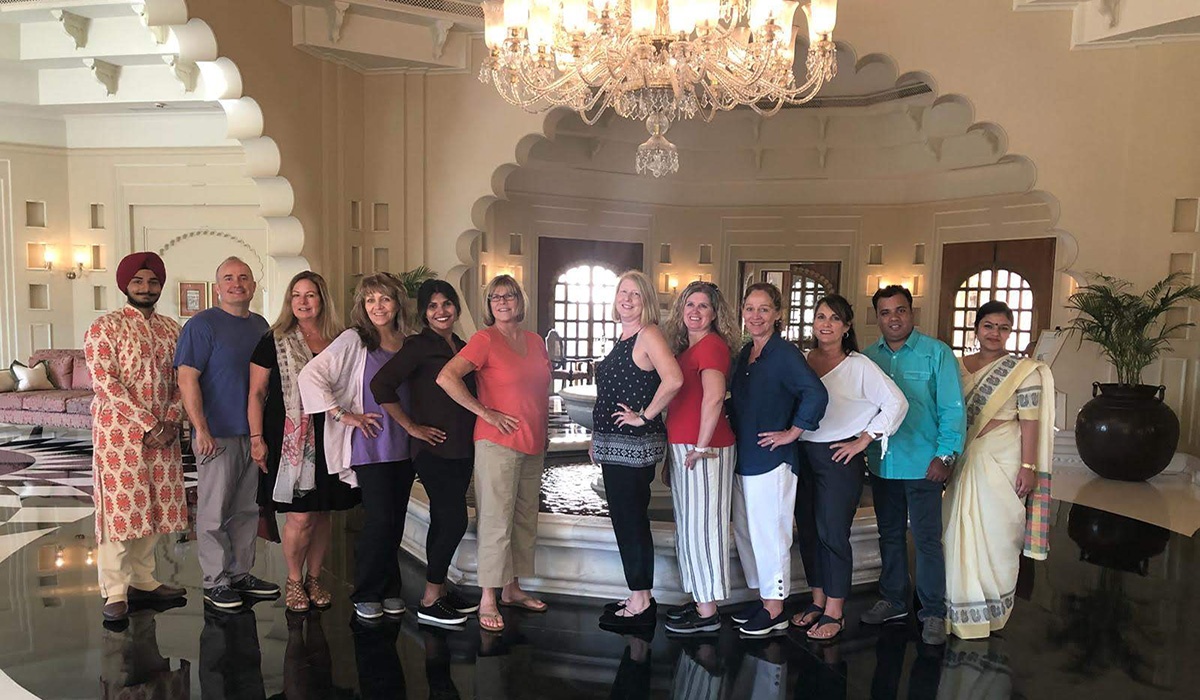 Jasmine is our guide in our final city and escorts us on a walking tour of Mumbai's British Heritage District. This area boasts the second-largest concentration of Art Deco architecture in the world after Miami Beach. The Victorian and Art Deco architecture in this area is a UNESCO World Heritage site, one of 3 in Mumbai. We stroll by the dilapidated (and unoccupied) Watson's Hotel, built in the 1860s and which once sported a sign stating, "no Indians or dogs allowed." This prompted a notable Indian gentleman named. Tata to build the Taj Hotel Bombay, which is now part of a luxury world-wide chain.
The city government is working on improving and enlarging the subway system, a massive undertaking in this city of 23 million people. Jasmine tells us that 8 million commuters ride the subway daily — a third of the city's population and equal to the population of Austria.
As we wander through Mumbai, we see street food vendors dishing up delicious-smelling meals, cricket players practicing in fields and people enjoying the start of the weekend. We pass two young ladies on their way to a birthday party, dressed in beautiful saris. I ask if I can take their picture and they graciously agree, then ask if they can have their picture taken with us. This has happened in many places we've visited (the Taj Mahal, the Amber Fort, etc.); the local people are so friendly and welcoming, and they seem as interested in us as we are in them.
Our next visit is to the Malabar Hill, with its Hanging Gardens and Towers of Silence. The latter are burial chambers where the local Parsi population bring their dead. The towers are deep within a 54-acre forest and the bodies are placed there and exposed to the open air and to vultures. The Parsi believe this is the most sacred way to dispose of their loved ones.
Mani Bhavan, situated on a quiet residential street, was where Mahatma Gandhi stayed when he visited Mumbai. During his 17 years here, Gandhi started many of the movements (including the non-violent civil disobedience that inspired Martin Luther King Jr) that led to India's independence from British rule. This memorial to India's great leader includes photos documenting his life from childhood to his assassination in 1948, letters to world leaders(including Hitler), a diorama showing major scenes from his life, and the simple room(separated from visitors by a glass wall) where he slept. This visit was, to me, the most moving of our entire trip.
The following day starts with a quick drive along the waterfront to the Gateway of India, where we catch a ferry to Elephant Island, the 3rd UNESCO World Heritage site in Mumbai. The ferry takes a little less than an hour and upon arrival we board a tram that takes us to the bottom of a120-step stairway that leads up to the caves. We climb the stairs in the very oppressive heat and humidity, but thankfully under the shade of canvas tarps. The stairway is lined with stalls selling a little bit of everything, and patrolled by monkeys who will steal anything they can get their hands on. For visitors who can't handle all of those stairs, men can be hired to carry them up on a chair There were never any elephants on the island; the Portuguese gave the name to the island after finding a large stone elephant near the entrance to the caves. Sadly, the Portuguese also used the statues in the caves as target practice, so many of them are badly damaged. The series of cave temples are primarily devoted to the god Shiva and the many carvings show him in all his moods — angry, contemplative and beneficent. A20-foot tall, three-faced statue depicts Lord Shiva in his roles as Creator, Preserver and Destroyer. Though many of the statues are not in perfect condition, they are nonetheless impressive.
We return to the mainland and upon approach we get a good view of the Gateway of India, built to commemorate the visit of King George V and Queen Mary in 1911. It was here that India welcomed British dignitaries, and it was also the place from which the last British troops left in 1948, after India's independence. Our guide Jasmine tells us that it is thus "the first place the British arrived, and the last place they left".
After a late check-out from the Oberoi Mumbai, our group also takes our leave. This has been a very special and memorable trip for all of us. We stayed in truly fabulous hotels and explored world-famous sites. Best of all, we met friendly and welcoming locals at every spot, whose smiles and warmth were the best part of our trip.
Karen Ensign is a 5th-generation Santa Barbaran with 35 years of experience as a travel advisor. She is affiliated with Montecito
Village Travel and has earned President's Club status since its
inception in 2016. Karen loves to travel near and far and counts Australia, Turkey, Spain and Portugal among many favorites. Contact Karen at
kensign@ytc.com or at 805-684-0500.