Coastal Washington
Looking to the future, we will continue to provide you with travel inspiration from across the globe. And when you are ready, whether now for a local getaway to destress or at a later time when world travel reconvenes, we will be here for you. And if 2020 is on your radar, we feel that the current lenient cancellation policies, together with wide availability, will provide you the freedom to choose from a variety of ideal travel experiences. For those needing bit of distraction now, a visit to montecitovillagetravel.com is a good place to start.
The world is at your fingertips with UnCruise Adventures. From the winding channels of the San Juan Islands to the inlets of coastal Washington, meanderings in the Pacific Northwest put you in unique corners of this world. Out here, a hike for every level means just that. Casual beachcombers can poke around tide pools. Or, if a rigorous hike is more your style, the temperate rainforest of Olympic National Park calls. Listen and find your place.
Discover New Species
Over 400 islands dot the 7,000 square miles of the winding, reaching Salish Sea. This interwoven marine system connects inlets, channels, and fjords. The moisture-rich, moderate climate heartily nurtures the region's flora and fauna. More than 100 species of birds nest in towering trees, boggy marshes, and coastal nooks and crannies; and numerous marine mammals live in or migrate seasonally to these waters.
Join the eagles, seabirds, woodpeckers, and nearly 40 mammal species exploring windswept beaches, pastoral island meadows, and massive old-growth forests along these dramatic coastlines. Here are some highlights of wildlife viewing in Washington State, plus colorful Pacific Northwest flora you're likely to see.
Explore the San Juan Islands
The San Juan Islands are filled with hidden coves and beautiful bays, perfect for touring by tandem sea kayak or paddle board. Investigate a bird rockery or follow the edge of a rocky cliff, peering through the emerald waters for sea stars and anemone. First time in a kayak? Try an open paddle around the ship—your guides will get you started. Walk through old-growth forest on the Olympic Peninsula or follow a deer path across a wild island. Up on Hurricane Ridge, hike across fields of sub-alpine flowers in warmer weather and snow-covered hills in the colder months. The trek up Mt. Constitution offers panoramic views of the San Juan Archipelago far below you.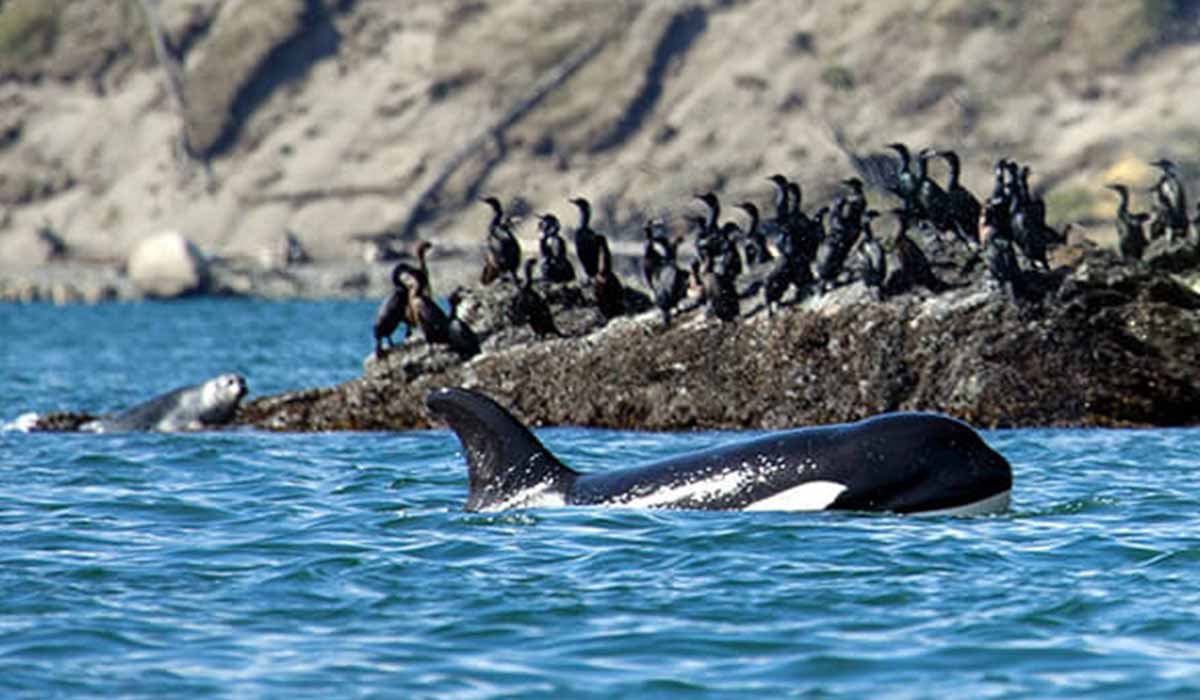 Orcas roam the Pacific coast widely and can be seen in the San Juans any time of year. Shy minke whales and swift Dall's porpoises can also be spotted from the deck year-round. Many of Washington State's wild animals startle easily but will hang around longer in the presence of visitors who are quiet and still—gently paddling a kayak or hiking through the woods in a small group. Explore the adventure activities that bring you closer to nature on a Pacific Northwest UnCruise.