If on-demand charter is the best program for your private aviation needs, then selecting the appropriate aircraft for your journey is the next most important decision to make. Selecting the right jet means understanding which needs you want to prioritize and understand which option offers the best value. To champion you in this journey, the right aviation professional will be knowledgeable and savvy enough to navigate through the hundreds of aircraft types, across the five types of aircraft categories, and will be able to recommend and source the best match for your needs based on your budget, itinerary, passenger count, travel date and time and a myriad of other factors.
While several factors come into play when making a decision for your private jet flight, we focus on the three most important considerations; journey length, passenger count and budget. Other important factors such as safety ratings and aesthetics should also be considered and communicated to your private aviation expert to ensure a seamless shopping and booking experience.
While some passengers may already be predisposed to preferring certain aircraft types or models (from previous experiences), the aircraft category will be determined mainly by the flight time. Below is a breakdown of aircraft characteristics by category that will help provide a basic understanding of what each offer: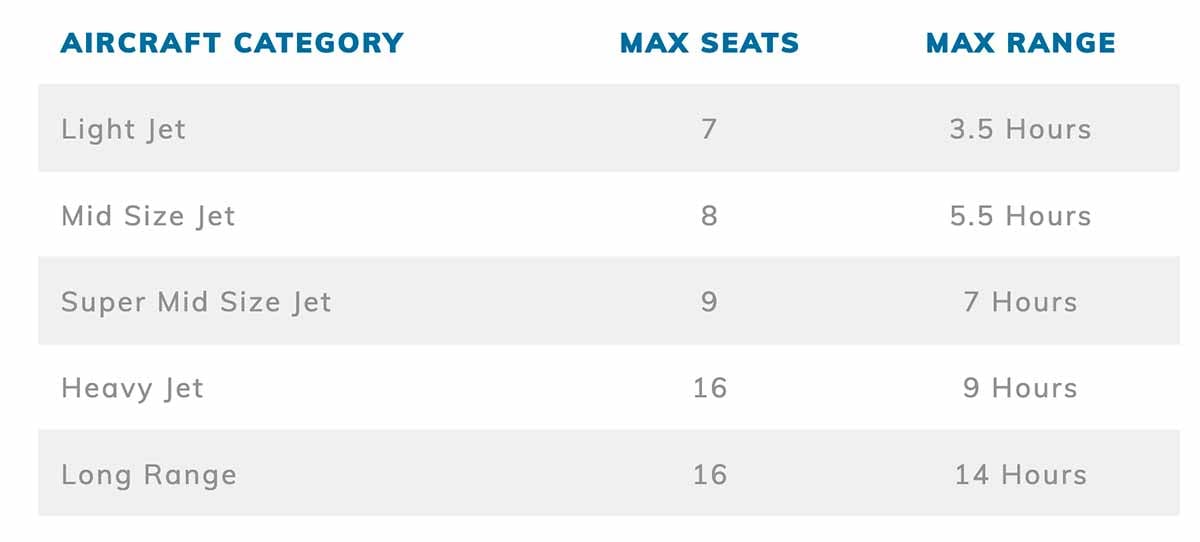 Depending on seasonality and market demand, along with other variables, the final cost of your trip will vary. Regardless of the itinerary you are shopping, allowing for as much lead time as possible is highly recommended, as you will benefit from greater amount of aircraft options and availability. This ensures that you charter expert has ample time to confirm all logistics.

To meet your budget expectations, several factors must be considered, including the year of the aircraft, aesthetics, and safety standards. As you may expect, a 10 year-or-younger aircraft with the highest safety ratings and luxurious interiors would demand a premium hourly rate, in comparison to a comparable aircraft with an older manufacture date. Being conscious of your specific trip needs and preferences can help determine which are the nice-to-haves, and which are non-negotiables.

To best align your expectations with available options, you should expect your private aviation broker to inquire and guide you through the following:

Private jet experience: This allows your broker to gain insight on your expectations.

Trip itinerary: Numerous logistical solutions exist for every aircraft and are dependent on factors such as market demand, season and availability.

Amount of passengers and luggage: This key factor can play significant role in the comfort experience since aircraft types can vary significantly in layout and configuration.

Safety standards: Booking an aircraft and crew members that have been previously audited for safety by third party companies, such as industry leaders ARGUS and Wyvern, is highly recommended.

Budget: Having a realistic budget will help narrow down the options to a realistic selection of possibilities.

Flexibility: It is important to determine which factor you are willing to sacrifice in order to match your expectations fully. Determining if a fuel stop, interior aesthetics, safety standards or price points are negotiable is a personal choice and entrusting the guidance of an expert is crucial in ensuring the best outcome.

Selecting the appropriate aircraft for your private aviation flight requires the combination and evaluation of various determining factors including capacity of aircraft, purpose of trip and style of passengers. Sharing your expectations, needs and preferences an experienced charter broker will help you not only identify the best option when booking and will also provide you with operational support every step of the way.